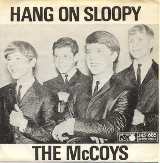 When it comes to listing some of the most underrated songwriters in the pop world, the list would vary according to the person's age, but for middle-aged people, names like Albert Hammond and Bert Berns would certainly be in there. I was having a conversation with someone about a month ago about songs written by Albert Hammond and they could not believe how many songs of his they knew, but had no idea who he was. This week's Single of the Week is not one by Albert, but by Bert Berns.
Bert, who sometimes used the pen name Bert Russell and wrote many songs including Under the Boardwalk, Brown Eyed Girl, Twist and Shout, Here Comes The Night, (Take A Little) Piece of My Heart , Tell Him and He Ain't Heavy, He's My Brother, was born Bertrand Russell Berns in November 1929 in The Bronx, New York. As a kid he suffered with rheumatic fever which caused damage to his heart and would ultimately end his life far too early.
He grew up listening to African and Latino music which he learned from his neighbours where he grew up. He got a job as a dancer in a couple of different mambo night clubs and that inspired his to head to Havana. There he learned to write music and lyrics which, when he returned to New York in 1960, gained him entry to the famous Brill Building where he sat day after day writing songs and was paid $50 a week.
His debut hit, as a writer, was in the summer of 1961 when the Jarmels took his song A Little Bit of Soap to number 12 in America. In the UK, Showaddywaddy's cover went to number five. Here he wrote 37 hits including two number ones, He Ain't Heavy, He's My Brother (twice – The Hollies and the Justice Collective) and Twist and Shout by Chaka Demus & Pliers.
In 1964 he wrote a song which became a hit for the McCoys called Hang On Sloopy but started life as My Girl Sloopy and first recorded by the R&B group The Vibrations. It was originally intended for The Strangeloves as their follow-up to the hit I Want Candy which Berns had also written, but they held back on it because I Want Candy was still hanging around the chart and didn't want to encroach on its sales, however, they toured extensively and included it nightly. One of their support bands were the Dave Clark Five and the ever innovative Dave taped The Strangeloves' version so he could copy it for release when they returned to the UK, feeling that it could have been a big hit.
One of their tour dates took them to Dayton, Ohio where, in 1965, they met a local band called the Rick Z Combo who were led by Rick Zehringer who would later change his name to Derringer. He was keen for his parents to be proud of him and didn't want to deviate too much so decided on Derringer after seeing a small derringer gun on the logo of Bert's own label Bang records. They formed a friendship and the three members of the Strangeloves – Bob Feldman, Jerry Goldstein and Richard Gottehrer, who were producers really, arranged a recording session for Rick and his crew to cover the song. Once in the studio, they changed their name to The McCoys, a name taken from a Ventures track and also changed the title to Hang On Sloopy. Rick Derringer recalled, "They gave us a small record player and a copy of the musical track and told us exactly what they wanted us to sing. We went out into the park for a few days, practiced singing it, and put the vocal on. They jumped up and down in the control room and yelled, Number One! and a few weeks later, it was."
The Sloopy was inspired by a jazz singer called Dottie Sloop who hailed from Steubenville, Ohio. She was born Dorothy Sloop Heflick in 1913 and after graduating from the College of Steubenville, joined the all-female quartet, Southland Rhythm Girls, who appeared along the East Coast from NYC to Miami before she settled in New Orleans and launched a solo career. Bert and the song's co-writer, Wes Farrell, both liked her nickname and wrote My Girl Sloopy.
The first chorus says, 'Sloopy lives in a very bad part of town' which refers to the French Quarter of New Orleans which was not quite as notorious as old Storyville, but was still a haven for lonely sailors and folks walking on the wild side. The Quarter offered Cajun food, jazz music, nightclubs and assorted working professionals. The next line, 'Sloopy, I don't care what your daddy do' may explain that Berns and Farrell knew that her father, Fred Sloop, was a musician and songwriter like themselves. Her grandfather, Fredrick Sloop Sr. was born in Switzerland and settled in Hancock County, Ohio, and he ran a music store in Findlay. Fred Jr. worked with Tell Taylor who wrote, Down By The Old Mill Stream, before moving to Steubenville, where he played piano and organ at theatres downtown. He also performed at the Hy Hat Club with Dean Martin.
In an interview with Mojo magazine in 2008, Solomon Burke claimed that Berns, who at the time was his designated producer/writer, originally wrote an earlier version of this for him but he turned it down.
In 1985, the song was named the official Rock song of the state of Ohio. According to the John Tagenhorst, then an arranger for the Ohio State University Marching Band,who created the band's now-famous arrangement of Sloopy, which was first performed at the Ohio State-Illinois football game on 9th October 1965.
Berns died in 1967 at the age of just 38 from a heart attack. He'd made a lot of enemies in his short time in the business and Joel Selvin recalled when researching for Berns' biography – Here Comes the Night: The Dark Soul of Bert Berns and the Dirty Business of Rhythm & Blues, "Neil Diamond hated him, Van Morrison had mixed feelings at best, Jerry Wexler, who was his best friend and mentor, told me he would have nothing to do with the book, he said: 'I don't know where he's buried, but if I did, I'd piss on his grave.' When asked, why Berns was so unpopular with his contemporaries, Selvin replied, "He wasn't unpopular with his friends, only his enemies didn't like him. People loved him. Ellie Greenwich cried during our interview about him. She said, 'He was a sweet, intense but happy-go-lucky guy, all music, all hit records but he was not someone to cross. He was a fierce Jew with a short time to live.'" When he was asked if Berns died a wealthy man, Selvin's reply was, "He became wealthy within two years of his first hit, A Little Bit of Soap in 1961 and he kept a fishbowl in his penthouse where he stuffed royalty checks he was too busy to take to the bank.