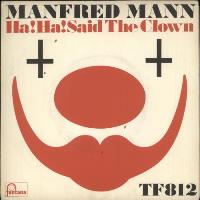 Until he joined 10cc in the early 70s Graham Gouldman was an unsung hero of the song writing world having written hits for the Yardbirds, the Hollies and Herman's Hermits among others. The writer of this week's suggestion falls very much into that same category except he never went on to have any solo success as an artist. Let's find out who he is and all about him.
For two and a half years from January 1964, Manfred Mann was fronted by Paul Jones, half way through 1966, Jones left for a solo career and was replaced by Mike D'Abo who wrote many songs and jingles but nothing for the Manfred's. D'Abo's most famous compositions are Build Me Up Buttercup and Handbags and Gladrags and, on television, the 70s/80s adverts A Finger of Fudge.
The man who did write Ha! Ha! Said the Clown was Tony Hazzard, a Liverpool-born singer, guitarist and songwriter who has written hits for The Hollies, Lulu, The Tremeloes, Herman's Hermits and Gene Pitney among others.
Before making it big as a songwriter, "I was working for the Performing Rights Society as a filing clerk for few months," he said, "I was filing my own name which was very strange. I went to see Gerry Bron [a UK record producer and band manager] and I played him some songs, three of them he didn't like so I said that there was no point in playing the fourth one as he probably wouldn't like it either but he insisted so I played it and a big grin came on his face and he said it was a hit, that was Ha! Ha! Said The Clown. I couldn't tell what was commercial or not, I just wrote what I wanted to write. I was very lucky that a lot of what I wrote thereafter got recorded."
The flute intro on Ha! Ha! Said The Clown is distinctively different from other songs of the era with a foreign feel, "I did a Hungarian East-European thing. Actually, it wasn't about a clown but rather a comic in a night club. If you look at the words he goes to a show and the clown is a comic," Hazzard explained. "While he's there he's excited by a girl on the dance floor and starts to chat her up. He thinks he's getting somewhere and then his excitement is deflated by her announcement that she's married to the comedian who then, in turn, laughs at him in the chorus," he continued in an interview with Songfacts.
Tony explained how the band came to do the song, "I was very lucky that Manfred Mann and I shared the same manager. Manfred was very pernickety about what he would do. He actually preferred simple demos but I did full ones. I heard a lot of demos sent in by Randy Newman and Bob Dylan and they were basic. Just piano or guitar and vocal whereas mine were more sophisticated. For him to do it was quite surprising. Musically, there's a lot going on in this song. The flute sounds were created by group leader Manfred Mann using a Mellotron, which could play tape loops of actual instruments. The big drum beats came from a tympani."
Tony recorded the original demo version, which was only issued in 2022 on a CD called Demonstration, and he said of it, "I was into odd times signatures at the time, like 5/4 and 7/8, and also inserting odd bars of 3/4 and 2/4 in a 4/4 song but in a way where the listener barely noticed because it sounded perfectly natural. This is one of those songs. The other feature is the epigrammatic style with a (hopeful) economy of phrase: I've tried not to waste words."
The Manfred's version reached number four in the UK in April 1967 but completely missed in the States, The Yardbirds, however, did a cover later the same year a reached number 45 on Billboard. Both versions are similar; "The only thing I didn't like about the Manfred version is that the mellotron was rather sharp," Hazzard revealed. He also gave a more revealing insight to Songfacts, "I think a lot of Yardbirds fans really don't like it as it's too much of a pop song and therefore not 'cool.' It's quite a copy of the Manfred version but Mickie Most, who produced it, often did straight copies from demos so it's not surprising. I don't think the band actually played on it, as Mickie tended to use session men, including John Paul Jones (who wrote the arrangements) on bass and Jimmy Page on lead guitar. To be honest, I'm not that keen on either version, although grateful for the royalties, and prefer my original demo."