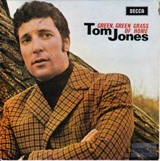 I do love it when there's a discrepancy as to who recorded a particular song first. That gets me digging even deeper into the roots to find the origin and it's not always the person who wrote it. John D. Loudermilk and Tony Joe White were two prolific songwriters who both tended to record their own songs after other people had recorded them first. This week's suggestion, The Green, Green Grass of Home wasn't written by either of the aforementioned person, nor was it first recorded by its author.
Marilyn Monroe made her screen debut in the 1950 film The Asphalt Jungle. It was a crime scene during that film that inspired Nashville songwriter Curly Putnam to write The Green, Green Grass of Home. It is the tale of a condemned prisoner who is dreaming of going back to the green grass home, but when he awakes, he remembers that he is about to face the electric chair. Like any archetypal country song, it makes references to the old hometown, a girl called Mary, a preacher, a death and a funeral.
So who did record the original? Well, scan as many books and websites as you like and it'll throw up the names Porter Wagoner, Conway Twitter, Johnny Darrell, Roy Drusky and Jerry Lee Lewis. Indeed they did all record a version, but most popularly it will say Porter Wagoner – the man who Dolly Parton famously wrote I Will Always Love You about after seven years of performing together. Wagoner also had his own TV show in America and Darrell and Putman were good friends and drinking partners in the mid-sixties. The answer lies in Wagoner's biography where he states, "I first heard the song when Darrell sang it on my TV show." Wagoner then brought Johnny's record home to get his wife's opinion of the song when he was considering cutting it. But Darrell wasn't the first choice. Putnam actually wrote it for another country singer Bobby Bare who disliked it and turned it down. Melodically it was inspired by the gospel song The Old Rugged Cross which was written in 1912 by George Bennard and first performed the following year. Hundreds of acts have recorded The Old Rugged Cross but the only UK hit version of it, albeit a minor one, was for Ethna Campbell in 1976 where it peaked at number 33 but did spend 11 weeks on the chart.
Jerry Lee Lewis recorded his version in 1965, a year after the original, as he was starting to move away from rock 'n' roll and into country music. It appeared in his album Country Songs for City Folks and it was Jerry Lee's version that Tom Jones heard and recalled, "I said to my recording manager, Peter Sullivan, I'd like to record this. He said, 'a country song?' I said 'yeah', because I hadn't done a country song up to that point. Les Reed did the arrangement and played piano on the track and made it more of a pop song than a country song, because when Jerry Lee Lewis did it, it was strict country. When I came back to England I recorded the song on TV and we did it like in a jail. But you don't know it is a jail, until the camera pulls back and you see the bars, and there I am in this jail, singing The Green, Green Grass of Home." Jones said, in a 2011 interview with The Mail On Sunday, "I used to collect anything Jerry Lee Lewis recorded, and still do. I was in New York in 1965 when I bought his country album Country Songs for City Folks. Green, Green Grass of Home just stuck out."
Tom told Song Facts, "I got on well with Jerry Lee. I did have a bit of a dust-up with him one night in Vegas, but most of the time, we got on great. He came over to do a British tour in 1966 and I had just recorded the song. He told me he'd love to hear it, so I played it to him in his hotel room. He was knocked out with it and said: 'You've done something different here, the arrangement is great. It sounds like a number one to me.' I said: 'I hope you're right.' He was. I think the lyrical content is important here. The guy in the song is really in a jail cell, but you don't know until the end. That got to me. Good God, it paints a picture and yet a lot of people who love Green, Green Grass of Home don't even realise that. This is about a man who is going to die and he's just reminiscing on the precious parts of his life. It made me think of Wales when I recorded it – 'the old home town looks the same'. When I went back to Pontypridd in those days, getting off the train from London, those words would ring true. It seems like a lot of people relate the sentiment to their home too."
Tom had always claimed that his biggest regret was not getting into movies. Although he hated the film What's New Pussycat, in 1965, he delivered the title song, which was very timely as it gave Tom's chart career a much needed boost. In early 1966 he recorded another film title song and that was Thunderball for the James Bond movie of the same name.
Although the film was a success and Tom often opened his shows with the song, it failed to make the Top 20 on both sides of the Atlantic. Tom's version of the song also inspired Engelbert Humperdinck to check out the country back catalogue and Engelbert found a 1949 song called Release Me written and first recorded by Eddie Miller and his Oklahomas.
Other big names who recorded the song were Dean Martin, Joe Tex, Johnny Cash, Nana Mouskouri, Joan Baez and Elvis Presley. During Christmas 1966, Elvis was driving from California back to his home in Memphis when Green, Green Grass of Home came on the radio. He couldn't stop raving about it and got a friend of his in Arkansas to call the radio station and have them play it repeatedly. Elvis' version charted in 1975 where it peaked at number 29.
It became Tom Jones' biggest UK hit selling 1.2m copies and was the first Decca single by a UK artist to sell more than a million copies in this country.