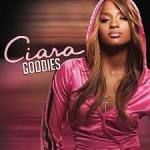 Many music genres have come and gone over the years, in the fifties there was rock 'n' roll, towards the end of the sixties there was prog rock then came glam, punk, disco, new romantic, house, rave, house and garage, but in the 2000s a shed load of terms came along including bashment, dancehall, grime and crunk. This week we look at the lady known as The First Lady of Crunk.
Ciara was born Ciara Princess Harris in Austin, Texas on 25 October 1985. She first appeared as the dancer in the video to Usher's 2004 hit Yeah! That song was co-written by Sean Garrett who became friends with Ciara and hence has a co-writing and producer credit on this, her debut hit called Goodies. Ciara's father was in the military and as a child the family moved to various places including Germany, New York, California, Arizona and finally in Atlanta, Georgia.
So, what is crunk? Let Ciara explain, "When I define crunk I define it as the heavy metal of hip hop. It's high energy music and I think what makes a genuine crunk record is like for example if Lil Jon produces it. Lil Jon is the King of Crunk and he's known for making that crunk music and that crunk beat and that crunk sound. So when you add R&B to it you make this high energy crunk'n'b." Well I hope that's clear! Hip hop producer Lil John adds his explanation, "Crunk & B songs are R&B songs that get you crunk. They make you wanna wild out." He added that this song "Is a female empowerment record. The female has the power. The female is in control on this song. This is one of those records for the ladies."
Many songs over the years have inspired answer versions usually to a song that has already been a hit. Goodies was an answer song to a 2003 Billboard top 10 song by Petey Pablo called Freek-a-Leek which was basically list of sexual positions.
In an interview with MTV, Ciara explained that this hit tune was originally a riff off the children's song Who Stole the Cookie from the Cookie Jar? But with a different title. "The first (recording) session started in Miami with myself, Lil' Jon and Sean Garrett. We started writing the verse down, shouting out melodies and at one time, I've never said this before, but at one time the song was called Cookies. It was that song but it was my way of doing the analogy of your love being your goodies, your cookie jar. Just because you've got a Benz and you've got money doesn't mean you get the goodies." In the song she warns, 'If you're looking for the goodies keep on looking 'cause they stay in the jar.' "I think we all run across this problem," she said, "A guy thinks you're gonna be with him because he's got the iced out chain, he's popular and all that. But that ain't it. That ain't gonna make me give you my number and that's definitely not gonna make me go home with you. It's the truth."
Co-writer Lil Jon, whose real name is Jonathan Smith, said he was impressed by Ciara's approach to the song: "She did an excellent job on it. With this record, it's the way she rides over the track, the way she freaks the beat and the stuff that she says to connect her with other women. She's saying stuff that women can relate to. Guys are always trying to get something from a girl and she's like you can't have it. That's what makes her stand out and this is one of those records with that undeniable energy where as soon as the beat comes on it catches you and makes you move. You can't sit still when that song comes on. Crunk music you can't fake because it's all about the energy. It's gotta be real."
She followed up Goodies with 1, 2 Step which featured Missy Elliott, it reached number three in the UK and earned a Grammy nomination for Best Rap/Sung Collaboration. Ciara was also nominated for Best New Artist and picked up her first Grammy win for Best Short Form Music Video for her collaboration with Elliott and Fatman Scoop on Lose Control which was the next hit.
Ciara continues to have hits; Oh (with Ludacris 2004), Like You (with Lil Bow Wow 2006), Takin' Back My Love (with Enrique Iglesias 2009), Love Sex Magic (with Justin Timberlake 2009) and I'm Out (with Nicki Minaj 2013). Her albums have been less successful though with Goodies (26), The Evolution (17), Fantasy Ride (9) and her latest, 2013's Ciara disappearing after spending one week at number 42.
In October 2013 she got engaged to the rapper Future whose real name is Nayvadius Cash and in January 2014 announced they were expecting a baby. Ciara said that she'd decided on an animal theme for the baby nursery and forked out $1,800 on an eight foot stuffed giraffe alone. The rest of the $20,000 budget was apparently spent on other large toy animals, lion bookends and various other animal artwork.
If you're wondering what happened to Petey, well, he was arrested in 2011 for smuggling stolen guns through airport security and sentenced to three years in prison and was freed last week four months ahead of schedule and is reported to be back in the studio with Timbaland.