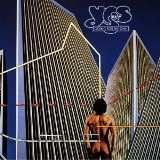 When it comes to prog rock, one of the biggest and most successful bands on the scene is Yes and, lead singer, Jon Anderson has one of the most distinctive and soaring voices that ever was. Jon, and bass player Chris Squire formed the band in 1968 and their showcase was lengthy symphonic rock anthems often with indecipherable lyrics that Jon once admitted he had no idea what some of them meant. They were never really a singles band – they charted eight albums including 1972s Close To The Edge and the chart-topping Tales From Topographic Oceans the following year, but probably their most successful album, chart-wise, was 1977s Going For The One which reached number one and contained the top 10 hit single Wonderous Stories and the follow-up, the title track which is today's subject.
The line-up varied over the years but the mainstays, in addition to Squire and Anderson, were, Steve Howe, Alan White and Rick Wakeman. The previous album, Yesterdays, had been released 18 months earlier and so the band were taking a small break to recover from their 1976 North American tour and also for a couple of members who wanted to concentrate on solo projects, but they reconvened to record Going For The One in Switzerland. The album only contained five tracks, four of them being on the shorter side than most of the previous albums – the only long track was the closer, Awaken, which runs to 15 and a half minutes.
There had been arguments within the band and Wakeman had left for a solo career, but after the extended break he agreed to return stating, "To my surprise I found that they had changed drastically, the health-food kick had also changed, and we began relating to each other for the first time. I think we had all grown up and became much more mature. Maybe I had to grow up more than them."
The recording took place at Mountain Studios in Montreux with engineers John Timperley and David Richards, but Eddy Offord, who had produced previous albums, was not present, it was the first album the band decided to produce themselves. They wanted to 'return to form' with Rick saying, "I think the album will bring back the fans we lost on the last few albums. The whole thing is easier to relate to." Jon Anderson added in an interview with Circus magazine, "The album is a kind of celebration because over the last two or three years we've been experimenting a lot and we're happy to have been given that chance. Any musician should be given the chance to extend his horizons and luckily we've been successful enough to do so. But generally we think of this as a more eventful album. We've come back to a happier medium. It's something we felt we wanted to do at this time. If we wanted another 'Tales' concept we would have gone in that direction, but we needed to relax for a while – a little more laughing and jive."
The lyrics on the title track are more straightforward and features a lot of Steve Howe's pedal steel guitar. "I wrote that song two or three years ago," Jon explained, in Circus Magazine. "It's about sports. The catch line is 'The truth of sport plays rings around you/going for the one.' Part of the song is about horse racing and there's a little bit on a film I saw about going down the Grand Canyon River on one of those rubber dinghies and there's also a bit in there about the cosmic mind, which is something I think a lot of people have been getting into lately."
Yes were also known for the distinctive font on their album sleeves, but Going for The One was more subdued. The artwork was still designed by Roger Dean who had worked with them since the Fragile album in 1971 and the front cover shows the rear view of a naked man standing at the foot of the Century Plaza Towers in Los Angeles.
Yes' distinctive vocal sound is Jon's voice and it's a misconception that he sings falsetto, in a 2008 interview with the Pittsburgh Post-Gazette, Jon stated, "I'm an alto tenor and I can sing certain high notes, but I could never sing falsetto, so I go and hit them high." He is also noted for singing in his original Lancastrian accent.
The band are still going and the current line-up is Steve Howe, Alan White, Geoff Downes, Billy Sherwood and Jon Davison, Jon, Rick and (80s member) Trevor Rabin are also on tour under the new name ARW (Anderson, Rabin, Wakeman). "It will be a celebration of Yes music across the years," Jon told Newsweek about the tour that begins next month. We will be "playing a selection of songs from all different periods." he offered.