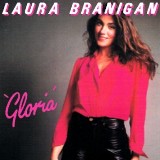 This week, I look at a song that began life in Italy – as a love song which never charted in the UK. The song has since been a hit twice and on both occasions had a different translation of its lyrics by two different people. That song is called Gloria.  Van Morrison, with his group Them, recorded a song called Gloria in 1964 which appeared on the B side of Baby Please Don't Go. In 1981, U2 recorded a different song with the same title but it's neither of those that are this week's subject. It's the song that was a hit for both Jonathan King in 1979 and Laura Branigan in 1982, but let's head to Italy to find out about its origins.
The song was written by Turin-born singer/songwriter Umberto Tozzi along with the Italian composer Giancarlo Bigazzi and was originally a love song, although if you translate the original Italian lyrics into English, the song begins 'I miss you in the air, I miss you in my hand that works slowly, I miss that lips that I don't touch anymore' which sort of works, but then it continues, ' Gloria on your wings the morning gives the sun, hatred comes in and love comes out with the name of Gloria.' OK, whatever! The Italians obviously thought highly of it as it as it spent 16 weeks in their top 10 including six at number two. It topped the chart in Switzerland and Spain, went to number four in Austria and number three in both Belgium and France. In Germany, a rival version by Gerd Christian was released at the same time, but Tozzi's got higher peaking at number eight. The following year, two more versions were recorded, both with different translations, an Estonian version by Mait Maltis and a Czech version by Vítězslav Vávra under the slightly altered title Divka Gloria.
In the UK, the first version came in 1979 from Jonathan King, under his own name who also wrote his own English lyric which went, 'Gloria, every time I see ya, but only when I see you, only when I'm dreaming, all my days are lonely so cloudy grey without ya and when they get too much for me, I only think of Gloria' which are not a literal translation, but certainly more of a love song. His version stalled at number 65 in the chart.
In 1981, a Canadian songwriter called Trevor Veitch, who had worked with Toni Basil, wrote another English lyric for a version that was to be recorded, most famously, by Laura Branigan (although, bizarrely he wasn't credited on the label) She was a New York-born singer who had a very academic approach to her music. She had studied at the American Academy of Dramatic Arts and got her first break when she joined Leonard Cohen on a European tour. It was when she was performing in a club in Manhattan that she got spotted by a promoter called Sid Bernstein. Laura once explained in an interview with Todd Everett, "I was doing Barry Manilow songs and some Edith Piaf numbers as well as some of my own material and Sid put me in touch with Ahmet Ertegun at Atlantic records. I think he appreciated the fact that I had a real voice and wasn't some gimmick, I remember him saying that I had so much emotion in my voice." Sid Bernstein hada slightly different story to that.
Veitch's lyrics, again changed the song's meaning, and rather than being a love song, it portrayed Gloria as a woman whose looks are no longer what they were but in her head she is still beautiful and everyone still lusts after her. In reality she is getting older and still cannot find a stable relationship; 'Gloria, you're always on the run now, running after somebody, you gotta get him somehow, I think you've got to slow down before you start to blow it, I think you're headed for a breakdown, so be careful not to show it.' "We basically took the same arrangement and just gave it an American Kick," Laura explained in an interview with Billboard magazine. "The original Italian version was structured the same but much softer; mine had more guts and a lot more punch." She also told People Weekly, "We originally attempted an English version in the same romantic mode of the original, changing the title to Mario, but this seemed ineffective. To me it was about a girl that's running too fast for her own steps." The song peaked at number two in America ironically held off by Toni Basil's Mickey. The song was heard during the skating scene in the 1983 movie Flashdance.
It wasn't Branigan's highest charting UK hit, although it did reach number six, but it certainly became here signature tune. She once said, "I always get the same reaction wherever I go and whenever I perform it. I have to end every show with that song and people just go crazy. Gloria was just a great girl!" It earned her a Grammy nomination for Best Pop Vocal Performance for a Female but she lost out to Melissa Manchester's You Should Hear How He Talks about You.
In America it spent 36 weeks on the chart and the same week it dropped off, Laura entered with her follow-up, Solitaire, which also made the top 10. Her next top 10 hit was also the UK follow-up, Self Control, which was originally recorded by RAF.
In 1985 Laura recorded the original version of I Found Someone which stalled at number 90 in the States, but served Cher greatly as her comeback single reaching number five in 1987 after a 13-year absence from the UK chart.
In 1996 Branigan retired from the music industry to spend more time with her husband Larry Kruteck after he was diagnosed with colon cancer, he died later the same year. She struggled to come to terms with his death and it took five years until she felt ready to make a return. Her comeback was cut short after she broke both legs when she fell off a ladder at home whilst she was hanging Wisteria out of her window. She eventually recovered and landed the role portraying Janis Joplin in an off-Broadway musical, Love, Janis.
In August 2004 she died in her sleep at home in New York. It transpired that she'd been suffering severe headaches but failed to get medical attention and her cause of death was reported as a brain aneurysm. She was just 52.
Tozzi, who is now 65, still records and occasionally tours Europe. In a more recent interview he said, "Gloria was a character in my head with long red hair and designer jeans who ruled the roller rink. She was also a spy who travelled the world on 'very important' missions, like a cooler, female version of James Bond, with a hefty dose of Wonder Woman and all three Charlie's Angels thrown in. All the boys adored her, followed her around, worshiped her, chased after her to ask for each and every 'couple's skate'. I wanted her to be something fierce. I do think I missed quite a bit in my translation, though my 'version' of the song still makes me smile."