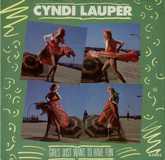 You hear it so many times about a song being written in a matter of minutes and this week's subject is no exception. It was whilst this writer was taking a shower in 1979 that he 'wrote' this song and in just 20 minutes. He, at the time, called it "A kind of silly song" which he almost certainly wouldn't have expected to have become a world-wide hit, that song was Girls Just Want to Have Fun.
Cyndi Lauper, who made the song famous, was born Cynthia Ann Stephanie Lauper in New York on 22nd June 1953 and has always been quite eccentric. She has always chosen to wear off the wall clothing and a variety of hair colours. From the early 1970s she had performed around the Queens area of New York as a member of various bands and performing in various styles from Janis Joplin to Led Zeppelin as well as classic disco tracks. In 1977 she damaged her vocal chords and was advised that she may never sing again, but she was determined and did managed to regain her voice. Her manager introduced her to a saxophone player called John Turi and in 1980 the pair formed the band Blue Angel and recorded some demos of original music. Steve Massarsky, who was the Allman Brothers' manager at the time, heard their demos and decided to buy their contract and thus became their manager. They recorded a self-titled album and the single released from it was a cover of Frankie Laine's I'm Gonna Be Strong which was made famous in the sixties by Gene Pitney.
They split the following year and Cyndi almost gave up on a singing career, but in an interview with Irwin Stambler, she said "I decided to just go ahead and do it, though I hadn't written many new songs. I broke my partnership with John Turi and I didn't like the idea of just singing other people's songs" In 1983 she began working with producer Rick Chertoff who was looking for material for Cyndi's debut solo album, She's So Unusual. "I selected song that allowed me to keep my integrity and I wrote some of my own songs too," she said. Chertoff remembered the song and played it to Cyndi who loved it but wanted to make a couple of lyric tweaks, so Chertoff took her to meet the song's writer, Robert Hazard. He was a Philadelphia-born singer/songwriter who had his own band Robert Hazard and the Heroes and were quite successful on the Philadelphia club scene in the mid-80s and he agreed to let her alter some lyrics to fit her wacky female persona. "It was originally about how fortunate he was 'cause he was a guy around these girls that wanted to have 'fun' – with him – down there, which we do not speak lest we go blind," she said.
The track, which features legendary songwriter Ellie Greenwich on backing vocals, made number two both in the UK and the US. Over here it was kept off by Frankie Goes to Hollywood's Relax and in the States Van Halen's Jump held her at bay. The song was on constant rotation on MTV because the video features the wrestler, Captain Lou Albano who was hired to play Cyndi's father and her mother was portrayed by….her real mother. It was directed by Edd Griles and won the Best Female Video at the first ever MTV Video Music Awards in 1984. She said of the song in a 1999 interview with CNN, "I know some people dismissed the song as comical, but it wasn't. The song was an anthem. It's saying 'We want to have a life, to have fun'. We don't want to be wearing the shackles."
Cyndi undertook a tour of the US and recalled in the Lucy O'Brien book, She Bop, "I was shocked at the reaction. I'd go out on stage and the audience would be filled with girls screaming, ripping at my clothes. I'd never heard girls screaming over a woman before."
Her follow-up, Time After Time, reached number three in the UK, but  gave her the first of two number ones in America, the other being 1986's True Colours. The only time Lauper reached number one in the UK was in 1985 as a part of USA for Africa's We Are the World. She charted 17 UK hits, her last top 10 being a reggae-tinged remake of her debut hit this time slightly retitled as Hey Now (Girls Just Want to Have Fun) and samples Redbone's Come and Get Your Love.
The song has been featured in various TV adverts including one for the Fiat Chiquachento and in films especially in the 1985 film which was named after the song and starred Sarah Jessica Parker and Helen Hunt and featured a cameo appearance by Lauper herself. It was also used in the 2014 film Walking On Sunshine where it was sung by Leona Lewis, Hannah Arterton and Katy Brand. There have also been a number of cover versions by the likes of Pearl Jam, Weird Al Yankovic who retitled it Girls Just Want to Have Lunch, Miley Cyrus and in 2000 Lolly took a version to number 14.
Hazard died unexpectedly after surgery at Massachusetts General Hospital in Boston on 5th August 2008. In the 2000s Hazard and his wife, Susan, ran an antique shop near their home in Old Forge, New York.