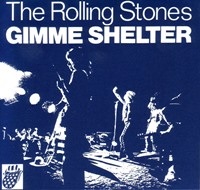 The Rolling Stones, like The Beatles, had so many well-known album tracks that your average person in the street could well have thought were hits; You Can't Always Get What You Want, Sympathy for the Devil, Wild Horses, Mother's Little Helper are good examples as is this week's suggestion, Gimme Shelter, the opening track on their 1969 album, Let It Bleed. Initially an innocent idea for a song which turned into a tragedy.
The band need no introduction, so let's look at the song. Lennon and McCartney had an agreement that each would be credited as writer regardless of which one actually scribed it, the same is true of Mick Jagger and Keith Richards but in this instance, it was a joint effort. The original idea was Keith's, very simply watching people in London scampering about looking for somewhere to take refuge when a lightning bolt seared over London and the heaven's opened, "You get lucky sometimes," Keith said to the journalist Mick Wall, "It was a shitty day. I had nothing better to do. I had been sitting by the window of my friend, the gallery owner, Robert Fraser's apartment on Mount Street in London with an acoustic guitar when suddenly the sky went completely black and an incredible monsoon came down," he remembered, "It was just people running about looking for shelter — that was the germ of the idea." He did write most of the song and the opening strumming was played on an electric-acoustic guitar and based on a Chuck Berry track. He was in a sombre mood because he was still coming to terms with the fact that his lady, Anita Pallenberg had just been filming some sex scenes with Jagger for the movie Performance and Keith had been indulging in some heavy substances.
When Keith showed the song to Mick, he turned its focus towards all the bad things that were going on at the time like murder and rape as well as the Vietnam War. Jagger said: "That song was written during the Vietnam War and so it's very much about the awareness that war is always present; it was very present in life at that point." The song was finished and the band went into the studio, Mick Jagger recalled in an interview on National Public Radio's show called All Things Considered, "When we got to Los Angeles and we were mixing it, we thought, 'Well, it'd be great to have a woman come in and do the rape/murder verse,' or chorus or whatever you want to call it," he said. "We randomly phoned up this poor lady in the middle of the night, and she arrived in her curlers and proceeded to do that in one or two takes, which is pretty amazing." This poor old lady that Jagger talks about was a mere 21-year old Merry Clayton who was actually five years younger than Jagger. "She came in and knocked off this rather odd lyric. It's not the sort of lyric you give anyone – 'Rape, murder, it's just a shot away' – but she really got into it, as you can hear on the record.
Clayton, who had first come to prominence in 1963 when she recorded the original version of the Shoop Shoop Song (It's In His Kiss), recalled, in an interview with Farout magazine, her thoughts when she first got the call, "Well, I'm at home at almost 12 o'clock at night and I'm hunkered down in my bed with my husband, very pregnant, and we got a call from a dear friend of mine and producer named Jack Nitzsche. Jack called and said you know, 'Merry, are you busy?' I said 'No, I'm in bed.' He says, 'well, you know, there are some guys in town from England. And they need someone to come and sing a duet with them, but I can't get anybody to do it. Could you come?' At that point my husband took the phone out of my hand and got angry: 'This time of night you're calling Merry to do a session? You know she's pregnant!' But Nitzsche succeeded to bring my husband on his side. In the end, he managed to convince me: 'Honey, you know, you really should go and do this date.'" She made her way to the studio and on arrived she was handed the lyrics she was to sing, "I'm like, Rape, murder…'? You sure that's what you want me to sing, honey? He's just laughing, him and Keith," Clayton remembered. Thankfully all went well at the session and arguably it is the selling point of the song. Sadly, it was not all good news for Clayton after that.
It transpired that not long after that session, Clayton suffered a miscarriage. It can never be ascertained for sure how much that night's recording session played a part although it has been much documented that it was, but Clayton said she couldn't listen to that song because of the memories it evoked. In a 1986 interview with the Los Angeles Times she spoke about it saying, "That was a dark, dark period for me, but God gave me the strength to overcome it. I turned it around. I took it as life, love and energy and directed it in another direction, so it doesn't really bother me to sing Gimme Shelter now. Life is short as it is and I can't live on yesterday."
The Rolling Stones ceased including the song on the endless tours and only brought it back in 1989. For their 50th Anniversary tour, 50 & Counting. In 2012, they invited special guest singers to sing the Merry Clayton parts; in New Jersey Lady Gaga was the guest and in London both Florence Welch and Mary J. Blige took turns. The song is now regularly back in the set and Grace Potter has been doing the honours since 2015.
Clayton, who was born on Christmas Day, 1948, had been a backing singer for Elvis Presley and Ray Charles as well as on many recording sessions for Burt Bacharach. She's also done film and stage work appearing as the Acid Queen in the first London production of The Who's Tommy, she was a co-star in the 1987 film Maid to Order and in the final season of the Cagney & Lacey cop drama she appeared as Verna Dee Jordan. The same year, she recorded a song called Yes which appeared in the film and on the soundtrack to Dirty Dancing which is now the biggest-selling film soundtrack album of all-time.
Talking of films, Martin Scorsese is obviously a fan of Gimme Shelter as he has used it in three of his films, Casino, The Departed and Goodfellas.
Mick Jagger later reflected on the song and its inspiration saying, "Well, it was a very rough and very violent era, The Vietnam War. Violence on the screens, pillage and burning. And Vietnam was not war as we knew it in the conventional sense. The thing about Vietnam was that it wasn't like World War II, and it wasn't like Korea, and it wasn't like the Gulf War. It was a real nasty war, and people didn't like it. People objected, and people didn't want to fight it. The song itself is a kind of end-of-the-world song, really. It's apocalypse, the whole record's like that."