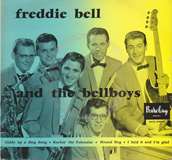 Sometimes when I receive a request for a single of the Week, the requester often asks for a specific version of the song and if I know it to be a cover version I do wonder that they were aware of an original. This week Kato asked for Giddy Up A Ding Dong by The Sensational Alex Harvey Band who recorded their version in 1973, but the original is from some 16 years earlier.
The song was written in 1953 by Freddie Bell who was born Ferdinando Dominick Bello in Philadelphia, Pennsylvania to Italian American parents, and his friend Joey Lattanzi. It was not recorded until three years later after the group had signed to Mercury. He formed his backing group, The Bell Boys the year previous who comprised guitarist Frankie Brent, Jerry Mayo on trumpet, Jack Kane on saxophone, Russ Conti on piano and Louis Joseph Cicchini on drums. Giddy-Up-A-Dong-Dong was a novelty song designed to showcase the band's clowning.
In the mid-fifties, they landed a residency at the Sands Hotel in Las Vegas. There was another group, The Treniers, performing at the same venue and the lead singer from that group gave Bell the nickname 'Ding Dong'. The Bell Boys, in their set, regularly included a cover of Big Mama Thornton's Hound Dog but done in a much souped-up tempo. It was their version that Elvis first heard and based his own version on theirs. Bell had removed any sexual innuendo from the lyrics of Hound Dog to make it more acceptable for radio. Bell met Elvis in Vegas and said of Elvis' version of Hound Dog, "I didn't feel bad about that at all, in fact, I encouraged him to record it. He was an extraordinary talent but he didn't know how to sell rock 'n' roll in Vegas. We had choreography, while Elvis just stood and sang."
They were spotted by film producer Sam Katzman who offered them a part in Rock Around the Clock and Giddy-Up-A-Ding Dong became their first Mercury release and was featured in the movie.
The song opens with the lyrics, 'I went ridin' the other night, two colour horse, oh my what a sight! The name of my horse was Ding Dong while we was ridin' and singin' a song' The nursery rhyme like song continues with 'We rode and we rode the whole night through, my horse was tired, I was too. I had a date with ma girl at eight, come on Ding Dong we can't be late' yes despite its childish lyrics, songs of the time, including Bill Haley's See You Later Alligator and Tommy Steele's Rock With the Caveman heralded important social change that meant teenage life would never be the same again.
They were a class act live as seen in Rock Around the Clock. The Bell Boys dance in line and their long, skinny pianist, Russ Conti, plays the piano one-handed while dancing for the camera. Kane plays two saxophones at once and Bell in between singing plays trombone during the instrumental break.
Oddly, Giddy-Up-A-Ding Dong was not a hit in the United States, but it was popular in Australia and France and in the UK it climbed to number four in the charts. The publicity for the single said, "If these sides don't move you, see a doctor – you're dead." The British publicist Ken Pitt, who had seen Bell in Las Vegas, recommended his show in the New Musical Express, "They've got it all at their fingertips, right down to the last honkin' semi-quaver."
The Sensational Alex Harvey Band were essentially a glam rock band formed by frontman Alex in 1972. They recorded both original material as well as array of cover versions. Their debut album, Framed, featured the title track, a cover of an old Robins song and an extended six and a half minute version of I Just Want to Make Love to You. Next came Next, a seven-track album with five original songs and their faithful cover of Giddy Up a Ding Dong (without the hyphens). Alex left in 1976 and the band continued without him. He died of heart failure on 4 February 1982.
Sadly no original members of the Bell Boys are alive; Conti died in 1992, Brent in 2002, Bell in 2008 and Mayo in 2011.