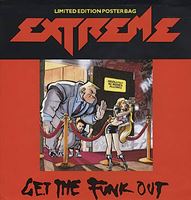 Swear words have been appearing in song since around 1971, some more subtle than others, and back in the old days radio either banned them or got the artist to re-record a version without the offending words. In more recent times, the majority of the chart is littered with grime, drill and rap tracks fully of explicit offensive language with the occasional 'normal' verb or adjective to split them up and hearing them on the radio is bemusing because it's so disjoined where they've had to obscure the words that is just sound like a car crash. Others might say it sounds like a car crash anyway regardless of any bad language. Other acts use a similar sounding word to get past the sensors. D12's 2001 number two hit Purple Pills was changed for radio purposes to Purple Hills but the public could still only buy the Pills version. Funk is a very handy word to replace the more offensive similar sounding F-word and it worked for Extreme when they did just that.
The band hail from Boston, Massachusetts and were formed by singer Gary Cherone and drummer Paul Geary, who had both previously been members of a band called The Dream. When they left The Dream they were both effectively ex-Dream members and the new band name is a play on Ex-Dream. They recruited guitarist Nuno Bettencourt and the following year brought in bassist Pat Badger.
Get the Funk Out became their debut UK hit in June 1991 when it peaked at number 19. The follow-up was, arguably, their most famous song, More Than Words which was one of the six number two hits that were unable to unseat Bryan Adams during his 16-week reign at number one, but Cherone doesn't see that as the band's peak moment. He explained to Dave Everley in Classic Rock magazine in 2018 the exact moment the band peaked, "It was just after five in the afternoon on Easter Monday, 1992, and we were about to step on stage in front of 80,000 people at Wembley Stadium and several hundred million more on television screens around the world for the Freddie Mercury Tribute Concert of which we were the second act on." He went on to say that they had grown up listening to Queen, and the band's sense of ambition and fun which pulsed through their music. But they were also there on commercial merit. What Cherone was really excited about was having a conversation with Roger Daltrey backstage who revealed that his daughter's favourite band were Extreme, adding, "I knew it wouldn't get better than this." He told Everely, "We were the bastard children of Queen, Aerosmith and Van Halen. Yeah, we looked the part. But we were never a party rock band. That stuck with us for a few years."
Get the Funk Out tells the story of being invited to a party but if, once you're there, you don't like it, go. Basically, don't ruin it for the ones who are enjoying themselves, as the lyrics politely say, 'If you don't like what you see here' and 'we won't try to force feed you' get the funk out.
The song began with the music, which Bettencourt had written during a tour and played it to Cherone who added the lyrics. As for the musicians on the track, the Canadian guitarist Pat Travers adds a little backing vocals and Pat, in an interview with Classic Rock Revisited explained how he came to be on it, "Well I sang on a song. I did a guitar pass as well, but Nuno Bettencourt wasn't interested in that, he had the tune pretty much finished the way he wanted it. He wanted me to sing a little pre-chorus and he wanted me to sing it exactly like the demo he sent me, so that's what I did. It doesn't sound real obvious that it's me, but some people can hear it.  It's on the pre-chorus before 'Get the Funk Out'". As for the horn section, they were credited in the liner notes as L'il Jack Horn Section which is a playful reference to the song's B-side which was called Li'l Jack Horny. The horn section arrangement was done by Randy Badazz whose uncle is Herb Alpert. Travers does play guitar on the track Song For Love which was the fifth and final single lifted from the album.
The parent album, Extreme II: Pornograffitti, is a concept album where all the tracks somehow relate to issues of sex, money, and luxury in American culture. It peaked at number 12 in the UK and spent 61 weeks on the listing. In the States it earned double platinum status.
The band split up in 1996 and Cherone joined Van Halen replacing front man Sammy Hagar. He remained with them for three years before departing and, in 2004, reformed Extreme for a few limited appearances. They took 2005 off and announced they were embarking on a world tour beginning in 2007. The band are still together with three of the four members intact. Their current drummer is Kevin Figueiredo.
Reflecting on their early days and what led to the split, Cherone said, "Nuno and I were always trying to write the next song and it would have been nice if we smelt the coffee a little bit more during that time. there were no drugs, nothing to get people distorted. We always got on. It's just that you put four guys in a bus for that long and you get burnt out."