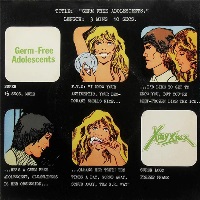 With the whole world having just endured a pandemic where for a while everything was shut down, no one was allowed to leave their home, shops rationing many of their products and we're all made to wear masks and use hand sanitizer, as well as taking lateral flow tests which had been rapidly invented to fight the cause, this week's suggestion from Kev seems very appropriate. We all needed to stay germ-free, but surely that wasn't what X-Ray Spex were worried about back in 1978…or was it?
X-Ray Spex joined the punk movement fairly late but did so in a very memorable way thanks to the band's lead singer. Her name was Poly Styrene who was born Marion Joan Elliott-Said, in Bromley, Kent, is of Somali descent and was inspired to put the band together after seeing the Sex Pistols in Hastings for her 19th birthday. They comprised Jak Airport (real name Jack Stafford) on guitar, Paul Hurding on drums, Paul Dean on bass and, as a last-minute addition, Lora Logic (real name Susan Whitby) on saxophone. Logic was not yet a professional musician as she was only 15 and still studying. Just over a year later she left to complete her studies although some stories at the time claim she was dismissed because of trying to upstage Poly. This is probably enhanced by the fact that she went on to form her own band called Essential Logic, and played some saxophone sessions for artists like Boy George. Poly had a fairly unconventional voice but a distinctive look especially with the large braces worn on her teeth. At the time of their first hit, The Day The World Turned Day-Glow in 1978 she said, "I wasn't a sex symbol and if anybody tried to make me one I'd shave my head tomorrow".
Poly explained in an interview with Jenn Pelly how she came to use that name, "I chose the name Poly Styrene because it's a lightweight, disposable product. It sounded alright. It was a send-up of being a pop star—plastic, disposable, that's what pop stars are meant to mean, so therefore I thought I might as well send it up."
Their debut album, Germfree Adolescents was well received and remains so to this day. In various media polls it's been referred to as, a masterpiece and storming album and was ranked ninth in the Top Albums of the Year in 1978 by the New Musical Express. Sixteen years later the Guinness Encyclopedia of Popular Music named the album the eighth best punk album of all time then in 2001, Spin magazine ranked it at number five in its 50 Most Essential Punk Records. It also features in the book 1001 Albums You Must Hear Before You Die.
The title track was released as a single in November 1978 – the unusual reggae-punk ballad all about hygiene uses words you'd rarely find in any song. Use of the words Listerine, sterilised and disinfectant really pushes home that the new man in her life really must be spotless. The opening line, 'I know you're antiseptic, your deodorant smells nice' tells us that he already meets with her approval. The lines, 'deep frozen like the ice' and 'the S.R. way' are references to the very first television advert shown in the UK in 1955 which was for Gibbs S.R. toothpaste, the S.R. standing for sodium ricinoleate.
Poly suffered with mental health issues and the stress of fame only aggravated her condition. She suffered with horrendous and intense mood swings as well as having hallucinations. She had a fixation about Nazis and the supernatural. Her band mates were getting worried and the band finally fell apart when she revealed she saw a UFO after a gig one night, "I saw a Day-Glo UFO in Doncaster one night after a concert. It was a bright ball of luminous pink, made of energy – like a fireball. Everyone else thought I'd lost the plot," she explained to The Independent in 2008. It was as late as 1991 that she was diagnosed as bipolar. One of her best friends was John Lydon of the Sex Pistols. She would often visit his house, he confirmed this in his 2014 memoir, "They used to lock her up occasionally… She'd break out and always make a beeline for my house. She was good fun until the ambulance turned up for her."
In 1995, Poly briefly reformed the band which included Logic but it was short-lived as they clashed again. Airport and Hurding were both members of Classix Nouveau but Airport left within a year and went to work at the BBC's corporate and public relations department. Poly died of cancer in 2011 at the age of just 53.