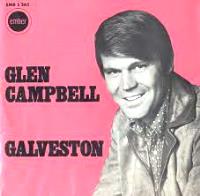 Glen Campbell is something of a legend. He began as a session guitarist, proved his worth and then everyone wanted him. Jimmy Webb was a prolific songwriter and when he got Campbell on his books – so to speak – they complimented each other nicely and made each other very rich. This week, I'll look at the story of Galveston – a protest song which Campbell had not recorded first.
Glen Campbell was born in Billstown, Arkansas in April 1936. He showed an interest in music so young that his father bought him a guitar when he was just four and an uncle taught him the basics of how to play it. When he was 17 he moved to New Mexico to join his uncle's band and four years later set up his own band called the Western Wranglers. As an adult he moved to Los Angeles and became a session musician playing as a member of the Wrecking Crew who played on a multitude of hit records. The artists he played for include Frank Sinatra, Dean Martin, the Monkees, Bobby Darin, Nat King Cole, Elvis Presley, Doris Day, Bing Crosby, Rick Nelson and the Beach Boys literally to name just a few. In 1960, he was briefly a member of the Champs before launching a solo career in 1962 after he'd signed a deal with Capitol records. In late 1964, he spent three months touring as a member of the Beach Boys standing in for Brian Wilson and singing the falsetto parts. He is playing guitar on their 1966 classic album Pet Sounds.
Was Galveston written about the Vietnam War? Well when the writer Jimmy Webb was asked that questions his reply was, "It was about a young American soldier and the only war we were fighting at the time was in Vietnam, so the answer is pretty obvious. The reason I chose Galveston was because I wanted a place that was on the sea. I wanted this character to be from the heartland. I wanted him to be a character I could identify with."
The Vietnam War has had more songs written about it than any other war or battle. The reason being I guess is that during the First and Second World Wars there weren't as many songwriters let alone outspoken ones back then, people didn't write about that sort of a subject, it was mostly songs about relationships. Just for reference, Billy Joel's Goodnight Saigon, Edwin Starr's War, Jimmy Cliff's Vietnam, Bruce Springsteen's Born in the U.S.A., the album track Still in Saigon by The Charlie Daniels Band and Paul Hardcastle's 19 are good examples of songs written about Vietnam but by no means a comprehensive list.  The War raged for almost 20 years beginning in November 1955 and many other protest songs like Barry McGuire's Eve of Destruction was not specifically written about that war but came out during it. That song was written by P.F Sloan who was only 19 at the time and said on his website, "The song was written in the early morning hours between midnight and dawn in mid-1964. The most outstanding experience I had in writing this song was hearing an inner voice inside of myself for only the second time. It seemed to have information no one else could've had."
The inspiration for the song comes from the coastal city of Galveston in Texas which tends to suffer a great number of hurricanes. Webb was there one day on a beach and began writing the song. He originally wrote it as a ballad about a homesick GI in Vietnam who had been separated from his first love, Webb said, "It's about a guy who's caught up in something he doesn't understand and would rather be somewhere else."
It was first recorded by a Hawaiian-born singer called Don Ho with the Oak Ridge Strings. It transpired that Ho appeared on Glen's show The Glen Campbell Goodtime Hour in 1969 and Glen gave Ho a tape of the song saying, "I didn't have any luck with this, maybe you will." Ho's version was released in 1968 on the flip side of the single Has Anybody Lost A Love? but because few people bought the single, few heard the B side.
Campbell recorded it few months later and it took off. Webb said in an interview with Songfacts, "Glen was very, very good at commercialising my songs. He could come up with great intros and great solos, great breaks, and he wrote perfect strings, because he wrote very little. It was a minimalist approach and it just left Glen out there with the song and the guitar. I tended to write a little bit more as an arranger, and probably too much, so I could have done better to have stayed out of Glen's way, I think."
Webb's father was a Baptist preacher and subsequently travelled between churches in Oklahoma and Texas taking a young Jimmy with him. They often visited the coastal towns and cities and Jimmy would spend time watching the crashing waves and the seagulls swooping which fascinated him. These images came back to him whilst writing the song.
Galveston became Campbell's second UK hit single just three months after its predecessor Wichita Lineman which was also written by Webb. In the 1970s he struck gold with Honey Come Back, It's Only Make Believe, Rhinestone Cowboy and the Allen Toussaint song Southern Nights. His last UK hit was in 2002 when he teamed up with pop duo Rikki and Daz for an updated version of Rhinestone Cowboy (Giddy Up Giddy Up) which reached number 12.
Campbell, who had married four times and has fathered nine children, learned in January 2011 that he was suffering from Alzheimer's. Three years later he became a patient at an Alzheimer's long-term care and treatment facility and made a documentary called Glen Campbell: I'll Be Me which examined his condition and how it affected him. He died in Nashville, Tennessee on 8th August 2017 aged 81.
Campbell made the message of Galveston accessible to everyone by singing it exactly how Webb meant it. His creation of it was so special that in recent years it has become the unofficial theme song for the city.
In June 2020, Kim Campbell, Glen's wife of 34 years, published a memoir of their life together called Gentle on My Mind: In Sickness and in Health with Glen Campbell.