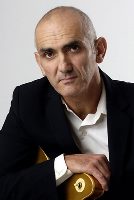 This week's suggestion is a protest song for a little-known event in the southern hemisphere. The lady who has asked for this week's story spent nine months travelling the world and one of her many stops was Australia. Whilst camping in the outback her tour guide would play a song by Paul Kelly called From Little Things Big Things Grow and told stories about Aboriginal culture and she wanted to know more about the song, so I set about finding out about his seven minute epic.
Paul, not to be confused with an Irish nor American singer of the same name, was born in Adelaide in January 1955. From a young age, he learned guitar and harmonica and began performing as a solo artist before moving to Melbourne in the mid-seventies where he began fronting a couple of bands including the Messengers and, after moving to Sydney in the mid-eighties he fronted another group called the Coloured Girls.
Paul is not generally a protest singer, even if he had supported Bob Dylan once on an Australian tour, and the song in question is not really a protest song as such, but a celebration of the life of a protestor. The song, with a distinct harmonica and the trademark didgeridoo sounds, is about the Aboriginal stockman and land rights leader Vincent Lingiari who was born in 1919 at Victoria River Gorge in the Northern Territory. The story, according to Ted Egan at the Australian Dictionary of biography explained that both Vincent's mother and his father, who was also called Vincent, were employed on the 3500-sq. mile (9065 km²) Vestey-owned cattle station, Wave Hill, which is located approximately 600 km south of Darwin and was established in 1883 by Nathaniel Buchanan. Vincent Jr, who was known as Tommy by his employers, had received no formal education and by the time he was 12 he was absorbed into the station work at the stock camps, where cattle from the 80,000 herd were mustered, branded and drafted into mobs of 1200 bullocks to be driven to meatworks at Port Darwin. It wasn't too long before he became a head stockman at Wave Hill, he initially received no cash payment. The first time he received any money was when he lined up with the other stockmen at the Negri River races and was given £5 pocket money, he was around 34 years of age.  At the same time, he was becoming a highly respected law boss.
In the Wave Hill region the majority of the Aboriginal people are known as Gurindji's and Vincent was one of them. In August 1966, Vincent had grown tired of the Aborigines being treated like slaves in their own country so he decided to lead 200 of his people who worked under him, and their families, in a walk-off. This was encouraged by the Australian trade unionist and political activist Brian Manning and an Aboriginal man called Dexter Daniels who made a name for himself as a breakaway Aboriginal organiser of the North Australian Workers' Union. Vincent demanded better pay and rations, and protection of the Aboriginal women. The group camped in the bed of the Victoria River and later moved to Daguragu, known to non-Aborigines as Wattie Creek.  The Gurindji strike was to last nine years, the longest in Australian history.
In April 1967, the Gurindji people sent a petition to the governor-general, R. G. Casey, asking that their tribal land be returned to them so that they could establish their own cattle station. Lingiari, alongside Galarrwuy Yunupingu a member of the Gumatj clan of the Yolngu people and campaigner for Land Rights and the folk singer Ted Egan recorded a song in 1969 called Gurindji Blues. It sold 20,000 copies and the royalties were divided between the Gurindji people and the Aboriginal tent embassy in the country's capital, Canberra.
In March 1973 the newly elected Whitlam government, led by Prime Minister Gough Whitlam, reached an agreement with Lord Vestey to lease 3236 square kilometres of Wave Hill station to the Gurindji people for 'residential and cultural purposes and to de-pasture stock'.  On 16 August 1975, Whitlam poured a handful of red soil into Lingiari's hand to symbolise the legal transfer.  The Gurindji leader commented: "Now we can all be mates".  In 1986, the land was converted and given a freehold title.
Vincent, who had married his wife Blanche Nangi in a tribal ceremony, had six sons and two daughters. In his later years, he lost most of his sight and became very frail but every year he attended the Gurindji's annual re-enactment of the walk-off right up until his death in January 1988 at the age of 79.
In 2001, the Lingiari Foundation was formed to promote reconciliation and indigenous rights and to develop Aboriginal leadership; the Vincent Lingiari memorial lecture is delivered annually in Darwin and Paul Kelly's song From Little Things Big Things Grow and Old Vincent by Ted Egan are performed every year to honour his memory. A Northern Territory Federal electorate is named after him, and a memorial to him in Reconciliation Place, Canberra, was unveiled in May 2004.
Paul Kelly is still active and in 2017 recorded Life Is Fine, his first solo album for five years, it gave him his first Australian chart-topping album and won him four ARIA Awards. His latest album Nature, was released two months ago.