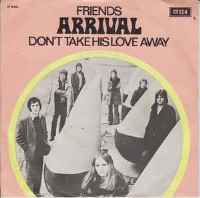 In musical terms, when you think of Liverpool you naturally think of the Beatles first. Then you might think of Gerry & The Pacemakers, Echo & The Bunnymen, Frankie Goes to Hollywood or even Atomic Kitten, but there were so many more that were much less known. Just when the Beatles were breaking up, there was the arrival of Arrival who had a couple of hits, but didn't stick around long through no fault of their own.
They were a male/female tight harmony group comprising lead singers Dyan Birch, Carroll Carter, Frank Collins and Paddy McHugh who had both been members of the Excelles, bass player Don Hume and drummer Lloyd Courtney who had briefly been a member of The Casuals. In early 1969, they came to London to seek a recording contract. The Gunnell Agency suggested they add a keyboard player and so Tony O'Malley who came from Bushey in Hertfordshire was recruited. Whilst in London they attended an Aretha Franklin concert in London where afterwards they ran into A&R director at Decca records, Tony Hall. After sending a demo to the label, Tony signed them up and became their manager. Prior to this the band had made a name for themselves on the live circuit mainly specialising in Motown covers. By the time of their hits, they were booked to appear at the 1970 Isle of Wight Festival.
Terry Reid, a brilliant musician and held in high esteem across the music industry, but his name has become synonymous with turning down the chance to join Led Zeppelin and he is sick of talking about even having a go at one journalist who opened an interview with the same tired question. Anyway, Reid, hails from Huntingdon and in 1964, aged just 15, he left school and joined Peter Jay & The Jaywalkers. Two years after that, his profile grew when the band supported the Rolling Stones on their 1966 tour. In 1968, he embarked on a solo career and released his debut album, Bang, Bang You're Terry Reid which opens with a cover of Sonny and Cher's Bang Bang (My Baby Shot Me Down) and includes a cover of Gene Pitney's Something's Gotten Hold of My Heart as well as a song written by Donovan otherwise it's all his own songs.
On his 1969 album Move Over for Terry Reid, one track was a medley of Highway 61 Revisited/Friends – a combination of the Bob Dylan song with one of his own. Arrival covered Friends and were awarded with a number eight hit. Dyan's lead vocals did the song justice and, at the time, she was graciously compared to Dusty Springfield.
Arrival split in 1973 with various members joining other charting acts like the Olympic Runners who had four hits in the late seventies and Gonzalez who had one hit with the Gloria Jones-penned Haven't Stopped Dancing Yet. The majority of the band formed Kokomo who were, at one point, a 10-piece group and described as a white soul group similar to the Average White Band, an act they did tour with at one time. They stayed together for three years and impressed Bob Dylan who invited them to back him on his Desire album. Their only UK chart success came in 1982 with the wonderful, but minor hit single, A Little Bit Further Away which featured Frank Collins on lead vocal and Dyan Birch on backing.
It was announced that on Saturday 10th October 2020, Dyan passed awake in her sleep after a battle with Chronic obstructive pulmonary disease.