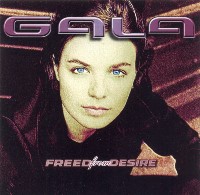 Every decade has its own music genre or two! The seventies had a bit of everything really, glam, disco, soul, prog rock, the eighties had new romantic, Chicago House and electronic and the 2000s+ seem to have grime and rap as for the nineties, especially the mid-nineties that had dance anthems. There were many of them with arguably the most played and well-known being Show Me Love by Robin S. Another one on heavy club rotation, especially by me, was this week's suggestion – Freed from Desire by Gala.
Lyrically the song doesn't have too much to offer apart from the memorable repeated line 'My love has got no money, he's got his strong beliefs' although it did take me a few weeks to actually work out what she was singing, but nonetheless, its infectious dance beat made it very memorable.
Gala was not a band, she was a female whose full name is Gala Rizzatto who was born in Milan in Italy in September 1944. Her name comes from a combination of Salvador Dali's wife and also from the Russian dancer Gala Ulanova. When she was 17 she moved to Boston, Massachusetts to study art and once she qualified she moved to New York where she chose photography. It was whilst on a trip back to Italy she was taking pictures of a DJ. She started singing and the DJ recognised her talent. Her debut recording was called XS and was featured on a compilation album called Originale Radicale Musicale, the response was so positive that she began her recording career and cut her first single Everyone Has Inside which went to number one on the Italian chart.
On returning to New York, she continued recording and started writing songs. "The original reason why I got into singing was because when I was in high school I realised that everyone was separated," Gala explained to Tom Victor. "I felt 'My God, we used to be so together and everyone is separating' and singing was a way to connect all the people who travelled to Paris and to London. When I had this big hit, everyone would call me from all over the world and that gave me a sense of keeping the unity and the feeling that there was a community. That is not the same as having a real community, but it was my desire, my innocent young desire of bringing everyone together. So, the fact that this song is used and sung by many people together, to bring them together, is kind of the goal of that song. It keeps repeating in different ways. When I wrote this song I wanted to change the world, it was driven by a strong passion."
Freed from Desire became the follow-up single and also topped the Italian chart for four weeks before exploding in Europe. She described the track as being, "Born as a chant, it is born as a prayer. I was very young, I wanted to save the world with the Buddhist concept of not wanting more. I believe the worst thing in the world is greed, it's the beginning of all evil. I hate that."
Gala is not a one-hit wonder as some would think although many would struggle to remember her second hit which got to number 11 on the UK chart. Anyone? No? Well, it was called Let A Boy Cry. She did have one further minor hit – Come into My Life which just scraped into the top 40 in 1998.
In 1998, she met Prince's manager, Steve Fargnoli and signed a new deal with Universal music, but when Steve died suddenly in 2001 she broke her contract and returned to photography. Seven years passed and Gala returned to singing and over the following five years released a couple of albums Faraway and Tough Love. In 2010, Freed from Desire was used in both Spain and France for a Nissan television commercial.
It got another lease of life in 2016 when Sean Kennedy, a Wigan Athletic supporter, recreated the song under the title Will Grigg's on Fire after he fired 25 goals for Wigan Athletic that season. He uploaded it to YouTube and it went viral and became a terrace chant. How did Gala find out about the new version? "This guy from England called me and said, 'Your song has become my favourite chant ever!' Gala explained to AOL.com. "I listen to many of these football chants but this one is my favourite one'. I don't follow football so much but I said, 'If you tell me it's good, I trust that it's good'. I think it's not by chance that it gets used as an anthem. My intention was not soccer, and in one way I could say I don't like that they changed my lyrics because the lyrics mean so much to me, but you have to see things from a different perspective. I understood music can be perceived on many levels, it doesn't always matter. I remember being in a cafe in Italy and a guy said, 'I don't know what this song is about but I believe it's about something important.'"