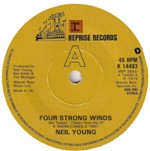 In the 1960s, payola was rife especially in America. This is where promotion people used to pay radio DJs and producers to programme their song so they could gain royalties. It happened in the UK too, but perhaps not quite so blatantly. Producers and DJs at the BBC particularly were taken out for very long lunches and wined and dined to win them round to achieve the same desired effect. Some scrupulous record companies 'employed' people to go round buying up multiple copies of whatever they were promoting in order to get a higher chart position, thus kick starting radio and TV airplay which in turn led to genuine sales. In 1978, Neil Young released an album called Comes a Time which only reached number 42 in the UK but went top 10 in the States. In an interview with Rolling Stone magazine years later, Neil revealed that he bought 200,000 copies of the album himself, yet no one seemed to bat an eyelid at the time. Neil explained, "Oh that was because it was a mastering error. The tape got damaged when it went through the airport or something. I had to go back and use a copy of the master – which itself was a copy, but it had better-sounding playback than the other one." The song that closed that album was a song called Four Strong Winds.
Almost everything Young records were written by him, but this track wasn't, it was written by a fellow Canadian called Ian Tyson. Ian was a country singer who also recorded as one half of the duo Ian & Sylvia. He wrote and recorded the song in 1963 and it did well in Canada, but nowhere else. A version by the Brothers Four later the same year was a minor hit, the following year Bobby Bare gave it a different country arrangement. A cover version by The Vanguards did well in Europe when they cut it as Mot Ukjent Sted and was a big hit in Norway in 1966. The Hep Stars cut it with that same title and scored hugely in Sweden in 1967.
Neil Young's version, which featured backing vocals from his then-wife Nicolette Larson, is generally considered the definitive version. Neil explained how he came to know it. "There was this place we used to go and for a nickel you could play a song on the jukebox. This song was on there and I used to play it all the time because I absolutely loved it. I used to listen to it over and over again and it's one of the best actual performances of a song I ever heard. There aren't many songs that I sing that I haven't written but this was just real and I don't think you get any more real than that."
Ian and Sylvia met in Toronto and began performing as a duo in 1959. By 1962 they had moved to New York City and were at the centre of the Greenwich Village Folk Scene. The pair married in 1964.
So what was Four Strong Winds all about? Well it was written about a lady Ian had met in the mid fifties, her name was Evinia Pulos. The two had met in Art College in Vancouver when she was 18 and he was 22. Their chemistry was instantaneous, but complications ensued and in 1957, they parted company. Evinia describes what happened, Ian was a very good looking fella and soon after we'd met we had plans to go to Toronto to be artists together and I thought we'd be spending the rest of our lives together," she said with a deep feeling of regret. The strains of the song are there in this letter. Ambivalence. Regret. Above all, longing. 'I'm not coming back,' Ian Tyson wrote to Evinia in September 1960, two years before he penned the folk classic. The lyric, 'But our good times are all gone, and I'm bound for moving on, I'll look for you if I'm ever back this way.' still haunt her because after all, she was the dark-eyed beauty Tyson had in mind when he hunched over a guitar in his manager's New York apartment and put his thoughts to music.
Even years after the couple parted, there is something that keeps them together. In 2012, Evinia said in an interview from her home in British Columbia, "We're in each other's lives for whatever we have left. He'll embark on various relationships or affairs, but they don't last. He always comes back and calls me." That same year Tyson described Evinia as his 'soulmate' and acknowledged that their emotional connection continued long after they went separate ways. "We've been lovers for 55 years," he told John Einarson, author of Four Strong Winds: Ian & Sylvia. "How many people can say that?"
Oh, and in case you're wondering what Neil Young did with those 200,000 albums he bought, "I put them to good use," he told Rolling Stone magazine, "I made a barn roof out of them, I used them as shingles."