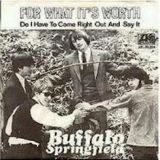 When it comes to protest songs, some of the biggest ambassadors would be people like Bruce Springsteen, Bob Dylan and Billy Bragg, but many non-protest acts would make a one-off protest song about something they feel strongly about, e.g., Tom Robinson recorded Glad to Be Gay, Creedence Clearwater Revival sang Fortunate Son, Yes campaigned with Don't Kill The Whale and The Special AKA were urging the authorities to free Nelson Mandela. For What It's Worth is this week's suggestion but what it is about?
Buffalo Springfield were a Canadian/American folk/country band whose name is derived from a make of American road roller, or steam roller as we call it. The five-piece who formed in 1966 comprised Stephen Stills on guitar, vocals and keyboards, Bruce Palmer on bass, drummer Dewey Martin, Ritchie Furay on guitar and Neil Young on vocals and harmonica. Their debut single, Nowadays Clancy Can't Even Sing, was written by Neil Young after returning from Toronto whilst attempting to launch a solo career, but the single failed to take off, but it was the follow-up, For What It's Worth, that put them firmly on the map.
It's not about Vietnam, or any other war for that matter, which is what many protest songs of the time were about. It was to do with the closing of a popular night club. One evening Stephen Stills was on his way to Sunset Strip in Hollywood to hear some live music, but on his journey he encountered a rally with thousands of kids who were protesting about the imminent closure of Pandora's Box night club. Stills explained the story in Neil Young's book Long May You Run: The Illustrated History, "I had had something kicking around in my head. I wanted to write something about the kids that were on the line over in Southeast Asia that didn't have anything to do with the device of this mission, which was unravelling before our eyes. Then we came down to Sunset from my place on Topanga with a guy – I can't remember his name – and there's a funeral for a bar, one of the favourite spots for high school and UCLA kids to go and dance and listen to music. Someone decided to call out the official riot police because there's three thousand kids sort of standing out in the street; there's no looting, there's no nothing. It's everybody having a hang to close this bar. A whole company of black and white LAPD in full Macedonian battle array in shields and helmets and all that, and they're lined up across the street, and I just went 'Whoa! Why are they doing this?' There was no reason for it. I went back to Topanga, and that other song turned into For What It's Worth, and it took as long to write as it took me to settle on the changes and write the lyrics down. It all came as a piece, and it took about 15 minutes."
According to Rolling Stone magazine, they wrote, "the situation in Los Angeles was tense. An increasing number of club-goers was descending on the Strip, irritating area residents and upscale boutiques, and the LAPD instigated a 10pm curfew for anyone under 18. On the night of November 12th, a local radio station announced there would be a protest at Pandora's Box. According to reports, a fight broke out for reasons having nothing to do with the curfew; a car carrying a group of Marines was bumped by another vehicle. Egged on by that fight, the protesters (some of whom carried placards that read 'We're Your Children! Don't Destroy Us') trashed a city bus and threw bottles and rocks at store fronts. Basically a bunch of kids got together on a street corner and said we aren't moving. About three busloads of Los Angeles police showed up, who looked very much like storm troopers and I looked at it and said, 'Jesus, America is in great danger.'"
You really can hear the song's message in the eerie way Stills sings the opening line, 'There's something happening here but what it is ain't exactly clear, there's a man with a gun over there telling me I got to beware', coupled with the combination of Martin's scarce snare drum sound alongside Young's limited guitar notes during the verse, gives the whole thing a spooky or moody sound. Every verse is separated by the urgent cry of, 'Hey, what's that sound? Everybody look – what's going down?' Neil Young, in an interview with Jimmy McDonough's Shakey, credited engineer Stan Ross with the song's sparce, almost sinister arrangement, "Stan came in and said, 'You gotta do this one thing to the drum, the snare,' took a broom, a guitar pick and mixed that in so it's got that sound – of a guitar pick going through a broom, on the straw. That was it." Stills added, "Neil came up with the wonderful harmonics part with the vibrato. The combination of the two guitar parts, with my scared little voice, made the record."
The song is one of those breeds where the title is not mentioned in the song, so how did the title come about? Richie Furay recalled that he, Stills and Young played new material for Atlantic's Ahmet Ertegun saying, "Ahmet had come to Los Angeles and we were at Stephen's house and at the end of the day, Stephen said, 'I have another one, for what it's worth.'"
The song has been covered by a number of people in varying styles, Ozzy Osbourne was brash with it, Kid Rock made it a rock tribute and Public Enemy sampled it on their 1998 song He Got Game which featured in the movie of the same name and featured Stills as guest vocalist. It also appears briefly in Forrest Gump.
The Springfield released six further singles none of which cracked the US top 40 and in 1968, after just two years, they called it a day with Stills saying, "We didn't want to do another song like For What It's Worth. We didn't want to be a protest group. That's really a cop-out and I hate that. To sit there and say, 'I don't like this and I don't like that' is just stupid."
Stills and Young have both had solo careers as well as being half of Crosby, Stills, Nash and Young. Furay became a member of Poco and then launched a solo career, Martin formed for a new version of the band called New Buffalo Springfield and released some solo material, Dewey died in 2009 and Palmer released one solo album in 1971 and then formed a band in Toronto with some old friends and called themselves Village and performed some local gigs. He died in 2004 from a heart attack.
According to BMI, the song's publishing house, For What It's Worth been played over 9 million times on TV and radio worldwide.