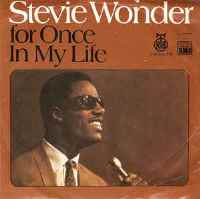 The majority of Motown's biggest hit were written in-house either by the staff writers of Brian Holland, Lamont Dozier & Edward Holland, Norman Whitfield, Henry Cosby and Sylvia Moy or even by the artists themselves like Smokey Robinson, Marvin Gaye, Lionel Richie and Stevie Wonder. Quite rarely did they cover other artist's songs. There are a few exceptions for example, The Four Tops did If I Were a Carpenter written by Tim Hardin and Do What You Gotta Do as written by Jimmy Webb and Stevie covered Bob Dylan's Blowin' in the Wind and equally, Motown writers rarely wrote for artists outside the stable, but obviously hundreds of acts covered Motown songs. One particular exception is this week's suggestion of For Once in My Life, which began long before Stevie Wonder got his hands on it.
It was written by the Motown staff Ron Miller and an outsider called Orlando Murden. There has been, for years controversy as to who recorded it first especially as a number of the singers claimed they did it first. According to a recent article by David Freeland on the American Songwriter site, who says, "Sometime in 1965, Miller gave lead sheets of For Once in My Life to two Detroit-based singers, Jo Thompson and Sherry Kaye. In a letter written to the Detroit Free Press in March 2019, Kaye claimed that she performed the song first in a musical revue at the Gem Theater. Meanwhile, Thompson was featuring it in her act at the Celebrity Room, a swanky club operated by Flame Show Bar owner Al Green (not the 70s soul singer). Today, both Thompson and Kaye own 'original' copies of the song, and Thompson's even bears the hand-written note from Miller: 'To Jo Thompson who sang it first, and best!'"
It transpires that neither did it first, but another argument that arises as to not only who did it first, but whose was released first. At the end of the day, the first recording laid down is the original regardless of any release. In 1966, a version by a Jazz/soul singer called Jean DuShon who was a recording artist signed to the Chess record label. It is claimed that Miller had her record the song as a demo, but liked her version so much that he thought she should sing it. In November 1966, another Motown-signed singer, Barbara McNair (who died in 2007) included the song on her album Here I Am. Since delving further into this minefield, it seems that DuShon's version was issued first, but a close checking on the copyright on McNair's record label reveals that her version was recorded in 1965, preceding all other versions. So, in short, McNair did the original and all others followed.
All the early versions were in a ballad style but it was Hank Cosby who had become responsible for the studio operations at Motown and it was he who suggested Stevie Wonder record the song and up the tempo. "The song had been previously recorded by some big named acts," Cosby recalled in an interview with Stuart Grundy. "I said to Stevie, 'this song sounds like people are dying and crying and I thought it was supposed to be happy so I suggested he put some life into the song.' Stevie said to me, 'Oh no, I hate that song, but to please me he started singing and playing and I started the tape recorder playing.' I played it back and asked Stevie what he thought, to which he replied, 'It wasn't too bad.' We did it again and, again, he said it wasn't too bad so I said come on, let's cut it."
After the song was recorded, Cosby, said, "I thought it came out great, done with so much fire and so much feeling, but when Ron Miller heard the jazzed-up version  he went berserk. He went crazy saying, 'what have you done that for?' and because he didn't like it, it sat on the shelf for one year. A year later, they finally released it because there was no other product on the shelf.
Ron Miller, in the same interview, explained a slightly different story, "When I wrote that song, I wrote it the way I thought Tony Bennett would sing it. Tony had a hit out at the time and did record it but never had a hit on it. Stevie came to me in my basement office and said, 'Hey man, I love that tune' and I said, 'great', but Stevie said, 'I want to do it like this' and he started playing it the way he wanted with the whole concept of his new arrangement. When I heard it, I said, 'Listen man, you're talking Oscar Hammerstein, I don't want to hear it like that, but Stevie actually spent three or four months trying to talk me into letting him do the song that way. Finally, I said OK and we did the song but I was dead against it because I thought it was a sacrilege to a beautiful song. But then it sat in the can for almost two years because the company didn't like it." Eighteen months later, Stevie said to Miller, maybe they don't like the pace of it, so let's do it again and put a harmonica solo in. That's what happened and then everyone was happy and it got released.
Many other acts recorded it including Frank Sinatra, Gladys Knight & The Pips, Emeli Sande, Michael Buble and the Temptations which then had Paul Williams on lead vocals. Tony Bennett often included it in his live shows and in 2006 performed a slower paced version with Stevie Wonder for his album Duets: An American Classic. That version went on to win a Grammy for Best Pop Collaboration with Vocals. At the awards ceremony, Wonder dedicated the Grammy to his mother, who died that same year.
Ron Miller's other successes included Heaven Help Us All, Yester-Me, Yester-You, Yesterday and A Place In The Sun which were all hits for Stevie Wonder as well as Touch Me In The Morning for Diana Ross. His most recent UK chart success was I've Never Been To Me which she had recorded in 1977 but finally topped the UK chart upon re-issue in 1982.
Miller died of a heart attack in July 2007.
In an interview with Ralph McKnight and Martin Lawrie, Jean DuShon described her feelings of hurt when Stevie's version became a hit, "It was a very big disappointment in my life. I stopped singing it 'cause I didn't have the song. I didn't have anything. It wasn't mine anymore."