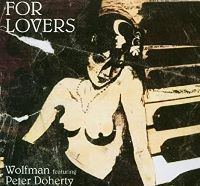 If you you're a real music fan and, more so, like me, a chart watcher, it astounds me how certain big songs can completely pass you by and find you have no recollection of. There were the odd occasions when something with limited appeal went into the chart high and then sank without trace and it all happened whilst you were on your annual holidays, so that could be a reason, but this week's suggestion reached number seven in the spring of 2004 and spent seven weeks on the chart and I don't remember it at all. It's only when I happened to play it in a quiz recently that I thought, 'this is a really good track, why don't I know it?' There was no answer. Do you remember For Lovers by Wolfman Featuring Peter Doherty? It was requested a long time ago by adrianr, so apologies for the delay in getting round to it.
One comedian who clearly does remember it is Russell Howard. A very funny man who I saw live a few years ago at the Royal Albert Hall. He once said of it, "The song that makes me want to dance. I'd love to be able to dance but sadly I can't. I dance like a new born pony. I've never got to that level of confidence where I feel like I should dance. When my wife and I got married, we had this song as our first dance and it was the thing I was most terrified about on the day. I just sort of hung onto my wife and let her lead me about. You know when you get pissed and kind of dance with your dog? It was a bit like that, with me as the dog."
For Lovers was credited to Wolfman featuring Peter Doherty – the latter is the troubled musician from the Libertines whose drink and drug problems became tabloid headlines as well as being jailed for burgling his own guitarist's flat. Wolfman is the Maidstone Kent-born Peter Wolfe who describes himself as a rock poet. He left school at 18 and briefly became a plumber before moving to London and befriending and later sharing a flat with the Pogues' lead singer Shane MacGowan. He spent years trying to carve a career as a musician but always seemed unable to secure a recording contract.
Wolfe, who was born Peter Randall, had ambitions to be a professional footballer and even spent a couple of  months with Gillingham FC, until alcohol took hold. He first met Doherty in Islington, they became friends and formed a songwriting partnership. He said in an interview with Dorian Lynskey in the Guardian, "He turned up at my flat and started hanging around saying he was in a band. He's a great f***ing person. Sometimes really awful but sometimes very kind. Maybe he was the first person to look at me through eyes which didn't say, 'This guy's a c***'."
Wolfman showed Doherty a song he had written some 10 years earlier in a pub in London's Paddington soon after he got divorced, it was called For Lovers, and had recorded a demo with a musician friend, Julian Taylor. Wolfe also has a bit of a chequered past involving drugs and seems to do things on a whim. In the late 90s be moved to New York saying, "I needed a change of scenery. I needed people who didn't know me to say I was cool and good." It appears he shared a property with two junkies who weren't short of a bob or two and before long, they checked into rehab leaving Wolfe alone in the flat with rent being paid by the junkie's parents. He's keen to relay his past saying, "People find it difficult to believe the things I've been through, but they're true and they're all documented." From New York, he then moved to Paris.
The drinking and drugs were still a problem, he moved back to London and his world got very dark when he discovered that his wife's younger brother died of meningitis. He was at an all-time low and attempted suicide again, "The third time was in 2000. A doctor found me in Primrose Hill at half two in the morning under a bush with an empty bottle of vodka and all the pills. I'd been dead for four minutes and he brought me back to life. It wasn't a cry for help. It was a miracle. I came back from the dead on Easter Monday, Ascension Day, the day Jesus came back. And I didn't plan it like that. I had to go and stay with my dad – 34 years old, washed up in the wreck of my childhood. It was all over, finished."
Things did get better, there was light at the end of the tunnel, in the same 2004 interview in the Guardian with Dorian Lynskey he said, "I'm the happiest man on the planet. The more they slag me off and tell lies about me, the worse it gets for them because I know the truth will out – you get back what you put in. And I'm proving it all the time."