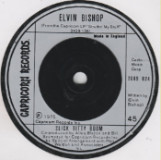 Question: what do Ai No Corrida by Quincy Jones, Killer by Adamski, My Coo Ca Choo by Alvin Stardust, The All-American Boy by Bill Parsons and Rock and Roll Dreams Come Through by Jim Steinman all have in common? The answer? The singers on the track are not the ones credited on the label, and that is also true of this week's suggestion Fooled Around and Fell in Love by Elvin Bishop, a top 40 hit from 1976.
Elvin, who was born in California in 1942, was an original member of the Paul Butterfield Blues Band after meeting the harmonica playing Paul in 1963 in their local neighbourhood. Elvin was the guitarist but in 1968 left and formed his own band the Elvin Bishop Group before going solo in 1975.
It's so often said that the best songs come quickly and very often write themselves and that's what Elvin said of this song. "The better a song is, the less story there is to it, as far as I can tell," Bishop said in an interview with Carl Wiser. "The best songs just come rushing out. I don't know if life squeezes them out of you, or if they're just so right that they take no thought. I don't know. Or if you're given a temporary connection to the flow of the universe, or whatever it is. But that song just damn near wrote itself. It's about a guy who callously played the field until one day when he falls madly in love with a girl he can't stop thinking about."
Elvin was teamed with producer Bill Szymczyk and were recording the album Struttin' My Stuff and at the end of it, Bill told Elvin that he wanted one more track to fill the album and asked him if he had anything else. Bill said, "Well, there's this tune I wrote and I'd actually tried to get a couple of other people to sing it, but somehow it didn't work out," and played him Fooled Around and Fell in Love. "We cut the track, it was a really nice," Elvin continued, "I tried singing it, and I told Bill 'That's not buttering my biscuit, my vocal on this. My voice is very plain. It's better suited for blues. We had a guy right there, Mickey Thomas (a former member of the Elvin Bishop group), who has the most amazing voice – he can sing a page out of the phone book and move people. I said to Bill, 'why don't we give Mickey a shot at this?' to which Bill replied, 'Well, that's big of you.' And I said, 'well, I don't think so. It's just common sense, you know?' Mickey just tore it up."
Mickey Thomas recorded a couple of solo albums in the mid-seventies, but got his big break in 1979 when he was asked to replace Marty Balin in Jefferson Starship and sang lead vocals on Jane in 1980 and their biggest hits We Built This City and Nothing's Gonna Stop Us Now.
The song was brought to a new audience in 2014 when it was included in the Guardians of the Galaxy – Awesome Mix Vol 1 soundtrack.
Bishop was inducted into the Rock and Roll Hall of Fame in 2015 as a member of the Paul Butterfield Blues Band and also into the Oklahoma Jazz Hall of Fame in 1998 as a soloist. He is still recording, touring and regularly releases albums, his last being Elvin Bishop's Big Fun Trio in November 2017 which received a Grammy nomination for Best Traditional Blues Album.
Oh, in case you're wondering who was singing on the tracks mentioned in the first paragraph, Ai No Corrida was James Ingram and Patti Austin, Killer was Seal, My Coo Ca Choo was Peter Shelley, The All-American Boy was Bobby Bare and Rock and Roll Dreams Come Through was Rory Dodd.