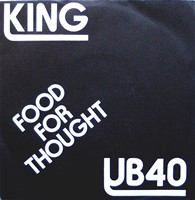 'I don't like reggae, I love it' Graham Goldman once sang on the 10cc number one hit Dreadlock Holiday, he was saying that he doesn't just like reggae, he loves it – especially in the situation he was in – if you know the story behind that song. I love reggae too, but real reggae, not cod reggae which leads me nicely into this week's Single of the Week, the debut hit by UB40.
UB40 had charted just over 50 UK hit singles since their debut in 1980, they had three number ones all of which were cover versions – the nauseating and over played Red Red Wine in 1983, I Got You Babe (with Chrissie Hynde) in 1985 and (I Can't Help) Falling in Love with You in 1994. Their highest charting self-penned song was 1985's Don't Break My Heart which reached number three followed by the number four peak of Food for Thought.
The latter was released as a double A-side in March 1980 with another self-penned track, King which was written about Martin Luther King, but it was Food for Thought that received the majority of radio play, all thanks initially to Peter Powell and John Peel who championed them in their early days.
The writing credit on the song is, like all UB40 songs, credited to all members of the band regardless of who actually laid the music down or the lyrics. "We've always done that," Robin Campbell told Songwriting in 2013. "The whole band's credited for everything. That was a decision we made right at the beginning, because it seemed obvious that many bands fall out over who gets what song on what album, and the end result is that people all have to get a song or two on each album so they're earning, and we just felt it watered down the quality. We had three or four strong lyricists and the whole band did the music, so we decided early on that whoever wrote any particular lyric, we would always credit the whole band and share it equally. I think that's maybe part of the reason we've lasted so long. What seems to be one of the biggest causes of splits is over musical differences but from bands I've spoken to, very often it's financial differences. So, from day one, we decided that wasn't going to be a source of argument between us."
It was actually Robin who penned the song and in the same interview he explained how it came about, "I wrote the lyrics, then I brought them to the band and we sat around and worked it to music. That's usually how it works. Sometimes the lyrics might be written by more than one person, but often it's one person that brings a lyric to the band, generally without a melody. As a band we just jam and record stuff that we like, and then it'll be like okay, we've now got 25 backing tracks, we've got to come up with some lyrics! And we go away and come back with a bunch of 'em and select the ones we like between us. When Ali was with the band he was often the tunesmith: he would take the lyrics and fit them to an instrumental that we'd already come up with. That was our songwriting routine, pretty arse-backwards really compared to other people!"
The inspiration for the song came from the massacre of Kampuchea – now Cambodia. The state of Kampuchea was controlled by a Communist party whose members was known as Khmer Rouge. They had their own Army who killed anyone who opposed them. I actually wrote it in my flat in Birmingham, just before Christmas, so it's actually a Christmas song! Or rather, it's inspired by the hypocrisy of Christmas, the fact that there are starving people in Africa and here we are all sat around eating our Christmas dinner and praising the Lord. People are still dying every day, every minute while we're doing it."
It's a well-known fact that they took their name from the form which is to be completed by someone claiming unemployment benefit called the Unemployment Benefit Form 40, also known as signing on. It confused me initially as to whether their debut album, which was called Signing Off, was an error or just a play on words. To be honest, I'm still not sure.
Some of the lyrics in UB40 songs can be hard to decipher in the way Ali Campbell sings them, for example, the opening line of Food for Thought is Ivory Madonna which is often misheard as I'm a Prime-Donna or I Believe in Donna or other similar lines. Apparently, the band had a big debate about its subtlety before recording the final version and Robin Campbell said he "Regretted being too ambiguous. I find it incredible that people can't understand it and that upsets me. I think the symbolism's quite obvious. But now I'm concerned about writing too subtly," he explained.
The Campbell brothers came from a musical family; their father was Ian Campbell who had a folk group and their cover of Bob Dylan's The Times They Are a Changin' just missed the top 40 in 1965. Ian died in 2012 aged 79.
The UB40 sound was that of lead singer Ali Campbell who left the group in 2008 stating that for many years he had been unhappy with the business practices and managers of UB40 and launched an investigation into the financial handling of the business. A few months later the keyboard player Michael Virtue did likewise for the same reasons. Original members Robin Campbell, Jimmy Brown, Earl Falconer, Norman Hassan and Brian Travers continue as UB40 but then six years later he reunited with Virtue and toaster Astro went on to form another version of the group called UB40 featuring Ali, Astro & Mickey.