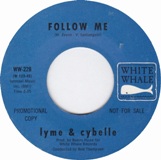 Once upon a time there were two kids who met in high school, later in life they formed a duo, had one modest American hit and then went their separate ways and had successful careers in their own right. Let's find out about that one song and the people behind it.
The label credit on this week's suggestion is given as Lyme & Cybelle which gives nothing away. The single was only issued in the US, Canada and Australia and bizarrely, in America, the label credited their names in lower case letters apparently in an effort to be trendy like a couple of poets once did, but in Oz and Canada they were correctly given capital letters. So, Cybelle was the name chosen by Violet Santangelo which was inspired by the 1962 French film Sundays and Cybelle and Lyme is first musical outing for Warren Zevon who originally began using the non de plume Stephen Lyme before he was famous.
Zevon was born in Chicago in 1947 and, although didn't have any UK hit singles, he'll always be best remembered for the radio favourite Werewolves of London which featured Fleetwood Mac members John McVie on bass and Mick Fleetwood on drums. Violet said, "I was born in Chicago and later moved to the Land of Lost Angels and attended Hollywood High School, where I met Warren Zevon." The pair, who were never romantically linked, both shared a love of the Beatles and began singing songs together.
At a gig one day the American child actor, Michael Burns who appeared in the TV series' Lassie and Bonanza among others told his mother about the duo he'd seen. She worked at White Whale Records which led them to sign a recording contract with them. They recorded three songs with the label, the self-penned Follow Me was the first, a cover of Bob Dylan's If You Gotta Go, Go Now and their final one was Write If You Get Work.
Follow Me was written by both Zevon and Santangelo and because of its sound it is generally accepted as being one of the earliest psychedelic songs. It has beautiful harmonies reminiscent of the Mamas and the Papas and a catchy hook, but it only peaked at number 65 in America. One of the reasons for its low placing was, as Santangelo recalled, "The single began selling well, only to have its momentum crushed when Bill Gavin, a powerful radio industry figure, claimed the song was sexually suggestive." Listening intently and scanning the words carefully one wonders what planet the people who make these decisions are on. Not one word, even for the sixties, can remotely suggest anything suggestive. It's the epitome of a flower power anthem all culminating with a brilliant production by Bones Howe who is best remembered for his production work with Fifth Dimension and The Association, both revered harmony groups, as well as The Monkees and Alessi's 1977 hit Oh Lori.
Zevon, who was writing a number of songs, began presenting them to White Whale label mates The Turtles. Outside Chance, which was co-written with Santangelo, was one such track, but it didn't chart even though it had more than a passing resemblance to the Beatles' Taxman. Incidentally, the B-side of Follow Me was called Like the Seasons and appeared on the B-side of The Turtles American pressing of Happy Together but in the UK it was relegated to the flip side of the non-hit Can I Get to Know You Better.
After the second single failed Zevon walked away, his reasons weren't clear but Santangelo claimed that she walked away from Zevon because of his excessive drinking and drug use. Either way, Zevon concentrated on a solo career and released 14 albums between 1969 and 2003. For some reasons his career never took off in the UK, his only charting album was The Wind in 2003 which spent a solitary week on the chart at number 57. As for Violet Santangelo she quit the music industry and moved into theatre. She studied and gained a scholarship at the University of Southern California and, changing her name to Laura Kanyon. From her website she explained, "After learning the triple time step and paying my dues at the Bluth Bros. Theatre I decided to go big time and leave home.  I was married, left home and moved to New Yawk all on the same day! Two weeks after moving to the Lower East Side in Manhattan, I found myself in an Off Broadway piece called Peace in which I played a character referred to as Abundance. Two weeks later, I was Martha Raye's maid in a new musical called Hello Sucker and after two years of belly dancing with Richard Kiley in the Man of La Mancha, I starred in Ron Field's Broadway production of On the Town. My life has been full of up (town) and down (town) experiences. I've written with Warren Zevon, had more than 15 minutes at the Warhol Factory, worked with gifted directors, composers, and artists and developed my craft through the eyes of the inspired actress, Alice Spivak, who is also my mentor and acting coach. I recently ended my run as the Baronessa Serafina Delle Rose in Tennessee Williams' The Rose Tattoo, and I continue to inspire and educate young artists with the experiences that I have had in my career."
Her musical highlight must have been performing as Lyme & Cybelle in a club on the Sunset Strip with Van Morrison as their opening act.