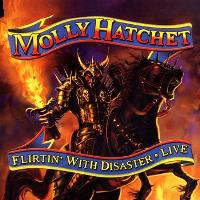 Lynyrd Skynyrd, Jethro Tull, Marilyn Manson and the Marshall Tucker Band are four good examples and this week's suggestion is another – band names that contain no one in the band with that name. Most being named after famous people and others just made up. This week's suggested of Molly Hatchet, a band I first heard when listening to Tommy Vance's legendary Friday Rock Show on Radio 1, is named after someone quite infamous.
The band formed in 1971 in Jacksonville, Florida by guitarist Dave Hlubek and over the next 50-odd years had approximately 30 members of which over just about one third are no longer with us. They are named after a Salem, Massachusetts-born prostitute who apparently beheaded and mutilated her clients with an axe after they had 'serviced' her. During their hey-day, which was arguably 1975-1982, their lead singer was Danny Joe Brown who sang lead on their 1979 breakthrough, Flirtin' With Disaster of which the title track we learn about this week.
Their career could have been much bigger save for an early disaster that hindered them. Dave Hlubek had been at the same school as some members of another local Jacksonville band Lynyrd Skynyrd and their early manager, Pat Armstrong, was offered a chance to manage Hatchet. Skynyrd's lead singer Ronnie Van Zant had a younger brother called Donnie and it was he who took Hatchet to Skynyrd's studio which was then located in Jacksonville to record some demos with the view to bringing in Ronnie Van Zant to co-produce their debut album, but the plane crash of October 1977 which wiped out three members of Skynyrd as well as their road manager, pilot and co-pilot, immediately halted that project.
Molly Hatchet released their eponymous debut album in 1978 and it sold well in the States and went gold, chuffed with their success which, sadly, went to their head and this new-found glory, and more-so, money, sent them on a downward spiral. Drink and drugs, especially cocaine seemed to be top of the band's daily agenda prompting the comment from their manager, "You scratched and clawed your way to the top, and now you've snorted your way to the bottom." Only their drummer, Bruce Crump escaped all of this because he was a health fanatic.
It was the subject of self-destruction, it somehow inspired some of the songs on their next album and Flirtin' with Disaster was one such song with the opening verse, 'I'm travelin' down the road and I'm flirtin' with disaster, I've got the pedal to the floor, my life is running faster, I'm out of money, out of hope, it looks like self-destruction, Well, how much more can we take with all of this corruption' making it plain to understand.
Hatchet's album covers were also striking usually with a common theme of a menacing looking Viking gracing the front cover which were all created by an artist called Frank Frazetta. A possible early inspiration for Iron Maiden? Who knows?
According to Billboard, Brown left the band in the early 1980s because of his diabetes. He briefly formed his own group, the Danny Joe Brown Band, before rejoining Molly Hatchet in 1982 for the No Guts … No Glory album. In 1998, Brown suffered a stroke which halted his career. Brown died in 2005 at his home in Fort Lauderdale, his sister Lyndia Brown said. "He had been in the hospital for about four weeks before he died, and wanted to come home. He was home for 30 minutes when he died. He was surrounded by his children and his wife."
Flirtin' with Disaster became their most famous song and will ring true with a lot of people. It has also appeared in the films Suspect Zero (2004), The Dukes of Hazzard (2005), Beer League (2006) and Straw Dogs (2011) as well as in the TV series' My Name Is Earl and Supernatural.
The band are still performing the no original members, but does comprise longest serving member keyboardist John Galvin since 1984, guitarist Bobby Ingram since 1987 (who was also a member of Brown's own band), drummer Shawn Beamer since 2001, Tim Lindsey on bass since 2003 and lead singer Jimmy Elkins who joined in 2019.
According to the Jitney Books author, Michael Ray Fitzgerald, "The group's fans have largely split into two camps, those of the 'original' Hatchet and those of the current line-up. The social-media war between the two camps has been written about and commented on profusely; there was even a cover story about the feud in Folio, Jacksonville's alternative weekly.