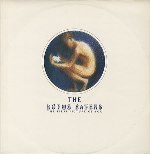 "I am a one hit wonder who wants to be a two hit wonder," admitted Peter Coyle, the lead singer of the eighties band The Lotus Eaters, but actually they were a two hit wonder, it's just that nobody remembers their second hit You Don't Need Someone New which only reached number 53.
The Lotus Eaters were formed in Liverpool in early 1982 after the demise of Coyle's previous band, The Jass Babies. "They were a very raw band," he admitted, "But the Lotus Eaters were something entirely different." Coyle teamed up with Jerry Kelly who had fronted another Liverpool band called the Wild Swans. If you look at any picture of the Lotus Eaters you would believe they are a duo, but in actual fact they are a five-piece band. The other three were Jed Quinn (keyboards), Mike Dempsey (bass) and Steve Creese (drums) but, by mutual agreement, none of them appear in photographs nor give interviews, so in most people's eyes they are a duo.
Jerry explained how they came by the name, "We had this John Peel session just three weeks after we formed and we had to find a name pretty quickly, so I went to the library and started looking through all these journals for inspiration. Eventually I came to the Greek Myths and Legends section in the Pears Encyclopaedia and saw The Lotus Eaters and it sounded good so we used it. It started a bidding war between record companies and it immediately embroiled us into the pop system. It happened too fast, we wanted to develop as musicians not as pop stars."
The Peel session came about after they'd sent John a demo but by the time John got to hear it and offered them a session the Babies had broken up. The pair had their own Sylvan record label and the record company war was won by Arista who, not only signed the duo, but bought the label too.
There is no special meaning behind the song. "Most pop songs now tend to be rhythmic and are aimed at getting your body moving," explained Jerry in 1983, "Whereas we think melodies can move you in a different sort of way." Peter added, "I like to think of our music as having a comfortable quality to lead people off and get them thinking about the good things in life."
"I'd always dreamt about being on Top Of The Pops," Peter admitted, "But it was awful and it felt so crass. Miming. Nonsense!" Their debut album was called No Sense of Sin and produced by Nigel Gray who had previously worked with The Police and Siouxsie & the Banshees but it spent one lonely week at number 96 and with the failure of the follow up single, Arista dropped them like a hot potato and by the mid eighties they split up.
Coyle went on to work with Ian Broudie and co-wrote some tracks on the Lightning Seeds' debut album Cloud Cuckooland. Kelly reformed his old band, The Wild Swans and released one album in 1987 called Bringing Home the Ashes, but as he admitted, "It wasn't the same as the original Wild Swans and I lost interest." He turned to academic studies and took A-levels in English Language and Literature and a Master of Arts in Theatre and Film Studies eventually finding a job as a personal English tutor. Coyle followed suit. He said, "I am aware of the need for life outside of music and so I started a maths and physics degree and then switched to psychology. I wanted to end up teaching kids and encouraging them to be rebels!"
In 1993 Coyle began recording again with the Jass Babies. In 1997, some old radio session albums were released in Japan and it triggered a compilation album also called No Sense of Sin. The pair reunited properly in 2001 for a brand new album called Silentspace. But that was it.
In 2006 Coyle moved to the South of France and released a solo album called Meltdown For The Mindless and is now working with his new band, Lumen. "I like it here. I was feeling swamped by the unhinged capitalist approach to life in the UK. There was less room for people like me who live on the periphery."