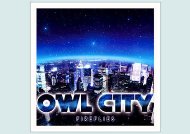 Judy Garland and Bob Dylan are two of the most famous names to come out of Minnesota, but neither have had a UK number one hit. So it's likely that Prince is the first Minnesotian to reach that coveted slot  with Adam Young being the second, but not a name you may be familiar with as he records under the moniker Owl City.
His whole career began in the digital world when he started recording songs in his parent's basement flat in the town of Owatonna. He had a job in a local warehouse and in between shifts he began posting his music on his Myspace site which, in turn, garnered millions of comments which then led to him being signed by Universal Music. He recalled, "My mundane job of loading up trucks helped me develop my dreamy, atmospheric sound. In 2007 I was working at a Coca-Cola warehouse all day so I had plenty of time which allowed me to sort of dream up these projects. One wound up being Owl City. I thought through how I wanted it to sound, how I wanted the records to look, everything. Sometimes working in a monotonous environment can really free up your imagination."
What was it like recording in a basement flat with no windows or view of the outside world? Adam explained, "A lot of it has to do with me being by myself while creating it; having no producers and no engineers allows me to think more freely, I think." He added that he used simple decorations to inspire his creativity. "I have a lot of landscape paintings to look at; lots of ethereal, dreamy nature photography. Having that stuff around really creeps in subconsciously to impact the music."
So how did a song about insects become so successful? "I have insomnia," admitted Adam, "And I've always had a tough time falling asleep for as long as I can remember. I wanted to sing about my inability to sleep in a whimsical way that portrayed the condition as light-hearted and almost more of a 'blessing' than a curse. It's ironic that when sleep and I cannot bring ourselves to meet that is often when inspiration strikes hardest. I'd just been on vacation to Iowa the week before I wrote the song and was amazed at how many fireflies came out at dusk. I didn't really have to think about making a connection between insomnia and lighting bugs, it just sort of happened and the song basically wrote itself. It was a lot of fun. So one morning at 2am I was sitting on the floor in my parent's basement with a MicroKorg on my lap," he remembered, "And I built this synthy legato, 'ping' sound routed through a lowpass filter and ran it through a bunch of guitar pedals. I come up with a little cascading part that wound up as the intro and verses of Fireflies."
Having said that he is a one man project having no producers or engineers, he actually has a guest vocalist on the track although you probably couldn't tell, so how come he brought in Matt Thiessen, the lead singer with Relient K, to supply guest vocals? "Matt and I worked on Fireflies and he sort of co-produced it with me. He has a brilliant mind and that guy should have way more credit to his name than he's been given over the years. It's funny how Matt and I sound really similar, sometimes I can't even tell us apart when he's singing harmony on the record. He's an amazing guy and I'm lucky to know him."
Where did the name Owl City come from, "It doesn't mean anything. It's about the imagery, it's about where your mind goes when you hear the name, it's meaningless but it's kind of cool, right, I mean, it's memorable. See, the mystery is what's cool, is it a band, is it a guy, I love that," Well thank God he cleared that up!
Six months before it became a UK hit, the song got a lot of exposure when it was issued as a free download single on iTunes in July 2009. Although it wasn't downloaded in its millions, it did, however, establish a substantial fan base, especially in the Christian community and through the religious community it went on to sell thousands worldwide becoming number one in the States, Australia, Belgium, Denmark, Ireland, Finland, Sweden and Norway as well as the UK. In fact, it was the first American chart-topper with a creature in the artist and title since The Chipmunk Song by the Chipmunks in 1958.
Owl City's debut album, Ocean Eyes, reached number seven in the UK chart in 2010. He followed it up with All Things Bright And Beautiful in 2011 and The Midsummer Station in 2012, the latter giving him his only other hit single to date, Good Times, a duet with Carly Rae Jepsen. That song was very different from fireflies and Adam explains why, "I am a believer in not repeating yourself too much as an artist. I think it's a shame if you make the same kind of stuff over and over, even if you love it. So I want to try something new; not so new that people ask, 'Where did that come from?' but something maybe a little edgier. I am really into dance music, I love listening to trance music from Europe. Something bittersweet and melancholy but really powerful and upbeat, energetic,"
Fireflies was used in the promotional video for Sony's EyePet video game and is also featured in Disney Sing It: Party Hits. It is also a downloadable content for both Guitar Hero 5 and Rock Band 3. Additionally Weird Al Yankovic included it in his polka medley, Polka Face and Cheryl Cole performed it on Radio One's Live Lounge.