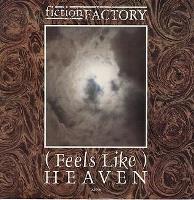 The true definition of the one-hit-wonder is an act that have had one number one hit and no other chart action. Many will class an act that have had one hit a one-hit-wonder or, in a Channel 4 researcher's case, one hit that they can remember without doing any research – most famously Chesney Hawkes. This week's suggestion came in whilst I was in the middle of compiling one of quiz rounds and I was looking for happy, upbeat, sad songs and this one I have now added to the list. They're not quite a one-hit-wonder but you'd be hard pushed to remember their second and final hit, as for their first, well, what a song.
(Feel Like) Heaven is instantly recognisable on the opening four notes and remains a radio favourite. Fiction Factory was formed in Perth, Scotland in 1983 and comprised singer/songwriter Kevin Patterson, keyboard player Eddie Jordan, guitarist Chic Medley (real name Charles Medley), bassist Graham McGregor and former Simple Minds drummer Mike Ogletree.
Prior to forming the band, Patterson, Medley and Jordan had all been members of a Ska band called The Rude Boys. McGregor had been a roadie for the funk band Rokotto who had two minor hits with Boogie On up and Funk Theory.
They found is hard to get a deal and really understand the business up in Perth, "Without coming down to London you don't really know how the business works," Mike Ogletree recalled in an interview with Simon Hills. "We didn't want to come down with nothing to offer and I would have been worried about joining the band if it wasn't for the quality of the songs. We purposely kept the songs simple so we could play them live easily."
(Feels Like) Heaven is the story of a failed, relationship which may well have included some abuse and talks about the sense of relief of having escaped in one piece. The lyrics are stark, 'Twisting the bones until they snap, I scream but no one knows', and the inevitable, 'We can recall the harmony, that lingered but turned sour' break up signs, but it's Eddie Jordan's jaunty keyboard work that slightly disguises the heartbreak of the story.
The parent album, the bizarrely titled Throw the Warped Wheel Out, contained 10 self-penned songs of quality, but (Feels Like) Heaven was the standout track which spent nine weeks on the UK singles chart and peaked at number six. In Ireland, it went to number four, but its best showing was in Switzerland where it reached number two. The follow up, The Ghost of Love, which was actually their first release, did only slightly better than first time round when it stalled at number 64. The group disbanded in 1987 after the release of their second album Another Story after it failed to excite the public.
They had a resurgence in 2016 when the Manic Street Preachers released a faithful cover. "It's not like a radical reworking, but the Manics have certainly been able to make it their own," Patterson recalled, "Having heard it I can sit back and relax because it could have turned out horribly. When I wrote the song with Eddie I think I felt there was something different about the song – and so it has proved as the years have gone on. There's been a few covers but this is certainly one of the more prestigious ones that we've had. There was one Japanese grunge band that did a version I liked, with quite a dark video but I can't remember what they were called."
Mike Ogletree, now lives and works in the USA and Patterson, who is a father-of-two, went into IT and now works at Dundee University.