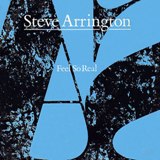 'Unadulterated aural stimulation! A wonderful wonderful spin of awesome danceability that shakes, quakes and earthquakes in all the right places' is what Dylan Jones wrote in Record Mirror when reviewing Steve Arrington's single Feel So Real in 1985. Glowing praise indeed, but not a song you hear too much of these days. He concluded with, 'This record is bad! Steve is set for mega-stardom and worldwide acclaim any day now, move over Prince.'
Steve was born in March 1956 In Dayton, Ohio. "As early as I can remember, I was beating on pots and pans and singing to early Motown Music and early British invasion music. I got my first drum set at eight years old," Steve revealed. In his late-teens he joined a local band called The Murphy's for a year before relocating to San Francisco. Once there he took up percussion and drumming and ended up playing with the Escovedo family, the most famous of which was Sheila E. Within a year he was invited to join the funk band Slave as drummer before taking over lead vocals and can be heard on their only UK hit single Just a Touch of Love in 1980.
Steve left the band in 1982 and signed a solo contract with Atlantic records, the same company who own the Cotillion label that Slave were signed to, and he recalled his feelings about the label, "I don't think Atlantic understood it because I was a drummer who ended up being a lead vocalist so they saw me in a certain way but there was way more to it than I was doing with that and it took them a while to catch up. So by the time, let's say for instance, the Dancing in the Key of Life album with Feel So Real came along they didn't know I had that kind of elegant song writing and arranging in me. I'd moved into some different things anyway but they didn't see it coming so by the time they caught up with Weak At The Knees – because it was harder and had more of a blusier vibe about it – they just didn't know I had that in me so I would make steps and so by the time they caught up with the last step I was onto something else."
Whilst recording the final Slave album, something changed. "I found God," he explained. "In the middle of that album I started to know where I was going. There was a conflict and I told people why. I wanted to be honest and not fool anybody." His first solo album, Dancing in the Key of Life, was the one that made him feel the most comfortable. "It's the first album that's totally captured my own sound and gone in the direction I want to go. It's not as funky and previous stuff but it's more cohesive with a lot of pop and Latin elements."
He explained how he got the album title, which also became the second single from the album, "That song reflects what's happening in life and it's done in a dance context. It's also symbolic – I'm just dancing my way through life to wait and get home to heaven."
His first hit was Feel So Real, how did that come about? Steve: "I think it's the best thing I've done. That song is just thanking the Lord for giving me the feelings that I have   inside, for giving me my wife and giving me the chance to live. The main thing is that something that's real has a vibration in it. Feel So Real is a very joyous tune and the music has that vibration along with the lyrics. I'm not trying to beat anyone over the head," he said at the time, "I'm just trying to do what I have to do."
After Dancing in the Key of Life in the autumn of 1985, Steve seemingly disappeared. The reason was that he did what Little Richard, Cat Stevens, Al Green and MC Hammer all did, and that was to have a religious conversion and became a minister.
It was only in 2009 that he felt the urge to return to pop music and released a new R&B/spiritual album called Pure Thang. It was only then that he discovered that a younger generation of musicians had been sampling his old records and in 2011 when he started recording for the hip indie label, Stones Throw.
Two years later, in 2013, Arrington collaborated with contemporary boogie funk practitioner, LA-based Dam Funk, on the album, Higher. Last year he started promoting a new two-CD solo retrospective called Way Out 80/84 and includes key songs from his solo canon (including pre-Atlantic solo sides for Salsoul and Konglather) with previously unheard archive material, some of which were unfinished studio jams that have been newly completed. He's understandably elated about his hybrid project and his enthusiasm is almost palpable. "I'm pumped, man, and having such a good time," he exclaims. "I feel like my skills are still at a high level."