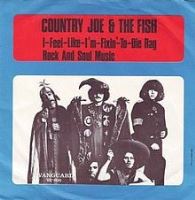 Bruce Springsteen's Born in The U.S.A., Bob Dylan's The Times They Are a-Changin and Bob Marley's Get Up, Stand Up are all recognised protest songs and there are thousands more but one singer who is always associated with protest songs is Country Joe MacDonald. He never had success in the UK, but his 1967 song Feel I Feel Like I'm Fixin' to Die Rag was a powerful statement during the Vietnam War.
According to his biography, The origin of the name appears to have come from the band's manager, Ed Denson, who coined the phrase drawing from Mao's saying about 'the fish who swim in the sea of the people,' the Country Joe part has many variations but popularly refers to Joe's parents having named him Joe after Joseph Stalin, whose nickname during World War II was Country Joe.
Joe was born in Washington in 1942 and moved to California where he attended school, but he preferred to play music, so formed a number of bands as well as working in a guitar store during the day. He met guitarist Barry Melton when they were both members of the Instant Action Jug Band in 1964.
In 1965, some of the members of the Berkeley Campus, where Joe was studying, were organizing a series of demonstrations against the war in Vietnam and the organisers always provided entertainment either before or after the march to keep people's attention, so Joe formed The Fish seeing it as an opportunity to play music and support the protest. The line-up comprised, Barry Melton on guitar, David Cohen on organ, Bruce Barthol on bass and harmonica and Gary 'Chicken' Hirsh on drums.
Music played an important role during the Vietnam War and it was a way for young musicians to get their views across, Joe and his band recorded Feel Like I'm Fixin to Die Rag which became popular on college radio stations but did little else outside of that environment. The song, which has a very upbeat 1920s ragtime feel but with lyrics that are very dark and satirical, also has an element of humour with lines like, 'Well come on all of you big strong men, Uncle Sam needs your help again. He got himself in a terrible jam, way down yonder in Vietnam' and some helpful advice with the commentary, 'Well come on generals let's move fast – your big chance is here at last. Gotta go and get those reds, 'cause the only good commie is one that's dead, and you know that peace can only be won when you blow them all to kingdom come about the War.'
Joe has stated that he blames American involvement in Vietnam on several groups: the government, zealous military commanders, greedy arms manufacturers and capitalists – even parents who encourage or allow their sons to enlist. Joe, who had once served in the US Navy, said that he wrote the song in about an half and a hour after it popped into his head.
The song's title also served as the title for their second album and when the song was performed live, it was usually preceded with the Fish Cheer which involved Joe shouting to the crowd, 'Gimme an F… Gimme an I… Gimme an S… Gimme an H…' but the height of Joe's fame must have come at the Woodstock Festival in 1969 when The Fish Cheer consisted of an uncensored 'Gimme an F… Gimme a U… Gimme a C… Gimme a K…' Joe explained in an interview with the Independent how he came to perform at Woodstock, "It almost never happened. It was all a mistake. I was just hanging around the stage, Richie Havens had finished, and there was nothing going on. I went on with my guitar and it was like, 'Here's this guy who's going to sing', but no one paid any attention. I played Janis and Tennessee Stud and then I walked off stage. I asked my tour manager if he thought it would be OK if I went back on and did the cheer and he said yeah. So I went 'Give me an F!', and they all yelled 'F!'. A month or so later Michael Wadleigh (the director of Woodstock) showed me the footage in this little studio in LA, and after that it kind of became my fate. It's not exactly what I wished my musical career to be, but it happened. I hated it for a long time, because you can't think about me without thinking about the Vietnam War, but later I met a lot of Vietnam vets and they told me they'd sung the song in Vietnam, and now I'm involved in doing a lot of healing work with veterans' groups."
The band appeared in a 1971 film called Zachariah which was about two gunfighters who separate and experience surreal visions on their journey through the west but split up soon after. There was a brief reunion in 1977 that incorporated a small tour.
Joe tried in the late-90s to reform the band but he said, "I've been totally unsuccessful in trying to get the original Country Joe and the Fish together again, so I've pretty much accepted the fact. Chicken Hirsch is in Oregon now and big in the T-shirt business and Barry Melton is a lawyer and a part-time musician and he's not into playing with the other original members, though he'll still play with me as a duo. The band was like a family, and that was the biggest enjoyment I got in music."
One young musician who witnessed that performance at Woodstock was a 20 year-old Billy Joel. He was not impressed with the song as he explained in an interview with Howard Stern, "This hippie comes on stage and starts going, '1-2-3, what are we fighting for,' and I'm thinking, 'this song sucks. It wasn't even about the lyric, it sucked as a song."
One other interesting fact about Joe is that he has a daughter called Seven.