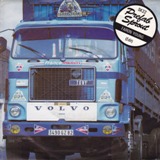 Name dropping can certainly get you places and in music it's no different; both Madness and Bananarama sang about Michael Caine and Robert De Niro respectively but surely no one drops more names, in song anyway, than Prefab Sprout. They named their 1985 album Steve McQueen and the track that opened that album was named after the country music singer Faron Young.
Prefab Sprout were formed in 1978 by the McAloon brothers, which is primary writer, singer, guitarist and keyboard player Paddy and bass guitarist Martin and included drummer Michael Salmon. The name originates from a misheard lyric by Paddy who was listening to Nancy Sinatra and Lee Hazelwood's 1967 hit Jackson which contains the opening line 'We got married in a fever hotter than a pepper sprout' which Paddy mistook for Prefab Sprout.
In 1982 they extended the band to include singers Wendy Smith and Feona Attwood and released their debut album Swoon a couple of years later and from it the only single released was called Don't Sing. Next came Steve McQueen which was released in the States under the title Two Wheels Good (because Steve McQueen's estate objected) and the lead single was Faron Young. In a 1985 interview with Record Mirror, Paddy explained why he likes to reference famous people, "I think if people is (sic) famous, the fame side of them becomes a commodity. Like Faron Young . . . the idea of the fame of a C&W star is the same as talking about an object. You are not really talking about them, but about Steve McQueen, it's not like you're talking about anyone else you may know, but because Steve McQueen has public connotations his name has a certain weight to it. It's the same as a reference to Mexico or the Baltic Sea or a machine gun. It's like an object and it just slots into the song. I can't describe it. It has a personal weight that I hope has significance to other people. I like the idea of painting a portrait of someone. And sometimes it just adds a bit of drama to a song: if you're writing a song about fame, for instance, that's a bit of a dry subject, but if you put Elvis in there, it gives people something to latch onto and you can sneak in some of your thoughts about fame under that banner."
Paddy liked to write some convoluted melodies and shrewd ironies into an audience-friendly formula, but why sing about a little remembered country singer? "I was listening to all this American country music and wondering what people living down the road got out of it," Paddy revealed in an interview with The Guardian in 2000. "You could say the same thing with rap now: why is it so big in England? It's the strangeness, but it's also real. It may not be real in your little pocket of the world, but it's glamorous-real, which is what Elvis with echo on his voice must have sounded like to Lennon and McCartney. With Faron Young I'd written the music but I didn't have the lyric… and at the time, our drummer was a friend called Michael Salmon, and I said to him, 'Give me a word'. Well, I think he was trying to challenge me, or set me an impossible task, because he looked at and went 'antiques'. And I took the word away and eventually 'antiques' was the first word of the song, and the whole rest of the song sprang from there."
Faron Young, which was produced by Thomas Dolby, ended up being the lowest charting of their 16 hits, it stalled at number 74. Neither party were put off, they continued working together and three years later they were rewarded with the band's biggest and most well known hit, The King of Rock 'N 'Roll which reached number seven. In 2010 an acoustic version of Faron Young was heard in The Extra Man which starred Kevin Kline.
In 1995 Paddy assisted Jimmy Nail, the star of TV show Crocodile Shoes, by writing the song Cowboy Dreams which reached number 13 and was the follow-up to his number four hit Crocodile Shoes. He also wrote a 10-minute song for Cher called The Gunman which she once declared "the weirdest f***ing song I've ever heard." It was subsequently edited to a five-minute version and ended up on her 1996 album It's a Man's World.
In 2003 Paddy encountered some medical problems when he suffered acute tinnitus and a detached retina which badly affected, not only his hearing, but his eyesight and mood too. He eventually had a metal buckle fitted behind his right eye to prevent his retina disintegrating completely. He also got married to Vicki and had three daughters; Georgia, Cecilia and Grace and moved to the peace and quiet of Consett, near Durham. In an interview in 2013 he said, "About 10 years ago it dawned on me that I wasn't that interested in listening to one of our records. That bothered me and it put me off the rush to make more. I'm not lazy, I write all the time, but I don't like to do the legwork." The same year he made a comeback with the album Crimson/Red in which Paddy plays all the instruments. He said of it, "I have a mystical attachment to songwriting but it's painful to record them, to come up against a sense of your own inferiority, but the writing is a joy, a magical process. You may have proved yourself able to do it a few times in a row; the question is can you do it again? That is where the thrill lies."
When asked if his two daughters are fans he laughed and said, "No! They play and love music but not mine. They're both at big school now and I think their teachers are more interested than they are. That's kids, isn't it?"