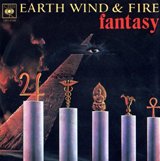 Last month we lost the great jazz musician Al Jarreau, but as I noted in his obituary, the general public would not class him as jazz. On the late seventies he made his sound more commercial and that's when he became commercially acceptable. The same goes for both George Benson and the band that provides this week's Single of the Week subject – Earth Wind and Fire.
The man who assembled the band was Memphis-born Maurice White who learned drums as a kid and played in a school band with his friend Booker T. Jones who later led his own group, The M.G's. The White family made regular trips to Chicago to visit his mother and eventually moved there in the late-fifties. After graduating he became a session drummer for Chess records in the mid-sixties where his first visit to the UK chart was on Fontella Bass' 1965 hit Rescue Me, the following year he could be heard drumming on Billy Stewart's hit Summertime. Later that same year he was invited to join the Ramsey Lewis Trio and can be heard on their two biggest hits Wade in the Water and The In Crowd. He left in 1969 to form his own band The Salty Peppers and decided to head south to Los Angeles to explore a new journey in music. In 1970 Maurice changed the name of the band to Earth, Wind and Fire which came about because of his fascination in cosmology and astrology. He chose the name from his astrological sign – Sagittarius, which has the primary elemental quality of Fire and the seasonal qualities of Earth and Air. He once said, "Earth, Air & Fire didn't sound right, so I changed Air to Wind."
Over the years more than 50 musicians have passed through the ranks of the band, but this week I look at their second UK hit, Fantasy from 1978 of which the line up at the time was vocalist Maurice White and Philip Bailey, Maurice's brother Verdine (bass), Larry Dunn (keyboard), Johnny Graham (lead guitar), Al McKay (rhythm guitar), Andrew Woolfolk (sax and flute) and drummers Fred White (another brother of Maurice's) and Ralph Johnson.
The music for Fantasy was written by Verdine White and a keyboard player and composer Eddie del Barrio, the lyrics were penned by Maurice. He explained how they became successful and how he came to write Fantasy, "Basically we were a jazz band and we converted a jazz band into a pop band so we covered all areas because we wanted to be universal. Universal means appealing to everyone. We got the music down first and then it was time to write the lyrics and it took me a long time to write those lyrics. Nothing was coming. I eventually went to see the film Close Encounters of the Third Kind, which was an extra-terrestrial movie and I was so inspired after seeing it that I came back to the hotel and wrote all the lyrics and it happened in one night and it all just came out, it was like someone was talking to me. He said, in an interview with Melody Maker, "The song is motivated about escapism in the sense of living on a world that is untrue, a world that is unjust, and a world that is very selfish and envious, there is a place that everyone can escape to which is their own fantasy. I had to write the song in the sense of sharing this place with people. It's an escape mechanism."
When it came to recording it, Maurice reflected, "The whole idea is that you build a pyramid, where you have different sections playing things and everyone makes a contribution. It's a multi-layer, we had an orchestra behind us then we had a rhythm section." The studio engineer was George Massenburg who added, "We always said just throw things on tape, if the guitarist had an idea we'd throw in on tape and if the percussionist played something interesting, we'd throw it on tape and it was kind of my job to separate these and I made sure you could hear everything, you could hear the guitar here and the drummer there rather than just one great big wall of noise. I used to separate them by equalisation by bringing up parts of instruments to make then shine, but Maurice always wanted more kick and when he asked for more vocal or more kick then that changed everything and I had to play around with everything to keep it balanced. Thomas 'Tom Tom' Washington was the string and horns arranger on the session and really gave the song lots of colour."
One thing that gave the band their distinctive sound is an African instrument that Maurice discovered call the Kalimba. It is an African hand-held thumb type keyboard and is a modern addition to the ancient African lamellaphones family of instruments. Its name fascinated Maurice as he named an interlude called Kalimba Tree after it as the opening track on side two of their 1981 album Raise.
The band scored 15 further UK hits including September, Boogie Wonderland (alongside Maurice's protégé group The Emotions), After the Love Has Gone and Let's Groove through to 1984 when they took a three year hiatus. They returned in 1987 with five original members still intact. In 1989 Maurice was diagnosed with Parkinson's disease which stopped him touring, but he retained executive control of the band up until in death in February 2016.
The current line-up still includes three original members – Philip Bailey, Verdine White and Ralph Johnson – Bailey's son is also now a member of the band and plays percussion as well backing vocals. I was lucky enough to see them at Hammersmith in 1981 and again at the o2 just a few months ago and they still a great live attraction with the same sound and energy they've always had. The highlight for me was that Philip Bailey's falsetto voice, which, at the age of 65, is still crystal clear and can still get all the high notes. He even does a 10 minute acapella falsetto set which was mesmerising.
Fantasy is a song few would have the guts to cover, but Black Box, with Martha Wash on lead vocals, brought it to a new audience in 1990 and took it to number five.
Following 9/11, Earth, Wind & Fire performed at a benefit concert in Virginia to raise money for the American Red Cross. The show raised $25,000 for the charity. They also performed at the closing ceremonies for the 2002 Winter Olympics in Salt Lake City, Utah. President Obama was a fan too because in 2009, by invitation, they became first musical acts to play at the White House since Obama took office.
Maurice said of the song's success, "The key to writing a good song is to come up with a good melody that sounds like you've heard it before when you haven't. You get lost in the music and when you're lost you're found and that's not so bad."