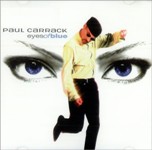 Paul Carrack is celebrating his 40th year in the music business this year. He first burst onto the scene in 1974 with his band Ace and had one hit called How Long, which was not about a broken relationship, well, actually it is, but not between two lovers, but between Paul and his bass player Terry Comer who had been moonlighting in another band and Paul felt cheated because he had not told him.
Ace broke up in 1977 and Paul, who was born in Sheffield, then embarked on a solo career, but also had stints as a member of Roxy Music, Squeeze and was also in Roger Waters' backing group. In the mid-eighties, in addition to a couple of solo hit singles, he joined Mike and the Mechanics as joint lead singer with Paul Young (no, not that one). Because they were successful and having hits, Paul put the solo career on hold and concentrated on songwriting with the band. Following Paul Y's death in 2000, Paul C became the sole lead singer until his departure in 1994. Interestingly, Paul only co-wrote two hits for the Mechanics, Over My Shoulder and Now That You're Gone, all the other were penned by a combination of Mike Rutherford, Christopher Neil and B.A. Robertson.
He resumed his solo career and came back with the heart rendering Eyes of Blue which, despite extensive radio play, only reached an insulting number 40 in the UK chart. Even a re-issue seven months later couldn't help it as second time round it peaked at number 45.
Paul explained recently how that song came about, "Well that song started on a piano which is really unusually for me – I don't usually pick out a topline on the piano. I know other writers do that, like Burt Bacharach for example. Don't get me wrong, I'm not putting myself in the same breath, but his stuff is a bloody nightmare for singers; it's all intervals that you don't sing naturally. I usually write in my little studio at home, when it's time to do an album. On tour I'm just thinking about the gig, but I've started to put down ideas on my phone, which is quite handy. When I started my latest album, having done 10 months on the road, I thought I didn't have any songs at all, and I'd have to make it a covers album. But I quickly wrote five songs and a lot of them came from little bits and pieces on my phone."
You would easily believe that most of Paul's songs were written from the heart and about personal experiences, but a lot of them are not, that's what makes him such a great songwriter.
Some things defy explanation and as to why Paul isn't more commercially successful, especially as a solo artist, is a mystery. His 1996 album Blue Views only reached number 55 and his only other two albums to sell enough to scrape into the chart were 2004's Rewired, which got to 61 and 2012's Good Feeling which stalled at number 46.
Paul tours relentlessly, so what keeps him going? This is what he said in 2013,"I think I've still got something in there that I want to do, and I think I can do better than everything I've already done. I don't get the feeling I'm going downhill, I think I'm gradually getting a little bit better, it's just taking ages! I'm 62 years old and I'm aware that I could start going off the boil anytime soon, but I still hope to do something even better, for my legacy, or for my own satisfaction more than anything. I don't feel a tremendous urge to write, but I like to sing – it's a great form of expression. If I stopped touring, I probably wouldn't write that much."
Is there another album in the pipeline? Paul: "Well, to be honest, after 10 months on my own tour and then four months with Eric Clapton in his band, I was knackered, so I thought there was no way I'd make an album! But Peter Van Hooke (producer on Paul's last few singles and albums), who I've known for years, came round and bullied me into doing it. I'm just finishing a tour and I've been singing away for 10 months, but my voice is in pretty good nick. Normally, when I come off the road, I'll take a nice little break and my voice would get soft, but although I'm knackered, I'm in the mode of cracking on."