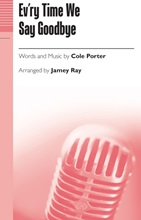 Cole Porter, who was not Jewish, must have been influence by one somewhere along the line because he once claimed that songs were Jewish because of the way he wrote them. Let's find out what he meant by that.
Porter was born in June 1891 in Indiana to a wealthy family and he became a classically trained musician having learned to play violin at the age of six and piano two years later. As was typical in those days, the family tried to steer him away from the music industry, but he was determined and, with his mother's help, he wrote his first operetta at the age of 10. He later attended Yale University and whilst there wrote over 300 songs.
In 1915, he contributed the song Esmeralda to the Broadway revue Hands Up that was his first and the following year he had his first Broadway production, See America First, which wasn't well received as it closed after two weeks.
From the early forties, his Broadway shows, Panama Hattie (1940), Let's Face It! (1941), which starred Danny Kaye, Something for the Boys (1943) and Mexican Hayride (1944) all had reasonable runs but all lacked durable Porter songs which the critics had picked up on. Next came the show, Seven Lively Arts for which Porter wrote Ev'ry Time We Say Goodbye. It featured songs as well as sketches from a cast comprising Beatrice Lillie and Bert Lahr. Benny Goodman was heard and seen playing jazz clarinet and the dancer Alicia Markova performed to the 15-minute ballet suite, Scenes de Ballet, which was specially commissioned from Russian composer Igor Stravinsky. It ran for a menial 200 performances and was considered a flop. Once again, the critics held nothing back in delightfully announcing that Porter had had his day.
Ev'ry Time We Say Goodbye had stood the test of time and becomes part of the Great American Songbook because of its appeal telling the story of how happy the protagonist is when they are with the love of their life and how sad when they go away, a situation millions can relate to. It also came at a time when the Second World War had just ended and many soldiers being reunited with their wives and girlfriends. Given the criticism he had received a couple of years earlier, he may have related the song to himself and his career.
Musicians will know that a major key makes for a happier song where a minor one has more of a sadder feel and this is a great analogy he employs when using the line, 'how strange the change from major to minor' thus indicating sadness when the pair part. It was noted in Songfacts that whilst singing that line, the chord change actually goes from minor to major. Porter's little joke. Many of the great American songsmiths of his generation were Jewish and they had a tendency to write in a minor key. Although Porter is not Jewish, he did comment to Richard Rodgers that his most successful songs were Jewish.
The song was first introduced in Seven Lively Arts by Nan Wynn in a sketch with Jeri McMahon. The oldest known recording is by Benny Goodman in 1944 with a vocal performance by Peggy Mann. Many have covered this standard most famously by Ella Fitzgerald for her 1956 album Ella Sings the Cole Porter Songbook. Other versions include, Eddy Arnold and Tony Bennett (1958), Julie London (1959), Nina Simone (1960), Ray Charles, Sarah Vaughan and Shirley Bassey (1961), Sammy Davis Jr (1966) and Sandie Shaw (1967). In 1987 Simply Red did a faithful note for note cover of Ella's version that reached number 11 and is the only time in its 75-year history the song made the UK chart. It doesn't stop there, in 1990, Annie Lennox contributed the song to an album called Red Hot + Blue which was a Cole Porter tribute album for an anti AIDS benefit. Other versions include Robbie Williams (1997), Rod Stewart (2002) and in 2004, Natalie Cole's version was recorded for the film De-Lovely which starred Kevin Kline.
Porter lost his beloved mother in 1952 and his wife of 35 years in 1954 from emphysema. His own health suffered and suffered from leg ulcers. After over 30 operations to remove them, he eventually had it amputated. During this time he was regularly visited by his friend Noel Coward. Porter died of kidney failure in 1964 at the age of 73.