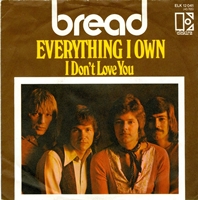 This week's suggested song has been covered by so many people it's hard to keep track of exactly how many. In all fairness, the person who asked for it didn't specify a version, just the song itself. To me, a story song, especially a real-life true tale, as told by the songwriter will always be the definitive version which is why when I tell people I hate the Whitney Houston version of I Will Always Love You, they can't understand why until I explain. Apart from the fact I don't think Whitney sings it very well, more importantly it's a song written by a woman who loved her man but had to let him go. That woman was Dolly Party and it was written about the country singer Porter Wagoner. Dolly disliked the way the split developed into legal wrangles and she wrote a song to tell Porter how she felt about him. No one can tell that story with the meaning other than her. This week's song has that similarity.
Everything I Own was written by David Gates and first recorded by his group Bread in 1972. It didn't make the UK top 30 but did get to number five in the States. It deserved to get higher and it did when covered in a soft reggae style in 1974 by Ken Boothe and again in 1987 by Boy George. Both of their versions got to number one.
David Gates, who was born in 1940 and whose father was a band director and mother a piano teacher, once explained, "My father was kind and gentle and revered by everyone. People will do what you do, not what you say. He always had time for me and taught me to read and write music, play various instruments and introduced me to classical music, my foundation. One year I sent my mom an orchid for her birthday, she was so touched that my dad wrote to tell me I could have had 'anything she owned' in return. My father died in 1963 and I wanted to write a song in memory of him. He did live to see some of my early progress towards success, but not the major songs or stardom with Bread. As with all my songs, the music led and the words tried to keep up, but they came pretty quickly. I wrote the lyrics, 'I would give everything I own just to have you back again' so that they could be interpreted as a love song, but when I played it for my wife, she knew right away that it was about my father. She cried."
Once Gates began to show interest in music his father said to him, "You can do music as a hobby, but it is hard to make a living from it." It was 19621 and he was determined to prove his dad wrong. Gates explained, "I made a deal with my dad that if I didn't make any progress in the business within two years, I would return and finish college."
David's girlfriend was the sister of singer/songwriter Leon Russell. Once he'd heard Leon's material, he was inspired to write songs himself. He became a session musician and played on Jackie De Shannon demos. Six months had passed and he wasn't making much headway until Johnny Burnette recorded his song The Fool Of The Year in 1962 and that was enough for him to keep writing.
In 1963, two years after making the deal, at his father's funeral, a friend took David aside and said, "Your dad was so proud of what you were doing." David agreed by replying, "My success would have been so special to him as he was my greatest influence. So I decided to write and record Everything I Own about him. If you listen to the words, 'You sheltered me from harm, kept me warm, gave my life to me, set me free', it says it all." Although David's father didn't get to learn of his son's success with Bread, his dad managed to see some success as a writer because Gates had written Popsicles and Icicles which was a number three Billboard hit for The Murmaids.
Ken Boothe was born in 1948 near Kingston, Jamaica and was discovered by a singer called Winston Cole who thought Ken sounded like a Jamaican version of Wilson Pickett and suggested they form a singing partnership. In 1967, he covered Sandie Shaw's recent Eurovision winner Puppet On a String and was a massive hit in Jamaica. In 1971, he was signed to the Trojan record label and teamed with producer Lloyd Charmers. Boothe had recorded his first album but needed one more song to complete it. "I was touring in Canada," Boothe explained in a Mojo interview, "and a friend had played me Andy Williams' version of Everything I Own and said how I must record it." Charmers was not happy about Boothe recording it purely because Charmers like to make all the choices but it got recorded and went to number one.
Boy George chose to record the song for the same reason Gates did, as a tribute. Although it was George's debut solo single, it marked something of a coma back. After Culture Club's split, George went through some tough times, publicly, with drink and drugs and sweeping the streets as community service but he rode it all and bounced back as popular as ever. The video showed George alone on a stage with a complete band set-up, but with no band. He looked pale but reasonably healthy, bearing in mind what he had gone through.
In the background was a bank of television screens flashing images of a young painter friend, Trojan, who had died of a drug overdose the previous August. The images were from a film that George's boyfriend John Maybury had made. "Trojan was one of those people who defied description in a lot of ways and would never want to be forgotten," explained George, and dedicated the song to him.
"The recording session with Bread felt pressurised because I wanted to convey the emotion in the vocal that existed when I played it with an acoustic guitar," Gates said. "The covers [by Rod Stewart, Shirley Bassey and Boy George] have all felt genuine, and it is magical to sing. Everything I Own has reached farther than any other song I've ever written. It's a tribute to the song and Ken that it was able to go reggae."
In an interview with Dave Simpson at The Guardian in 2019, Gates said, "Years after it was written, I started to reveal to audiences what it was about. The song is an opportunity to feel very strong emotions for the loss of a time with someone you loved. I've been fortunate to watch it have such an impact on so many people.