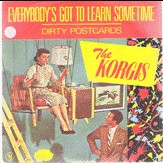 It's not often that a group work so hard without commercial success, then re-adjust the line-up, give themselves a new name, finally have a few hit records, disappear for a while and then come back years later in their original carnation and tour again. Well that's the story of Stackridge, but not wanting to mislead anyone, this week we actually focus on a song from a band that Stackridge became rather than Stackridge themselves and that was The Korgis.
Stackridge were a British folk and progressive rock group that originated in Bristol during the late sixties and went on to become successful during the early seventies. They famously closed the first ever Glastonbury Festival in 1970, and became regarded as one of the most entertaining live acts in Britain.
The main-stays, Andy Davis (sometimes known as Andy Cresswell-Davis) and John Lennon lookalike James Warren, two songwriters who were brought together by a mutual appreciation of quirky English humour, adoration for the Beatles and a desire to write clever, witty, challenging songs.
Andy explained how they met, "It was in 1968, at the legendary Dug Out Club on Park Row in Bristol. James was in a band called Dawn and I was in a band called Grip Tight Thin and over several months we got to know each other." James added, "We'd play alternate weeks at the club and even if we weren't playing we'd go down there and chat at the bar afterwards, so all the local musicians got to know each other."
So after Stackridge dissolved they changed direction and reformed as The Korgis. How did the name come about? "I had two names for bands," Andy explained, "One was The Venkas and that was because a girlfriend of mine worked in a Russian restaurant in London and when the waiter called you a wanker, he said 'Venka!' But The Korgis was just named after the Queen' dogs; with a 'K' just to make it different. Also I love communist revolutionary graphic artwork and a K looks great… a C is useless."
They signed to Rialto Records which was owned by their managers, Nick and Tim Heath, two brothers who were the sons of the band leader Ted Heath. Their first single was Young 'N' Russian, which despite being championed by Peter Powell, failed to chart. They brought in Bill Birks on drums and acoustic guitar and released their second single If I Had You in 1979 which had the writing credit Andy Davis / Niccolo Paganini. Andy explained, "It's credited that way because I borrowed the melody from Rachmaninov's Rhapsody on a Theme of Paganini. But he borrowed it from Paganini! So I thought, if he can do it, then why can't I? The odd thing is, because Paganini was out of copyright then Rachmaninov has the rights, and I couldn't do that. Borrowing stuff like that can be a very good songwriting aid. The more you get into listening to other people's work, the more you see the little tricks they use."
By the time the follow up, Everybody's Got To Learn Sometime, was recorded, Andy had departed. "I knew it would happen," said James. "I'd known him 15 years and after a period he gets restless and wants to move on, it was totally amicable. He said that he didn't want to be trapped in a hit single syndrome, even though we'd only had one at the time." James replaced Birks with Phil Harrison and Stewart Gordon thus now making The Korgis a trio.
Everybody's Got To Learn Sometime, as iconic as it is, amazingly only has 20 different words within the song. "The song, for me, isn't just a sentimental, trite love song," explained James. "I always felt it was more universal. The words came totally natural, I did try to write different words but they didn't sound right. I'm a high risk romantic," he revealed in an interview with Record Mirror in 1980. "My favourite pop artist is Frank Sinatra, his voice is just so good and writers like Cole Porter, Irving Berlin and Sammy Cahn are my heroes, their songs are so well crafted."
What happened after Everybody's Got To Learn Sometime? Their next single, If It's Alright with You Baby, petered out at number 56 and the next singles, Rover's Return, I Just Can't Help It and even the parent album's title track, Dumb Waiters, all failed to make an impact. They were even dogged by the album chart when Dumb Waiters went lame at number 40. Their next album Sticky George and its lead single, both credited to James Warren and The Korgis both disappeared without trace. James explained the possible reason back in 1981, "I think one of the main problems with the band is that we seem to be totally devoid of any image. People probably find it difficult to latch onto us and it hasn't helped our identity by not playing any gigs. We hadn't played live once."
The song eventually peaked at number five in the UK and has been covered numerous times. Dream Academy, Yazz, French techno duo Marc Et Claude, Army of Lovers, Erasure, The Kings Singers (which featured Warren on lead vocals), Zucchero featuring Vanessa Carlton and Beck all did credible versions with the latter's being used in the Jim Carrey film Eternal Sunshine Of The Spotless Mind. However, the biggest UK hit was the part slow, part drum and bass version by Baby D who reached number three in 1995. In 2010 Sharon Corr released a version on her solo album Dream of You.
In 2005 the Korgis reunited and the following year released their first single in thirteen years, Something about the Beatles, which can be heard on James' MySpace site, and it belatedly acknowledges the influences of John Lennon.
In 2013 Stackridge have reformed and are performing, writing and recording again with their current album being A Victory for Common Sense.  According to their website the current line up is: Andy Davis, James Warren, Clare Lindley (Violin/Ukulele), Eddie John (drums) and Glenn Tommey (Keyboards/Trombone/Flute). The site says, 2014 will be a busy year with gigs up & down the UK. There are plans to record new material and also some special re-releases. For those who plan to catch them on tour, you'll be please to know they do include some Korgis songs.