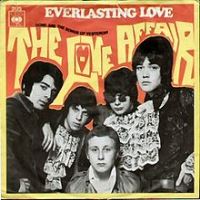 This week's suggestion is one of the most overplayed number one hits of the 1960s. Such is its popularity that it has charted eight times in the UK by eight different acts and has been a top 20 hit in the 60s, 70s, 80s, 90s and 2000s – the only song to achievement that feat. The song is Everlasting Love by the Love Affair who didn't do the original nor was it their debut single. Let's find out more.
It all started when singer Steve Ellis and two friends answered an ad placed in NME by actor/comedian Max Bacon who had the idea that his 14-year-old nephew, Maurice Bacon, could fulfil his dream of playing drums with a band. Steve recalled, "I remember Decca Records came to a rehearsal and said they loved the band. They said we were just what they were looking for to follow on in a Small Faces vein. They told us they'd sign us up if we got rid of our drummer. Maurice was not that bad, so we all rallied round and said 'No'. They signed us anyway. We called ourselves The Soul Survivors and were mostly doing Stax and Motown covers. But then the management wanted us to change our name to the Love Affair, which I thought was a crap name but was out-voted".
In actual fact, there was no band on Everlasting Love. It was a bunch of session musicians with Steve Ellis singing lead, "The general opinion seemed to be that I should do it with an orchestra," recalled Ellis in an interview with Shindig magazine. "Obviously I felt odd without the band being in the studio but it was for the good of all involved. Two takes and it was done. The band were not too concerned about this approach to things."
The group's debut release, in 1967, was a Jagger and Richards composition She Smiled Sweetly. The song bombed. Decca Records had acquired a reputation of being hard to work with, so The Love Affair once again followed The Small Faces and left the label. They moved to CBS who suggested they record a cover of Everlasting Love which had been written for Robert Knight, who was discovered by the song's writer, Buzz Cason, performing in a trio with Daniel Boone and James Tait called The Fairlaines. Robert's version was a US hit reaching number 13 on Billboard.
"The story of Everlasting Love began when I was playing with a band at the Phi Delta fraternity house at Vanderbilt University in Nashville," Mac Gayden revealed in an interview with Songwriting in 2013. "During a break in our set, we came outside and heard this fantastic voice singing down the street. So, we ran down to the Kappa Sigma house to see who it was, and the singer, who was Robert Knight of course, was just going on his break. I told him, 'I need to take you into the studio,' and of course he just looked at me like, 'What the hell? Get out of my face!'. But it turned out there was a connection between my family and his, so eventually I did take him into a studio. And I introduced him to Buzz Cason, and Buzz and I wrote Everlasting Love especially for Robert's voice. The story actually starts a long time before that, when I was just five years old. I used to play on my grandmother's piano and I came up with this simple little melody, almost like a lullaby, and that's the melody that the horns and the Farfisa organ play on Everlasting Love. I'd always known I'd use that melody somewhere along the line! To this day I make a point of recording all my musical ideas. I have hundreds and hundreds of tapes all over the house, I keep everything – it's like having a giant catalogue of melodies to draw on. It's something very special when you custom-write a song for an artist, it's a phenomenal thing. I think that's one reason the song's proved so popular over the years."
Steve Ellis wanted to get a version out before Robert Knight's was released in the UK. The first recording session, with Spencer Davis Group bass player Muff Winwood producing, was deemed a failure. So, the track was re-recorded with CBS' producer Mike Smith and arranger Keith Mansfield, who often employed session musicians to provide a more commercial and orchestrated feel. Steve remembered, "I didn't think the first version with the band was all that bad, but they insisted on me doing it with an orchestra and then giving it a Phil Spector-type production."
In order to get noticed the Love Affair did a publicity photo shoot in London's Piccadilly Circus and were arrested for insulting behaviour and causing an obstruction. Whilst in court, they received the news that Everlasting Love had entered the Top 20. Their arrests turned out to be a publicity stunt.
As the song was climbing the chart, the Love Affair appeared on a Jonathan King hosted show called Good Evening. When they had finished their set, Jonathan asked the bass player if they had played on their records, he admitted they didn't. The next day the tabloids attacked them for admitting they didn't play on their records and were banned from appearing on some television stations.
The Love Affair followed up Everlasting Love with Rainbow Valley which was another Buzz Cason and Mac Gayden composition and again originally recorded by Robert Knight. "We recorded an album, The Everlasting Love Affair, said Steve, "But there was no big campaign to promote it. When we were labelled teenybop idols and not being taken seriously, I got very disheartened and left the band".
The song has been recorded hundreds of times, but the UK hit versions were, Rex Smith & Rachel Sweet in 1981, Sandra (Enigma's wife) in 1988, Worlds Apart in 1993, Gloria Estefan in 1995 the Cast from Casualty in 1998 (and is the second highest charting version peaking at number five) and finally, so far, Jamie Cullum in 2004. Two years after that it was used in TV commercials for Pringles.
In 1981 Steve Ellis retired to become a docker but was involved in a horrific accident, which took him the best part of 10 years to recover. During the eighties and nineties there was a touring Love Affair that didn't include any of the original members, so in 1994, he went back on the road as Steve Ellis' Love Affair.
Robert Knight passed away in 2017 aged 77, but Buzz Cason, who also recorded under the name Garry Miles, is 80 and Gayden is 79 and both still live in Nashville, Tennessee. Gayden said, "It's fair to say that writing Everlasting Love has enabled me to stay in the game, so I'm certainly not complaining when the royalty cheques come in! Lately I've been working with my daughter Oceana and with the 70s R&B group The Valentines, and it's Everlasting Love that's made that possible."