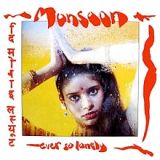 I don't believe any decade can be matched for its musical diversity than the 1970s, it seemed that anything goes given the number of mixed genres and novelty tracks that appeared in those 10 years. By the 80s a smaller number of genres came and went but radio stations continued to experiment with new and diverse tracks which is what made great radio. If you like the same old same old rotation of similar sounding tracks just tune into any commercial radio station and prepare to be bored. One genre that came in the noughties was bhangra but until then Indian based music made little impact in the UK, but in 1982 along came the sweet voice of Sheila Chandra leading Monsoon which opened a few eyes and ears.
Sheila was born in Clapham in London to an Indian father and a half Indian/half English mother and grew up with both cultures. Her mother was very supportive and encouraged her daughter to attend stage school which led to her winning the part of Sudhamani Patel in the school drama Grange Hill which she played between 1979 and 1981.
Monsoon were an Anglo-Indian fusion assembled by keyboard player and one-time Status Quo and Nazareth arranger Steve Coe whom Sheila had met soon after leaving Grange Hill. "Steve had a lot of Indian friends," Sheila told the NME, "which obviously had had an influence on his writing and he wanted an Asian singer. He heard some demos I made for the German-based Hansa record label which came to nothing and he arranged to meet me." The band featured Martin Smith on bass, Dari Mankoo on sitar, Tabla on drums and Jhalib on percussion. Sheila, who became romantically involved with Coe and later married, said of the band, "Monsoon is a fusion, a blend and a crossover. We're trying to appeal to both Indian and Britons by taking the best of each type of music and blending it together. We want to provide a common denominator for both cultures and to bring the kids closer together."
They recorded an album called Third Eye and its lead single, Ever So Lonely, is like a western dance track but where the guitar has been replaced by a sitar. Sheila said of it, "Young Asians have always said that it should be easier for their parents to accept pop if there were an Indian singer and hopefully the song will have a soothing effect." Just prior to its release Sheila said, "If it's successful it could add another more moderating influence. It could become a talking point in the Indian community because before, Indians often got their music from Indian language films soundtracks, so they would always have different topics of conversation from English youth. Hopefully the song will provide a common denominator."
The song reached number 12 in the UK and spent nine weeks on the chart. Naturally the record company wanted a follow-up and decided upon Shakti (The Meaning of Within) which missed the top 40 by one place. Third Eye contained a nice version of the Beatles' Tomorrow Never Knows. Pressure from the record company was not welcome by Coe and Chandra and so the band split with the couple concentrating on Chandra's solo career. In an interview with Peter Gabriel years later after she signed with his Real World label, Chandra explained what happened, "Phonogram told my band Monsoon to 'lose' the Indian influence when it was our entire raison d'etre! Perhaps I overreacted, but it made me very determined to walk my own path artistically, and very suspicious of record companies in general."
In 2002 the dance DJ Dave Lee, under the moniker Jakatta, recorded a track called So Lonely and sampled Chandra's vocals and surpassed the chart peak of the original making it to number eight and Chandra even made an appearance, for the second time, on Top of the Pops.
In 2007, the guitarist and record producer Simon Emmerson launched a project called The Imagined Village which brought many different root musicians together and Chandra contributed two tracks; 'Ouses 'Ouses 'Ouses with John Copper and Welcome Sailor with folk singer Chris Wood.
Two years later Chandra began to notice something wrong with her voice. In the 2013 Gabriel interview she explained, "I've had problems with my throat since the early '90s when one of my vocal chords was scarred — probably during an emergency operation for a detached retina. However, I'd done a lot of work on my throat and I could still sing well, although stamina was a problem and I had to be very careful. I was seeing a vocal physiotherapist and having some very intensive work done on the muscles in my neck to see if I could improve things any further. At first I thought the burning sensation in my mouth was simply a result of the physio work, and only a short-term thing, but it got worse and worse. Now I experience long-lasting neurological pain whenever I speak. Singing is out of the question and I haven't even dared to warm up for about two years. It feels like my mouth is on fire and it goes on for hours or days, and can get bad enough to wake me at night. Remaining silent — which means no talking or singing or laughing or crying — is the only way to stay pain free, and I'm effectively mute. For the first couple of years I didn't even get a correct diagnosis, but I now know that what I have is burnt mouth syndrome (BMS). It often strikes menopausal women, and there is no known cause or cure. The frustrating thing is that my voice sounds completely normal when I do speak. It just hurts like hell!
In 2017, and determined to carry on, Chandra became an author and has published Organising for Creative People and Banish Clutter Forever and Chandra said of them, "Fortunately for me, I've always written in a voice which is close to the way I speak. I think that comes across in my writing and it feels as though the written word is now my true voice. I miss being able to banter with people the most. And I value language and its subtlety all the more now that it's rationed.