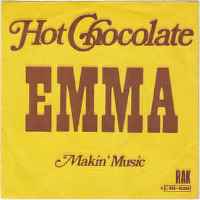 Hot Chocolate are a prime example of a great British band with a huge catalogue of well-written hits, but British radio only seem to play one, maybe two. The obvious is You Sexy Thing since its inclusion in the 1997 film The Full Monty, and even then, uneducated DJ's announce it as I believe in miracles. They had only one chart-topper, So You Win Again, but it's their first top three hit we're looking at, the sad story of Emma.
Many of Hot Chocolate's hits dealt with real life situations, some of them quietly disguised especially the ones that condemned racism, it's just a shame not too many get heard on the radio. Having said that, they did chart seven albums four of which were compilations and all of them far more successful than any of their studio albums. The four albums spent 124 weeks on the chart compared to the 29 weeks of the others, so maybe more people got to hear them without the use of a media outlet.
The band formed in 1968 originally as the Hot Chocolate Band and, albeit a couple of minor line-up changes, they comprised iconic lead singer Errol Brown, guitarist Franklyn De Allie, keyboardist Larry Ferguson, bassist Tony Wilson percussionist Patrick Olive and drummer Ian King. They got their break, sort of accidentally when they recorded a reggae version of the Plastic Ono Band's Give Peace a Chance with some amended lyrics but failed to seek permission to change them. Apple records found out and wrote a letter to Errol, but the letter did contain a portion that said John Lennon actually liked the version and thus had them signed to the Apple label. They didn't have a name at this point, but it was Mavis Smith, who worked in the press office at Apple, who suggested Hot Chocolate and it stuck. Unfortunately, that song failed to make an impact.
Mickie Most, the founder of the RAK record label liked the song-writing of the band's founding members Errol and Tony and asked them to write some songs for his acts which included Julie Felix's Heaven Is Here, Mary Hopkin's Think About Your Children and Herman's Hermits' Bet Yer Life I Do and Lady Barbara which all made the top 30. Most eventually persuaded the band to leave Apple and join RAK which they did and he advised them to drop the word Band from their name which they also did. Their first single was Love Is Life in 1970 and it peaked at number six. They had 30 hits on the label and at least one in every year from 1970 – 1984. Their first song to crack the top three was Emma in 1974.
They could be easily pigeon-holed as a disco band but, "It never bothered me that we were known as a disco band," Errol Brown told Spencer Leigh in 2001, "because I was a disco person. Before I was married I was in nightclubs all the time and would get home at four in the morning. A song like Disco Queen is simply about me watching a girl in a nightclub dancing."
Emma, or Emmalene to give her the full credit tells the story of a young girl whose ambition it was to be an actress. Errol sings about how they got married when they were 17 and how hard they worked to make ends meet. Clearly he had hoped she was going to be a big star by singing 'I'm gonna write your name high on that silver screen' and how hard she tried too, 'And every day Emma would go out searching for that play that never ever came her way'. She was clearly disappointed, 'You know sometimes she'd come home so depressed' and eventually took her own life at an undisclosed age. In an interview with the Mail on Sunday in 2009, Errol said, "The story is tied to the death of my mother who died when she was 38, but it almost didn't get released, as Mickie Most thought it too slow and morbid."  Brown half sings and half narrates the story but then in the final 60 seconds he lets out a harrowing scream which wasn't done for show, as he told Spencer, "It was a very personal song to me, it's about the death of my mother when I was 19. That scream was quite real, it was how I felt." Eventually the secretary at RAK changed Most's mind and it got released.
Errol will always be remembered for his shiny bald head and thus it was Dave Lee Travis who christened him the singing Malteser, but in the early days his friends encouraged him to shave his head for a joke which he did and everyone decided it suited him, so it stayed.
Emma was their debut American hit which peaked at number five and they had two further Billboard top 10s with You Sexy Thing reaching number three and Every 1's a Winner hitting number six, but their most successful song was Brother Louie, a song which tells the story of Errol Brown's experiences as a teenager in London but because of use of the word 'h*nky' in the second verse US radio stations refused to play it, so it was covered by a New York group called Stories who completed omitted the second verse and took the song to the top of the chart.
Tony Wilson left Hot Chocolate in 1976 and the band continued. The following year they had their only UK chart topper with the Russ Ballard-penned So You Win Again and to show Wilson they could manage without him, Brown wrote and recorded Every 1's a Winner which peaked at number 12. In 1981, they were invited to perform at Prince Charles and Lady Diana Spencer's wedding.
Brown left the band in 1985 attempted a solo career with two minor hits, Personal Touch (25) and Body Rockin' (51) in 1987. As for Hot Chocolate they struggled on but the only hit they had after Brown's departure were re-mixes or re-issued of old hits.
Errol was awarded an MBE by the Queen for services to popular music in 2003 and the following year received the Ivor Novello Award for Outstanding Contribution to British Music. at the time he said, "I would like to say how very proud and moved I was to be honoured with an MBE." He passed away from liver cancer at his home in the Bahamas on 6th May 2015.