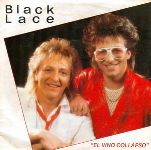 Sometimes very accomplished musicians write some very strange, unusual or quirky songs, Bobby Crush is one example, a brilliant pianist but he also wrote Orville's Song for Keith Harris, and Orville, obviously, but in all fairness it did make the top 10 and has probably earned him a small fortune, so I doubt he cares. Nigel Hopkins is another, a professional trumpeter, producer, label owner and has appeared on stage and on albums by former Shadows bassist Jet Harris, but, as a writer, has managed two UK hits, both for Black Lace and they are El Vino Collapso and I Speaka Da Lingo.
Nigel first blew a trumpet at the age of five as the mascot of the local Sea Cadet Corps. He graduated to the trumpet at seven and when he was 10 he played his first professional venue at the Variety Club Awards in London in front of a celebrity audience including The Rolling Stones, Lulu, The Shadows and actor Stanley Baker. He was also admired by Matt Monro.
He never appeared on Opportunity Knocks, but did appear with Roy Castle on Record Breakers as Roy was a brilliant musician too. This led to him being spotted and signed to Decca records in 1967 where he released one single called Chelsea Bun with the up-tempo, military style B-side called Tea & Trumpet. The following year he switched to Fontana records and released a single called High on a Hill, a track written especially for him by Alan Moorhouse who, the following year, would co-write Lulu's Eurovision joint winner Boom Bang-A-Bang.
High on a Hill is a very popular tune with military bugle and brass bands, and is often played at various events around the UK and abroad, but the true origins of High on a Hill are seldom mentioned. Nigel was just 14 when he recorded it and his moving version led him to become a big attraction on many variety shows and an appearance with The Count Basie Orchestra. He released one further single on Fontana called Africana but none of them made the chart. He appeared at four Royal Command performances including one for the King of Tonga.
His first love is writing and producing music, so how did El Vino Collapso come about? "I originally wrote it as a complete Mickey take one very bleary night in Spain whilst trying to stand up at a huge tourist barbeque," he said. "Black Lace adopted it and my fate was sealed. However, I would like to make it quite clear publically at this point that I had NOTHING to do with Aga bloody do, but being blamed for it was a good enough reason to give up alcohol completely!"
The accompanying video was shot at the Happy Days Caravan Park in Skegness and featured the composer and musician Paul Bickerdike who records under the name ElectricStreetPolice.
El Vino Collapso reached number 42 in the UK chart and I Speaka Da Lingo made 49, but Nigel moved on and having toured the globe successfully for some years he turned his attention writing, producing and also set up his first recording studio. He was in demand and was soon mastering music for BBC, CBBC, ITV, CNN and Sky which included adverts for the Sunday Mail and Mirror and a promotional album for Malibu. To prove his diversity he wrote and produced a Hard Core Rave track which was used for the theme to the Saturday Morning game show Run the Risk which still goes down in television history as being one of the most successful kids game shows ever.
He formed his own label, Crazy Lighthouse Records and put out San Antonio in the summer of 2007. It sold in Denmark, Sweden, Norway, Holland, Australia, New Zealand and the USA. In 2006 Jet Harris asked Nigel to produce an album for him and after hearing that 'magic sound' of the sixties, Nigel agreed to go ahead with the only stipulation being that it would be new and original material. The result was an album called The Journey which was to be Jet's last before his death in 2011.
Soon after Jet's death Nigel did some BBC radio interviews, which included playing some recent tracks he'd recorded and talking about his life as a child star and the highs and lows it's brought him throughout his own fascinating journey up to date.
The response was so good from listeners that he was persuaded by his close friend and BBC radio presenter Richard Cartridge to do the whole thing live on stage, telling his story in Words, pictures and music. They called the show How Blowing My Own Trumpet Nearly Killed Me and it was previewed at The Royal Manor Theatre in Dorset.
Nigel says "This is one of the most enjoyable things I've ever done on stage in my entire career and I think that comes across to the audience. I just want to do more."
As for Black Lace, well, after 1987 lead singer Alan Barton left to join Smokie and was replaced in Black Lace by Dene Michael. Whilst on tour with Smokie, Barton died in a coach crash in Germany. In 2002, the other main Black Lace member, Colin Gibb, retired to Tenerife and thus spelled the end of Black Lace but does occasionally play Black Lace shows on the island.
In 2009 Dene fired up the Black Lace machine again alongside Liverpudlian singer Ian Robinson and unsuccessfully released a mambo version of Agadoo. They were also filmed performing a re-written version of the song which was used by Easyjet for their latest TV advert.
In 2012, Dene had gone solo and released two unsuccessful albums, Life Force and The First Christmas Light both which bypassed the general public.
Another thing that went unnoticed was in January this year, Dene auditioned, unsuccessfully, for the reality show The Voice where he sang a cover of George Benson's 1982 hit Never Give up a Good Thing. Perhaps at that point he realised that he had!