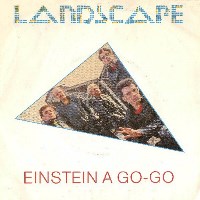 There are hundreds of music genres past and present, but have you ever wondered who comes up with the names for them? I often do. Who first called reggae reggae? Where did the term punk come from? Who knows! Some are known, for example the term rock 'n' roll was first coined by the American radio DJ Alan Freed and the early eighties genre New Romantic was first coined by Richard James Burgess. Who's he you might ask. Well, I'll tell you because he was involved with the week's suggestion.
Landscape were formed in London in 1973 originally as a jazz outfit and comprised singer/drummer Richard James Burgess, keyboard player Christopher Heaton, trombone player Peter Thomas, bassist Andy Pask and additional keyboardist John Walters. They toured relentlessly during the 1970s before experimenting with electronic music and synthesiser music later in the decade.
Once the 1980s dawned, they were steeped in electronic music and began recording. Burgess also turned his hand to production and had his first success as a producer before he did as an artist. In 1980, he produced Spandau Ballet's debut hit To Cut a Long Story Short which reached number five in the UK chart. He went on to produce their next six hits and the remainder of the decade produced hits for King, Colonel Abrams, Five Star, Living In A Box and Brother Beyond.
He was as the cutting edge of electronic music and its associated equipment. On three occasions, he appeared on the BBC show Tomorrow's World demonstrating the Roland Microcomposer and his own Simmons SDSV – the first standalone electronic drum kit where the individual restrictions of each sound could be adjusted. "The original idea had been to make a machine which could be played by a drummer as a replacement for acoustic drums," he explained, "and was developed from having to deal with the problems of audio spill via microphones when playing drums live. Sounds were originally mocked up around an ARP 2600 synthesizer which had already been popular with producers such as Martin Hannett and Daniel Miller for being able to obtain distinctive but useable percussive palettes. He went on to explain how he came up with the idea of the drum kit, "I was driving up to St Albans where Musicaid was based (that was the name of the company before they went bankrupt and Simmons was formed) and I was thinking about what kind of shape the pads should be. I realised they didn't need to be round. The first prototype was triangular (I still have that) but I wanted something that would fit together well in a drum set and it struck that the honeycomb is an organic shape that locks together. Dave Simmons made bats-wings and the Rushmore Head set (I have two of those) but in the end it was the hex shape that caught on."
In an interview with Chi Ming Lai, Burgess explained how it began, "Spandau's manager Steve Dagger called me out of the blue and asked me if I wanted to produce their first album. I was very excited about that and I had seen the band at nearly all of their first six gigs. I knew them personally from The Blitz and liked them. I also knew that we could make a great album that would be a hit and that the Landscape album would be more likely to chart if I had a hit with Spandau Ballet first. The Journeys to Glory album immediately went gold and launched my production career. It nearly ended my career as well because all I was offered after that was artists who wanted to sound just like Spandau Ballet and I preferred to work with artists who are fundamentally original."
As a member of Landscape, their first and biggest hit, Einstein a Go-Go reached number five in March 1981. "We had all or most of the music written for what would become [the parent album] From the Tea-rooms of Mars to the Hell-holes of Uranus and I was sitting at home thinking and I realised that we were going to get the same result as we did with the debut album if we put out another instrumental jazz-funk album through a major label," Burgess explained in the same interview. "We discussed it in the band and everyone was on board so I started working on the lyrics that became European Man (over a track we called Route Nationale). John and I worked up Einstein A Go-Go; everybody in the band wrote and arranged so we reconceptualised that album. We talked about the track conceptually before we wrote it and our objective was to make a very simple, cartoon-like track with a strong hook that would belie the meaning of the lyrics!"
They followed up Einstein with Norman Bates which stepped onto the bottom rung of the top 40. In 1983, Landscape broke up and Burgess continued in production. Andy Pask went on to be a member of various house bands performing music on TV shows like Barrymore, Wogan, Stars in their Eyes and Pop Idol. Most notably he co-wrote and performed a track called Overkill, better known as the theme to the police drama The Bill. Some of you may remember the Lurpak butter advert which was voiced by Penelope Keith and featured a miniature trombone player called Douglas, well the trombone sounds were performed by Peter Thomas. In fact, it's such a great advert you must see it now by clicking here.