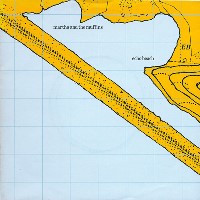 Xanadu, Heaven, Hotel California and China Grove are among many song titles about mythical places. Penny Lane, Last Train to Clarksville and Last Night in Bangkok are songs that are written about real places, but, the question is, is this week's suggestion of Echo Beach real or fictitious? Read on to find out.
Martha & the Muffins were originally formed as a punk band in 1977 and comprised lead singer Martha Johnson, guitarists David Millar and Mark Gane, Gane's brother Tim was the drummer and Carl Finkle played bass. They believed a lot of the punk bands at the time had fairly aggressive names so they thought up the name Muffins as a holding name but, "We decided to use it as a temporary name until we could all agree on something better, Mark Gane said, "the name ended up sticking for the next seven years."
Gane was an art student but during the summer he worked in a wallpaper factory. He explained in an interview with Songwriting, "My job was to sort damaged wallpaper from the good wallpaper. In the factory there were these huge presses with these monstrous rolls of wallpaper. Not infrequently, something would go wrong on the press and the whole thing would grind to a halt. They'd run up, cut this big part of a roll off and then roll it over to me. I then spooled it off and there would be giant X's marked where it had been ruined. So, I would cut off those ruined parts and then roll up the good stuff on smaller rolls." The job was, at times, a little tedious, so Mark used to go into a daydream which is he started thinking of better things which, in turn, led to song lyrics.
The first bit that came was probably the song's most memorable line, "So instead of going, 'My job is very boring I'm a wallpaper inspector,' I tried to think of something more universal and so… office clerk," he explained. Now, as to whether Echo Beach is a real place of not, the answer is…..not directly. Gane can explain, "The inspiration was Sunnyside Beach on the shoreline of Lake Ontario in Toronto. The lake and beach could have been in the middle of nowhere while the city behind became a 'surrealistic sight'." He went on, "The second verse primarily came a couple of years later. A friend of mine had a motorbike and we rode down to the shore of Lake Ontario one evening and I was looking back at the city and basically, the second verse, 'The sky's alive with lights,' all that stuff was basically a description of what the city looked like that night. So those two ideas fell together and ended up being the main lyrical content."
So, with some lyrics and images in his mind, how did the song form? "I had the music first," he continued to Songwriting, "The very first recorded version I did was when I was an art student at the Ontario College of Art because they had what they called The Sound Lab, which was a very basic studio. The guitar riff came from nowhere, I was fiddling around and I thought, 'Oh, that's kind of cool.' As a guitarist I'm self-taught, I tend to think in patterns if I'm not just doing chords. My riffs tend to be based on patterns and are often circular and I guess it was something circular about that that I liked."
Echo Beach may not have originally been a real place, but what it has inspired is untold. "When the song became well known, we started getting letters from all over going, 'oh you must mean the one in Australia,' or you must mean the one in northern Ontario,' and of course, I said, 'No.' One of the greatest things about it was that we were getting all this reaction from people around the world that were personalising it with whatever spot they knew. Maybe that added resonance for them as well. I actually have a list and this is one of the astounding things about being a songwriter is how this song has embedded itself into various cultural memes. So, over the past several decades we have: a German dub label, hotels in Bali and Zanzibar, a racehorse, there's a sci-fi short story called Back To Echo Beach, an Australian youth hostel, a British TV series and a gay porn film."
Echo Beach was actually the band's eighth single and the only one that charted in the UK where it peaked at number 10. The record company re-issued the two previous singles, Saigon and Suburban Dream but nothing made any impact. For three years in the mid-80s they went by the name M + M  but in 1987 reverted back. Various members have come and gone and most have been involved with an array of side projects but the band are still 'trading' and are now just the duo of Martha and Mark Gane.