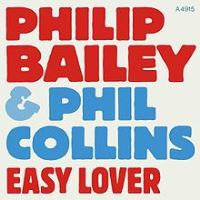 This week's suggestion came from David who seemed keener to know how these two people got together to make this recording rather than the record itself. Well as the falsetto voiced lead singer with Earth Wind and Fire, Philip Bailey had already scored 16 UK hit singles and Phil Collins scored 12 hits as lead singer with Genesis as well as eight as a soloist, so it was a good bet that whatever they recorded was going to be something special.
Earth Wind and Fire, who took their name from the three elements in Maurice White's astrological sign, had established themselves as one of the great American soul/funk bands. They were formed in 1969 as The Salty Peppers by the multi-talented aforementioned singer/songwriter/producer, Maurice White who had been a session drummer for Chess Records and a member of the Ramsey Lewis Trio. He brought in his bass-playing brother, Verdine and after two years of using a line-up of session musicians, they brought in a new permanent line-up comprising: Philip Bailey (co-lead vocals), Larry Dunn (keyboards), Al McKay (guitar), Andrew Woodfolk (saxophone) and Ralph Johnson (drums).
Collins had also appeared as a guest musician on other people songs including playing drums for Robert Plant, Adam Ant, Frida, Howard Jones, Tears for Fears and Eric Clapton as well as providing backing vocals for his former Genesis band member Peter Gabriel. For many, he will be remembered for his drumming effort on the 1984 Band Aid single.
Collins' solo career began in 1981 with the introductory single In the Air Tonight which was also produced by him. Production came naturally and soon other people were requiring his services and he did so for the aforementioned Frida and Adam Ant. Whilst Collins remained lead singer with Genesis, Bailey remained lead singer with E, W & F and also embarked on concurrent solo careers. In 1983, Bailey asked Collins if he would produce his next album called Chinese Wall. Collins agreed and they met in London with bass player, Nathan East. Once the album was finished, Bailey, Collins and East all agreed that it didn't have a commercial enough song to release as a single, so they sat down and wrote, Easy Lover. Bailey recalled in an interview with Musician magazine how it came about, "Phil and Nathan were playing around with a riff on the piano and I was walking around singing 'Choosy Lover' over the piano chords. We worked on it all day and put a rough version of it down on tape. The next day we said, 'let's check it out so we can go in and record it.' When we heard it, we realised there was nothing wrong with it. We tried doing it again, but we kept the original."
"So, we just started having a jam one night, and went round and round and turned it into a verse and a chorus", Phil explained to Rolling Stone magazine. "We recorded it that night so we wouldn't forget it. That song doesn't sound like any particular era. It's just fantastic. The hip-hop brigade fell in love with me after Easy Lover. They were like, 'Where'd that come from? That ain't black music and that ain't white music. That's kind of an interesting colour of beige.'"
In January 1985, Collins released his third solo album No Jacket Required and the first single lifted from it was Sussudio which peaked at number 12.  The next single was to be the balled One More Night and was due to be released at the same time as Easy Lover, but as one was a ballad and other was an uptempo number, no one could see any reason why they shouldn't be released around the same time. This was done and One More Night peaked at number four exactly four weeks after Easy Lover topped the UK chart and went to number two in America.
The video was unusual because it showed the two Phils in the studio learning a dance routine and picking out costumes. It was more like a fly-on-the-wall documentary than a music clip. But, if nothing else, it was original and won the 1985 MTV award for Best Overall Performance. Their theory that the album lacked commerciality was proved when the follow-up, Walking on The Chinese Wall failed to make the Top 30. The pair were awarded a Grammy nomination for Best Group Pop vocal Performance but lost out to the mighty Quincy Jones-assembled USA For Africa with their charity offering We Are the World.
Bailey returned to Earth Wind and Fire and still tours with them to this day and Collins continued as lead singer with Genesis until he left in 1993 and was replaced by ex-Stiltskin vocalist Ray Wilson.