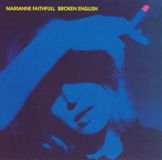 Madonna, Kylie, Lulu, Tina Turner and Dusty, to name a few, have all famously re-invented themselves after varying lengths of chart absence. This week's subject is another, she even came back from near death and an illness that badly affected her voice. Yes it's Marianne Faithfull. She's often classed by lazy radio producers, presenters and journalists as a one hit wonder because they only seem to remember her debut hit, As Tears Goes By and it wasn't even her biggest hit. That song reached number nine but her next two hits, Come Back And Stay and This Little Bird reached numbers four and six respectively. By the summer of 1965 the big hits dried up, even her cover of the Beatles' Yesterday only reached number 36, but by the end of the seventies she was back.
The late sixties was not a good time for Marianne, she'd had a public relationship with Mick Jagger, got pregnant and got sent to Ireland to keep her away from Jagger whilst he was filming. She became distraught which led to depression. At eight months she miscarried which obviously played havoc with her mental state. She knew in her heart she should have left Jagger, but her own royalties were diminishing and she had got used to the money. By 1969 she was sinking into drug addiction and actually became a heroin addict. The shock of Brian Jones' death in July devastated her. In chapter seven of Marianne Faithfull: The Faerie Queene of the Sixties by R.E. Prindle he said, "Less than a week after Brian's death Marianne and Mick arrived in Australia to begin their commitment. Psychologically all of Marianne's misgivings were adding up to a heavy burden. While the reasonable approach may be that life goes on not everyone is so reasonable and I suspect Marianne was one of these. Perhaps, too, she realised that she and Mick were becoming estranged. Exhausted by the long flight she and Mick checked into their hotel. Mick promptly flopped down on the bed to doze off. Marianne, troubled in mind, picked up a bottle of Tuinals and perhaps in a hypnoid state of grief and confusion dropped 140 of them. That must have taken five or 10 minutes so it shows determination. Who would do that if they weren't serious about suicide? For whatever reason Mick woke up and probably groggy himself scoped the situation. He rushed Marianne to the hospital for medical attention. But Marianne had overloaded her brain, she lay in a coma for six days."
A change had to come. She finally realised that Mick and her were not to be so she renewed her acquaintance with her father at his sex shop who she says was a man Mick could never hope to be. She wasn't recording and therefore not receiving much money, but Andrew Loog-Oldham had released a Greatest Hits package which brought some money in.
The years of abuse and severe laryngitis took its toll on her voice, it became rough and cracked and, to this day, is a permanently smoky rasp, a far cry from the soprano which saw her first enter the chart at the age of 17. When more recently asked about her strained voice, she replied, "I don't know why that happened, but thank God for steroids! I used to blame it on really bad coke!"
Despite the odds she survived and attempted a comeback, firstly in 1976 which didn't work and then again in 1979 which was far more successful. Chris Blackwell, the founder of Island records, heard some demo's she'd done and believed there was potential and signed her to his label. The result was the album Broken English which was released towards the end of the decade. The only hit from it was a cover of the Shel Silverstein-penned, Dr Hook's hit The Ballad of Lucy Jordan which Marianne described as, "My life had it taken a different turn." Arguably, the stand out track was the album's closer – Why D'ya Do It, an X-rated rant of the highest order about a cheating lover with explicit words delivered with the venom of a woman scorned. Such a delivery had not been heard since the heady days of punk. It was an un-ashamedly honest and passionate song that was banned in most places and was never likely to be heard unless you owned a copy. Only recently outlets like YouTube have allowed it to be upload.
The lyrics were originally written by Heathcote Williams with Marianne adding her own thoughts and feeling. Heathcote had apparently originally intended for Tina Turner, but even if Tina had heard it, it's unlikely she would have recorded it. Marianne once called the song her 'Frankenstein' and because she'd recently been betrayed by a boyfriend and obviously seething with rage she poured every raw emotion into the recording so much so that you could almost feel her pain and anger. Most people at some time or another would have experienced what she did but no song delivers the message so emphatically. Williams' words were so explicit (It's hard to find any other song that uses the c-word) that it caused some of the female staff on the EMI production line to walk out.
The album, which features Steve Winwood on keyboards, was make or break for Faithfull and the positivity and rave reviews it received was a massive boost for her. It also brought some much needed money as she'd also written some of the tracks on it.  She was unexpectedly nominated for the Grammy Award for Best Female Rock Vocal Performance for the album in 1981. Her own description of the album was, "It's a masterpiece," – she was right.
In a 2013 interview with ABC News, Faithfull was asked how she reviewed her own life, she said, "I could have done without the heroin addiction, personally, but I wouldn't leave anything else out."