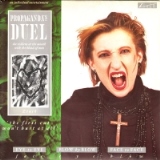 One thing I personally never do is read reviews whether it be a film, book or a song. I have no interest in knowing someone else's, usually a so-called 'expert', opinion. If I'm interested I'll find out for myself. This week's choice is one of those cult classics which crops up from time to time on half-decent radio stations and is if often recognised, but not remembered by its title. When Duel was released in 1985 it got a slating in Record Mirror's singles review section, which that particular week was done by the members of more or less forgotten eighties band Scritti Politti. Green (lead singer) said, "They look complete and utter wankers in their photos. I think the whole thing is pointless and horrible. It's not exciting, challenging or (sic) beautiful." David Gamson (keyboard player) thought, "The track sounds very lumpen," with Fred Maher (drummer) adding, "It's a female Morrissey, it isn't what I was expecting. Trevor Horn was clearly busy that week." Thank God I ignored them back then.
Propaganda, who were Claudia Brücken, Michael Mertens, Ralf Dörper and Susanne Freytag, were formed in Düsseldorf, Germany in 1982. Claudia and Suzanne had been in a group called Topolinos when Ralf saw them and invited them to join his new band. Claudia remembered, "We dressed up very glamourous and performed short sets. We also did backing vocals for other bands, but right from the start the idea was to go to England and get a recording contract."
"I loved it," Claudia told Max Dax, "it was all very exciting. I was 19 years old and school was over. Of course everything went very fast. I wouldn't question the situation I found myself in. I guess I took it for granted that I was constantly working in the studio together with Stephen Lipson and Trevor Horn. I remember it was quite exciting to see Stewart Copeland of The Police walking into the studio and to contribute to the drums on Duel as if this was the most natural thing in the world to do. It was phenomenal."
Their 1984 debut single, Dr. Mabuse, reached number seven in their homeland and number 27 in the UK. They then relocated to the UK and signed a deal with Trevor Horn's ZTT record label. Horn had signed their most successful act, Frankie Goes To Hollywood, a year earlier and were still really concentrating on building their career especially after the trouble they had getting Relax off the ground.
Propaganda were a synth band but didn't want to be pigeonholed as such, Claudia recalled at the time, "A lot of people tried to put us into a corner after Dr Mabuse. They saw that the single was inspired by the Fritz Lang film and assumed that we were very dark and mysterious, but we knew that would happen so for the follow-up we set out to be very over the top in our video with lots of colour. We wanted to make that contrast."
Claudia, who by now had married ZTT employee Paul Morley, explained, "When it came to Duel, we just wanted to do something completely different, that's what Propaganda means. Duel was a love song which is a duel between two lovers." It has a real emotion which is less obvious than a slow song because the synth sound detracts from it a little, which isn't a criticism. ZTT wanted to release Duel immediately after Dr Mabuse and Ralf said, "We wanted to have one following the other because it makes sense if you look at the two songs. There are quite a lot of ways we can sound, on Duel we show the two opposites, the one side very sweet and the other very harsh."
At two minutes and five seconds in there is a noise which sounds like an elephant, Ralf's comment when asked about it was, "It's not an elephant, it's a microchip with big ears!"
The track has been used in two sporting contexts, firstly when it is played at the Heart of Midlothian Football Club during home matches and the instrumental section was used as an intro by Australian Television in their sports programme called 7 Sport during their coverage of the Touring Car Championship.
Propaganda broke up in 1990 however reformed in 2005 but it was just Susanne Freytag and Michael Mertens. Brücken had two minor solo hits in 1990 and 91 with Absolut(e) and Kiss Like Ether respectively. She still performs solo and in November and December 2018 her and Suzanne Freytag, under the name X-Propaganda, supported Heaven 17 on their mini tour celebrating the 35th anniversary of their Luxury Gap album.