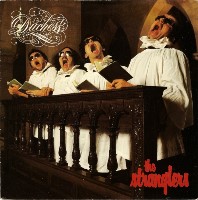 Plagiarizing, copying, stealing, nicking etc someone else's music has gone on a many a year and in 1998, the Manic Street Preachers released their single If You Tolerate This Your Children Will Be Next and nearly ran into problems when it was claimed they had copied this week's suggestion, Duchess by the Stranglers. Did they?  Let's find out.
Duchess was a number 14 hit for the Stranglers in August/September 1979 and was penned by all four members of the band, Brian Duffy, David Greenfield, Hugh Cornwell, Jean Jacques Burnel. At the time of the Manic's release, Hugh Cornwell, lead singer with the Stranglers was asked about it and he confirmed to Classic Rock magazine, saying, "Yes it was bandied around when it came out. I think the publishing companies involved have musicologists who study these things and decide whether to take action. No action was taken, so obviously it didn't resemble it that much. It doesn't bother me. Everyone plagiarises everything anyway. It's the nature of the beast. I mean, you could say The Beatles doing Back In The U.S.S.R. was plagiarizing the Beach Boys, but they only did it because they loved the Beach Boys. So when does an influence become plagiarism? It's not something I spend a lot of time thinking about."
Now I've cleared up that confusion, what is the song all about? Well, since their previous album, Black and White just 16 months earlier, the band had taken to a lot of touring and travelling to places they had never been to before particularly Australia where their eyes were opened to many things and it inspired the song writing for the next album, The Raven, from which Duchess was lifted. From the Stranglers site, JJ explained a lot of the inspiration, "From travelling and reading books, we were voracious readers. Because we only had each other at the time, if one of us had a book he'd pass it around the rest of the band. We were travelling together and be talking about our interests. Jet would be talking about his obsessions with UFOs and religion. Hugh would be reading about the conspiracy to get the whole of the West drugged up by the Iranians, who were going through a revolution at the time. We got arrested in Australia, suddenly everything was happening. We were absorbing all this experience and emotion so we were writing about it. We hadn't travelled so far out of the UK and Europe before and it was worth writing about. There were a lot of political things happening and it was fuel for our song writing. We were experiencing so much, the world was our oyster so we were writing about it."
Having never been down under before, JJ confirmed, "We didn't know what to expect but we found all kinds of different receptions in different countries and it fuelled our song writing. In Australia, we were getting attacked, being boycotted, punch ups, fantastic. It was the first, and only, time I ended up with seven women in my bedroom. Hugh was sick at the time! The whole thing was a great experience for a young guy. It was perfect for me, it was what I thought The Stranglers should be about!"
The story tells of a young woman who the protagonist knows as Dutch of the Terrace who claims she's Henry's child, we're not clear which Henry and there were eight of them. She is an heiress who knows her entire family history but really on wants a man. By all accounts she has a mundane life as the television that sits in the corner hasn't worked for a long time. Her abode is seemingly quiet and sparse but many boys, known as Rodneys are queuing up see if they can conquer her and thus claim the cup.
The single was released in a picture sleeve showing the band dressed as choirboys in church which, naturally, upset the religious fraternity and there was nothing they could do about it, but the band went one step further and shot the whole video in Hampstead Church all in the same attire and hence got banned by the BBC. The accompanying video was directed by the Australian film director Russell Mulcahy but rarely seen, thankfully now widely available on YouTube. For Top of the Pops, the band behaved themselves and mimed well to the backing track and Hugh finished the song by putting his hands together in mock prayer and got away with it. Beady eyed viewers will notice that on the TOTP performance the band were wearing black arm bands and in a more recent interview, JJ tried to remember why, "I'm not sure but I think that it was because Johnny Pile, who'd been our tour manager for a brief period, had died. He was only about 24."
Russell Mulcahy became in big name in 80s music video production and went on to work with Duran Duran, Bonnie Tyler and the The Buggles' Video Killed the Radio Star which as you will know was the first video shown on MTV. His movies credit include Razorback (1984), Highlander (1986), Ricochet (1991), The Shadow (1994), but it was one of his first that I took note of and that was Derek and Clive's Get the Horn in 1979.
The single's B-Side was called Fools Rush Out and that too tells a story about the band's recent split with their management team of Derek Savage and Dai Davies. Duchess was back in the chart exactly 18 years later when My Life Story covered it and peaked at number 39.