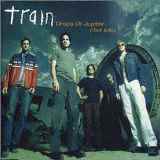 How many times have you turned on the radio, usually commercial radio, and within a couple of hours you've heard the same song, or advert for that matter, two or three times? Well it's not just the listeners who get sick of the repetition it's the presenters too. In 2001, a friend of mine, once on Virgin radio, turned up for his show and saw that the computer had programmed Drops of Jupiter by Train yet again. Fed up, he went to the boss and asked why he has to keep playing that song every single show long after the song had left the chart only to be told where to go if he didn't like it. Radio is probably at its blandest and the stations that are trying to be different are on limited platforms. We'll never know why that song was scheduled so many times even though it is a great song, but what's the story behind it?
Train formed as early as 1993 in San Francisco originally as a duo comprising vocalist/drummer Patrick Monahan and lead guitarist/vocalist Rob Hotchkiss, the following year they added Jimmy Stafford as lead guitarist with Hotchkiss moving to rhythm guitar, Charlie Colin on bass and Scott Underwood on drums. Pat, who was originally from Erie, Pennsylvania, had been in a Led Zeppelin covers band called Rogues Gallery but in 1993 he'd moved to California and met Rob. They sent demos to various record companies but had difficulty getting signed. Therefore, after securing support slots for the like of Barenaked Ladies and Counting Crows, they released their own music independently. In 1998, they did manage to secure a deal with Aware records and released Free. The following year they released I Am and One And A Half, but they went nowhere. In October 1999, their debut hit, Meet Virginia, peaked at number 20 on the Billboard singles chart and spent 27 weeks on the listing. They were beginning to be classed as one hit wonders because there was no further chart action until March 2001 when Drops of Jupiter was released. In the UK, that song was their fourth release of 2001 having followed Ramble On, She's On Fire and Something More which all failed to attract the record buying public.
The band began touring in 1998 and whilst on tour Monahan found out that his mother, who was a heavy smoker, was dying of cancer. Throughout the tour he kept visiting pay phones to call his mother to see how she was. In the December she passed away and Monahan returned to Pennsylvania to be with the family and grieve. "Loss of the most important person in my life was heavy on my mind, and the thought of what if no one ever really leaves? What if she's here but different," he explained in an interview with VH1. "One morning I woke up with the words 'back in the atmosphere' in my head" probably a part of the grieving process and was beginning a time of healing. He started to compose the song and, as he said, "The idea was, she's back here in the atmosphere."
Until Monahan revealed the truth of the song, many believed it was a relationship between a young couple. Lyrics like 'She acts like summer and walks like rain, reminds me that there's a-time to change' led people to think it was about a woman who leaves the relationship to wonder if they really belong together or not. Monahan was purposely vague when questioned in the early days, but eventually did say, "It was an obvious connection between me and my mother. Drops of Jupiter was as much about me being on a voyage and trying to find out who I am. The best thing we can do about loss of love is find ourselves through it."
They recorded a demo of Drops of Jupiter and took it to Columbia's president, Donnie Ienner, who instantly loved it and suggested it could be his 'Grammy' song. They brought in Paul Buckmaster to do the string arrangements as he'd worked with the Rolling Stones, David Bowie and Elton John before. Ienner insisted that should also be the title of the forthcoming album. Ienner was correct in his prediction; the song went on to win a Grammy for Best Rock Song and Best Instrumental Arrangement with Accompanying Vocalist. When they won the award for Best Rock Song, Monahan thanked his mother.
It was the first single released from the album and was produced by Brendan O'Brien who had previously worked with the rock band Stone Temple Pilots and Pearl Jam. It was after he heard Train's cover of Led Zeppelin's Rample On on the radio did he showed an interest of working with them.
The song spent just over a year on the Billboard singles chart having peaked at number five whereas in the UK it peaked at number 10 and spent 16 weeks on the countdown. It also made the top 10 in Australia, Denmark, Belgium, Italy and New Zealand but its best charting performance was in the Netherlands and Portugal where it reached number three.
The band took a hiatus between 2006 and 2008, mainly to have a rest and Monahan released a solo album called Last of Seven. They reconvened in 2009 with an amended line up; Hector Maldonado was the new bass player and Jerry Becker joined on keyboards. In 2012, they added two female backing singers, Sakai Smith and Nikita Houston then in 2014 Drew Shoals replaced Underwood.
Their UK chart career began again in 2010 when Hey, Soul Sister peaked at number 18 and the follow-up, two years later, Drive By, gave them their biggest hit reaching number six.
Drops of Jupiter got another lease of life in 2012 and was back in the top 40 after Phil Poole gave a rendition of it on The Voice.