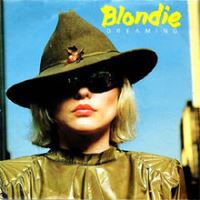 Everyone has a musical hero, I have two and they are both drummers; The Who's Keith Moon and Blondie's Clem Burke. Surely I must the only person who has seen Blondie live twice and never looked at Debbie Harry?! The Blondie song where Clem excels himself is this week's choice, the 1979 number two hit, Dreaming.
Blondie formed in 1974 having taken their name from chants that lead singer, Debbie Harry, was called by leering men. Chris Stein, Debbie's then-long term partner (they never married) recruited keyboard player Jimmy Destri, bass player Gary Valentine and drummer Clem Burke the following year. They signed to Private Stock records in the States and Chrysalis in the UK and became regular performers at the CBGB club in New York's Manhattan borough. Within a couple of years, Valentine left and was replaced with Frank Infante and their only British member, Nigel Harrison.
Their breakthrough and best-selling album, Parallel Lines was released in 1978 and spawned two UK number one hits, Heart of Glass and Sunday Girl as well as Hanging on the Telephone and Picture This.
Their next album was Eat to the Beat and the lead single from that was Dreaming. That song, according to guitarist Chris Stein, who co-wrote the song, is supposed to be based on a classic number one hit from three years previous, but I fail to see any resemblance. Which song? Let's find out.
Many of their songs were written by both Stein and Harry. Often Stein would come up with the tune and maybe an idea for a lyric and then share it with Harry, "Sometimes Chris will come up with a track or a feel and pass it on to me," said Harry in an interview with Entertainment Weekly. "He would say, 'I was thinking dreaming/dreaming is free, and then I'll fill it out with a story line or some more phrases. A lot of times it's the rhythm track that suggests what the lyric is going to be. I like working like that." In that same interview, Stein revealed what Dreaming was based on, "Dreaming is pretty much a cop of Abba's Dancing Queen. I don't know if that was where we started, or if it ended just happening to sound like that." Can anyone else spot a resemblance?
It tells the story of a woman meeting a man wondering whether it's going to be the real thing or not. It's been said that it was very loosely based on Harry and Stein's first meeting, but never clarified. He asks her what her pleasure is, movie or measure meaning a film or a drink. She then retorts with 'I'll have a cup of tea and tell you of my dreaming'. I'm not convinced her 'measure' is a cup of tea. Then during the bridge, she makes you wonder whether the experience is real or in her head as she sings, 'I never met him, I'll never forget him.' The third verse pretty much confirms the latter and she explains, 'I sit by and watch the river flow, I sit by and watch the traffic go' indicating a dreamy effect whilst explaining, 'Imagine something of your very own, something you can have and hold' followed by the ridiculous thought, 'I'd build a road in gold just to have some dreaming.'
Without doubt, for many, the song's appeal is Clem's drumming, but as he explained in a YouTube interview, it's not particularly what he had in mind revealing, "That take of Dreaming was just me kind of blowing through the song. It's not like I expected that to be the take. I was consciously overplaying just for the sake of it because it was a run-through." Everyone was happy with it, including producer Mike Chapman and so it stayed.
Dreaming was a hit in numerous countries making the top 10 in Ireland, Norway, Canada and New Zealand, but its best position was in the UK where it made number two behind The Police's Message in a Bottle. Their next hit was Union City Blue which had peaked at number 13 and was actually their lowest charting hit to date, but then 1980 brought them three chart-toppers, Atomic, Call Me and The Tide Is High, so even though Clem Burke thought they might have lost their touch when Dreaming 'only' peaked at number two, he was obviously wrong.
The band split in 1983 when Stein was diagnosed with a rare skin disease called pemphigus vulgaris and Harry spent much time caring for him before embarking on her solo career. In 1997, they reformed and two years later landed their sixth UK number one when the Jimmy Destri-penned Maria topped the chart some 18 and half years after their last, a record that still stands for new material. However, Leo Sayer could contest that as he waited 29 years between his first number one, When I Need You in 1977 and his second, Thunder In My Heart Again which was re-mixed by Meck but did feature a new vocal contribution by Sayer.