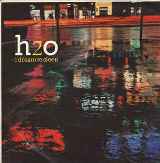 Like last week's Single of the Week, Ideal World by The Christians, this week's choice is by a band that had already been in existence for about five years before they even got noticed. Where the Christians had 13 hits, this band only had two. Obviously a popular name for a group as three different acts with the same name have existed over three decades. They are called h2o and let's examine their debut hit, I Dream to Sleep.
The band were formed in 1978 by lead singer Ian Donaldson after a short spell with a Glaswegian punk band called Scroo. He brought in Davie Wells on Guitar, Alan McGee on Bass and Kenny Dorman on drums and Ian explained in an interview with Mark Steel how they came up with the name, "We went crazy trying to think of a name, I wanted to call the band The Swivel Brothers and then someone came up with Marks and Spencer, then co2 was mentioned and finally we went came up with h2o – it's both chantable and spray-paintable which, when you come from Glasgow, is very important."
In 1980 they added a keyboard player called Ross Alcock and a saxophone player called Colin Gavigan who was a former child actor. Around the same time, Alan McGee quit the band to move onto greater things, including forming the Creation record label and was involved in either managing or signing bands like The Jesus and Mary Chain, Primal Scream and Oasis among others and he was replaced by Colin Ferguson. The following year a couple of new guitarists arrived and they released their first single, Hollywood Dream, on the small independent Spock label.
They got their break in early 1983 when they supported Kajagoogoo and on the back of that signed a record deal with RCA and began recording what was to be their first single, Burn to Win. The second song they recorded was Dream to Sleep or, as the record sleeve shows, I Dream to Sleep. The record company thought Dream To Sleep was the stronger song and opted to put it out as the A side with Burn To Win on the flip.
So how did the song come about? Ian explained, "At the time we wrote it, I was reading about sleep and how you must have it to dream. Throughout the day you take in and build up loads of images which have to be uncoupled. It's those coupled images becoming part of reality – everybody's experienced it." Kenny, the drummer, added, "It's also a love song; you know when you've in love and you've had a row and because you're a wee bit upset you can't get to sleep. The two ideas seemed to fit together really well."
The follow up single, Just Outside of Heaven reached no. 38 and the band continue to tour, but there was pressure from the record company to get their debut album, Faith, finished. By the time it was released, the debut hit had long gone and the album failed to chart, thus the band were dropped by their label. Without a record deal, the six piece band found it hard going and inevitably split up. a
Ian and Ross continued to write and promote new songs and occasionally brought in various past members of the band to lend a hand. In 1987 they signed with a new label called Legend records and a single, Blue Diamond, received some national radio airplay, but missed the top 75 completely.
In 2016, Ian released a solo single called Angel Pale and he said of it, "I went into different areas with my voice, maybe higher at times than I have done in the past. I think people will remember a baritone, but I've explored a top range. Again, no limitations there, but I'd like to think tonally people will recognise it, and will not be disappointed."