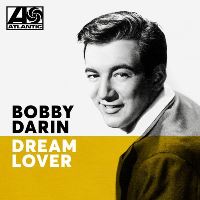 It quite weird how artists have a complete change of direction during their career and find unexpected success. Chuck Berry is a good example, a rock 'n' roll pioneer whose only UK number one was the nauseating My Ding-A-Ling. This week's subject began his career with novelty songs and then had major success when he became a crooner.
The man in question is Bobby Darin. Many people who worked with him said he was a difficult man and when I saw him on the American version of This Is Your Life, he didn't seem very forthcoming and seemingly wasn't happy to be there. When you learn about his troubled life, you can begin to understand why.
"If I'm great now," he once boasted, "What will I be like when I'm Frank Sinatra's age?" His lack of tact lost him admirers, but he had confidence in his own talent: "I'm glad I'm not a poor introverted slob," he once remarked. He also had a heart damaged from rheumatic fever and he knew it would be unlikely that he would reach 50.
He was born Walden Robert Cassotto in New York in 1936. He hung around the famous Brill Building, recording demos for songwriters and writing the occasional song most notably Gene Vincent's Wear My Ring. It gave him the incentive to launch a solo career of his own, but his real name wasn't catchy enough, so one day he passed the Mandarin Chinese restaurant with its unlit letters MAN, so he decided to rename himself Bobby Darin and wrote his first hit, Splish Splash within 15 minutes. It reached number 28 in the UK chart and the follow-up, Queen of the Hop went four places better.
Then came his first of two UK number ones, the self-penned Dream Lover. He invited his old friend from the Brill Building Neil Sedaka to play piano and he duly obliged on the B-side too which was the frantic rocker, Bullmoose. The song tells of a guy who keeps wishing and praying for a girl to come into his real life so he no longer has to dream any more. Initially Darin wasn't keen on the song but nonetheless submitted it to the bosses, Ahmet Ertegun and Jerry Wexler at Atlantic Records loved it and submitted it to Tom Dowd who engineered the song. He was just 22 years old when it was released and appealed to the teen market as well as parents alike.
Not long after it was a hit, Darin found his own dream lover in the shape of actress Sandra Dee whom he married and the pair stay together until 1967.
Darin was restless because while Dream Lover was in the charts, he recorded an album of standards, That's All, which included his second number one, Mack The Knife. After that, he went country and scored in America with You're the Reason I'm Living, the folk-rock If I Were A Carpenter and Eighteen Yellow Roses with its twist in the tale. He became brash and aggressive and the reason, which according to some, was related to fears about his health. "My feeling is that he knew he wasn't going to live long," explained long-time friend and secretary Harriet Wasser, "It was more important to him to make his statement as an artist than a diplomat." He wanted to enter politics but to avoid a scandal coming to light, his 'sister', Nina, told him that she was his mother. He later discovered his 'mother' was actually his grandmother, a revelation that troubled him for the remainder of his life. He did, however, became involved in the 1968 presidential candidacy of Robert Kennedy and believed in the promise of Robert F. Kennedy's presidential bid. He even took part in the 1965 civil rights march from Selma to Montgomery, Alabama. Kennedy's assassination later the same year deeply affected Darin.
Darin was effectively a man in love with himself and his talent, but due to persistent health problems and died of heart failure on the operating table in 1973 aged just 37. He left his body to medical research.
In 1994, Dream Lovers, the book on the lives of Bobby Darin and Sandra Dee was written and released by their son Dodd Darin. then, 10 years later, in 2004, Beyond the Sea, a biopic was made with Kevin Spacey portraying Darin to great effect and earning a Golden Globe nomination for Best Performance by an actor in a Motion Picture – Comedy or Musical.