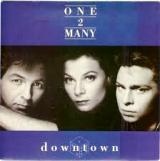 When it comes to Norwegian acts making the UK chart you can count them on one hand. It's likely A-Ha will spring to mind first and then, obviously, there is one quarter of Abba and they are the only two acts to have UK hits running into double figures. Actually there are a couple of new acts around at the moment namely Kygo and Alan Walker so let's see if they can maintain a lengthy career. This week it's a one hit wonder from 1988 which only reached the dizzy heights of number 43 but maintained a healthy 11 weeks on the chart. Who remembers One 2 Many? No? Ok read on.
The trio comprised Dag Kolsrud, Camilla Griehsel and Jan Gisle Ytterdal with their songs being written by the Kolsrud, Dag Veidal and Jan Øvland who had previously been a member of the band called Dark Side which he had started. He then brought Astrid Graasvoll in as their lead singer. Nothing much happened, so, in 1987 they got together, Dag explained, "All of which were old acquaintances from Gjovik and they got in touch with me so I could listen to a demo tape they had recorded right after they came home from the world tour with A-ha which ended in February 1987." Dag Kolsrud, who was the lead vocalist, keyboard player and primary songwriter, already had experience in the music business, he had toured as keyboardist with A-Ha on their High And Low tour, he said, "Of course I am grateful to be part of that team. The job as touring musician for such a popular band like A-ha brings many contacts. It is a key job that opens many doors. I also received valuable experience. This is the first time I'm on tour, and it is also the first time I play in a band."
The first single, and only UK hit, was called Downtown, not to be confused with the Petula Clark song, and Jan explained how it came about, "Downtown was basically a completely different type of track. It was a grey rock song a bit in Ry Cooder-land that I originally wrote for Dark Side and was originally called Center Of My Dream. At the time, Dag had bought an apartment in London while he was finished with his involvement in A-ha, something I got wind of. Gordon Field (Dark Side's drummer) and I travelled over with this track in our luggage. Dag liked the song, but felt it was too 'down' "You need something done," he said. He is fantastic at arranging songs, he sees music such as Mozart did, looks exactly what fits into. Just check choir, detail and rag tendon in Downtown – all that is fashioned work. The chorus of Downtown is also fashioned, the little 'fluffy' words in the transition to the chorus as well. The rest it is I who have created."
"Already at this time, foreign record companies started to take an interest," Kolsrud recalled, "The response from record companies has been overwhelming. Now a contract with a major company was in order and the company I am talking about was A&M Records, and the agreement included seven albums with One 2 Many as well as a solo album from me. We also got a bargain, we also got a female manager."
The original lead singer left and they wanted a female to replacement. A friend of Kolsrud, an entrepreneur called Ola Mæle rang to say he had found the lady he'd been looking for. The lady was Camilla Griehsel which he had charmed in a clothes shop in Verbier, Switzerland, in January 1988. Ola: "I would buy a shirt. But the saleswoman was exceptionally nice, and I came out with two shirts under my arm. Later in the evening I met her at a bar, and we continued the talk and she agreed to join the band. With Camilla in place Dag and producer John Hudson added the missing vocal tracks on the backing that was already recorded in Mayfair Studios in London. In the studio next door, The Bee Gees were recording tracks for their E.S.P. album and the piano player, Peter-John Vettese, came in. They got talking and Kolsrud asked Peter-John if he could play a piano solo on Downtown reminiscent of Bruce Hornsby and the Range's The Way It Is, he duly obliged and it was added to the mix.
They only released one album which was 1988's Mirror which featured a choir of which one member was Sheryl Crow who had been on Michael Jackson's Bad Tour as a backup singer. The saxophonist was Kim Wilde's boyfriend at the time, Gary Barnacle who had played with Big Fun and was the guest blower on the single version of T'Pau's 1987 chart-topper China in Your Hand.
The song initially charted in mid-November 1988 spending four weeks on the listing and they began to receive a lot of music press publicity and it was Boy George's brother who would take press photos of them. The press was a little delayed but following its appearance on the Billboard chart, the track was re-issued in the UK in June of 1989 and received more airplay and climbed to number 43 adding a further seven weeks to their chart tally.
They released three further singles in 1989, Another Man, Writing on the Wall and Nearly There which all went unnoticed across Europe and so the band called it a day. Kolsrud went on to join a band called Guys in Disguise and then pursued a solo career as well as returning with A-ha as their world tour musical director. Camilla Griehsel met and married Black singer Colin Vearncombe in 1990. She turned her hand to opera and released the album, Rum and Chocolate in 2008. Vearncombe died in a tragic car accident in January this year.
Jan contacted me in October 2016 to let me know his situation, he said, "Despite contracting MS I'm still writing songs with my band The Commodities. I have this somewhat successful song on YouTube Yellow Car." It can be viewed her by clicking here.