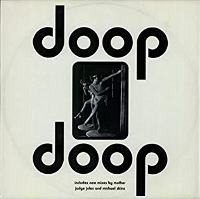 The UK singles chart was introduced in November 1952 when Percy Dickens decided to telephone a number of record shops in the UK to find out what their best-selling singles of that week were and list them in the New Musical Express (NME). It was a passing thought he had with no plans to make it a regular thing, but it proved so useful and popular that it stay and 68 years on it's still here albeit largely irrelevant to most people outside the industry because of the ridiculous rules the Official Charts Company use to compile it. Anyway, it took 41 years for it to have its first eponymous number one hit and, like buses, the second, and last – to date – followed swiftly after and it's that song we look at this week.
The track in question is Doop by two Dutch producers and keyboard players, Ferry Ridderhof and Peter Garnefski who called themselves Doop. Seventy years of music came full circle when they released this techno version of the Twenties dance, the Charleston.
The Charleston is thought to have originated in a small island near Charleston in South Carolina as early as 1903. It's done by performing outward heel kicks combined with an up-and-down movement achieved by bending and straightening the knees in time to the syncopated 4/4 rhythm of ragtime jazz.
In an exclusive interview, Peter Garnefski told me that the pair met at school and both studied at the Royal Conservatory in The Hague. "We wanted to fulfil the ambition of making music and our first collaboration was under the name Doop. We decided on that name because we liked the sound of it when Ferry was singing the 'Doop-be-doop-be-doop-be-doop' bits." Ferry added, "I always do the vocals. It was very funny to see how people make those kind of up-tempo moves. In the Twenties the Charleston was a big dance craze," continued Peter. "I thought it had a similar tempo and speed to the house music scene, so I tried it and it worked."
Ridderhof reiterated to Mojo in April 2012 that the song reflected similarities between 1920s jazz and 1990s house music and was inspired by the crowds at raves, who looked like they were dancing the Charleston. "We started to experiment with the Charleston and big bands. Then we added my vocal. Everybody liked the track, it changed mood when it was played. It was obviously new. England embraced the record."
The song made the top 20 in Austria and France and top 10 in Germany, Switzerland and the Netherlands but their greatest success was in the UK where it spent three weeks at number one. On the back of that they had to up their stage show, "We were booked as an act," Ridderhof said. "You wonder what will we do on stage. We were really studio guys. Doop got us a lot of opportunities and we realised we could do what we wanted to do, we bought a beautiful house by a canal in Amsterdam and built a studio."
They followed-up Doop with Huckleberry Jam, Wan Too and Ridin' and although they had reasonable success across Europe, they failed to connect in the UK leaving them a one-hit-wonder. All the tracks appeared on the album Circus Doop, which also attracted few music collectors in the UK.
Ridderhof and Garnefski had further success in Europe under various guises including Hocus Pocus, Vicious Delicious, Boobytrax and Waxattack. In 1997 they formed two record labels, Mr. Cheng's Quality tunes and Proudly. That same year they teamed up with Hans Weekhout, who had the minor UK hit 20Hz under the moniker Capricorn, and Edward Boellaart to form Peblab. Their first single, Ride the Pony was a club favourite on the continent.
Whilst they continue to record under the moniker, Peblab, Peter and Ferry made it back into the UK chart in 2002 under another moniker, Kioki. The single Do & Don't For Love reached number 66. Their last single, in 2014, was called Tequila and failed to chart anywhere in Europe.
Ferry seems to be quiet at the moment, his last Tweet was in July 2013 and Peter Garnefski still records at the moment under the guise Qbrick.
Oh, in case you're wondering, the first eponymous UK number one was Mr Blobby. Says it all really!